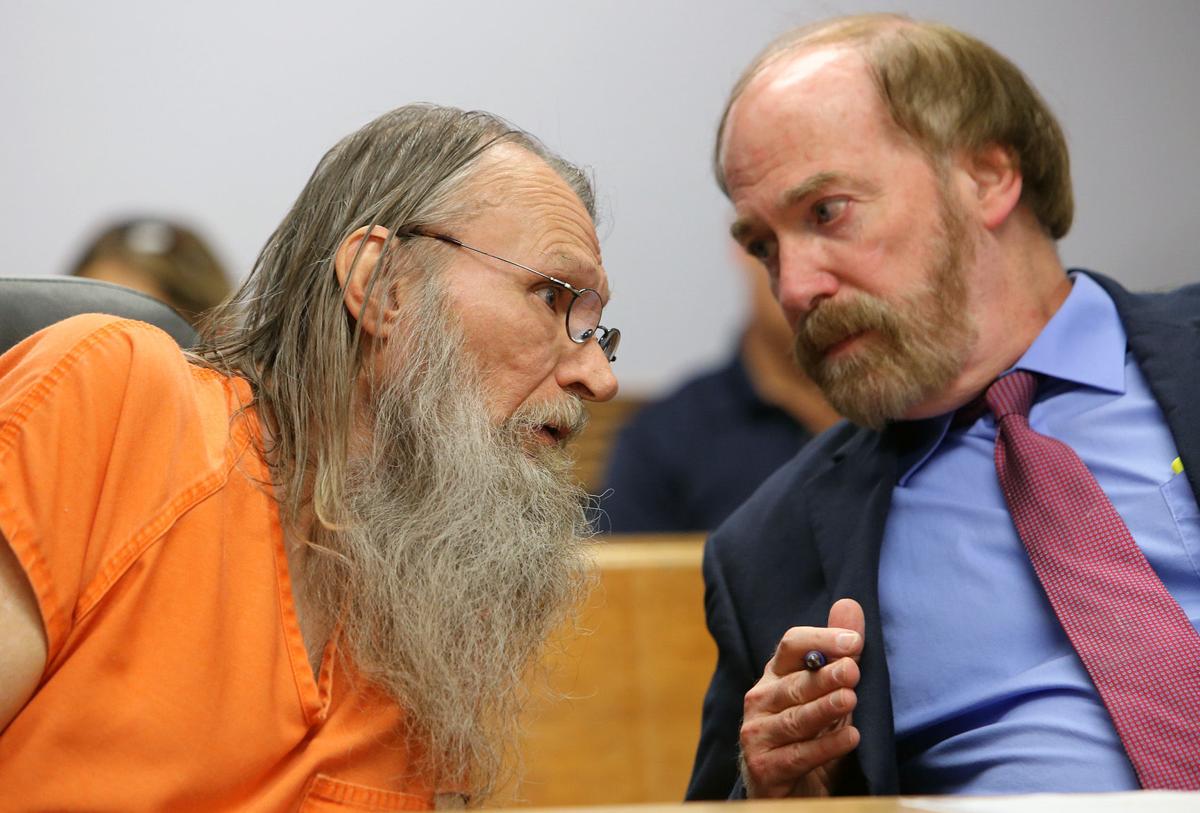 HAMILTON – A verbal exchange at a downtown Hamilton bar over the proper ingredients in a "red beer" apparently led to a shooting that left one man injured and his dog dead early Saturday morning.
Monte Leon Hanson, 59, of Hamilton appeared Monday afternoon on a felony charge of attempted deliberate homicide and a misdemeanor count of animal cruelty.
Hanson was arrested in the early morning hours Saturday, after a couple of Ravalli County sheriff's deputies heard the sound of gunshots coming from the downtown area and hurried to the scene.
The deputies, Jon Moles and Jered Guisinger, found Hanson walking eastbound on State Street.
A charging affidavit said when Guisinger asked Hanson if he had heard gunshots, Hanson raised his hands in the air and asked for his attorney. A handgun with five spent casings was found in Hanson's right front pants pocket.
The officers reported that Hanson was extremely intoxicated.
According to the affidavit, the trouble began at about 10 p.m. Friday when Hanson went the Rainbow Bar, where Joe Lewis was bartending.
The two men were neighbors in an apartment building at 177 S. Second St.
Hanson ordered a "red beer." Lewis served him the drink, but made it with Clamato juice rather than tomato juice.
The affidavit said Hanson became angry because he said it was against his religion, Judaism, to drink Clamato juice.
In an interview Monday, Hamilton Police Chief Ryan Oster said there was a "bit of a verbal exchange" at the bar, but there was no violence between the two at that point.
After the incident, Lewis' girlfriend, Jaimie Ball, stopped by the bar to give Lewis some food. He told her about the incident involving the "red beer" and advised her to stay away from Hanson, because he was acting weird, the affidavit said.
Hanson left the bar and went back to the apartment building. At about 10 p.m., he told a neighbor, Lance Hoth, about the incident and allegedly claimed he was going to retaliate and kill Lewis over the incident, the affidavit said.
Hoth encouraged Hanson to sleep it off, as he appeared intoxicated at the time, the affidavit said.
Lewis arrived home at about 2 a.m.
A half hour later, Hoth heard Lewis exit his apartment and then heard two people walk down the hallway toward the back porch.
Lewis had left his apartment to take his dog outside. Ball remained in the apartment.
She told officers their door was left ajar and she saw Hanson exit his apartment and follow Lewis down the hallway.
A few minutes later, Hoth and Ball both heard four to six gunshots.
After a couple of minutes, Hoth opened his door to find Lewis hunched over and making whining noises. Lewis told the neighbor he thought he was dying. Lewis then went to his apartment, where he told Ball that Hanson had shot him, the affidavit said.
Shortly afterward, Hoth knocked on Lewis' door. He heard the injured man tell his girlfriend: "It's Monte, don't let him in."
The neighbor was let in after he told them who he was. Inside, Lewis allegedly told the man that Hanson had shot him.
The neighbor later found Lewis' dog on the porch, dead from a gunshot to the head.
Oster said the 29-year-old Lewis should make a full recovery from his wounds.
At Monday's court hearing, Hanson listened quietly as Ravalli County Justice of the Peace Jennifer Ray told him of the attempted deliberate homicide charge, but appeared upset over the misdemeanor count of animal cruelty.
Deputy Attorney Angela Wetzsteon said while Hanson had no prior felony convictions, he did have several misdemeanor convictions, including criminal mischief and disorderly conduct.
Saying that Hanson spent four hours contemplating the shooting before it occurred, Wetzsteon asked for $250,000 bail.
"It was definitely premeditated," she said.
Hanson's attorney, Ron Piper, said his client has resided in Ravalli County for 19 years, is retired and has a minimal criminal history. He asked bail be set at $50,000.
Ray told Hanson that the charges outlined in the affidavit were "troublesome" enough that she would liked to have seen the state ask for a higher bail amount.
Ray set the bail at $250,000.
Amy Bennet works at the Rainbow Poker Room. She said she saw the victim, Joe Lewis, on Saturday.
"He was a little upset," she said. "He lost his best friend. ... He's very lucky to be alive."