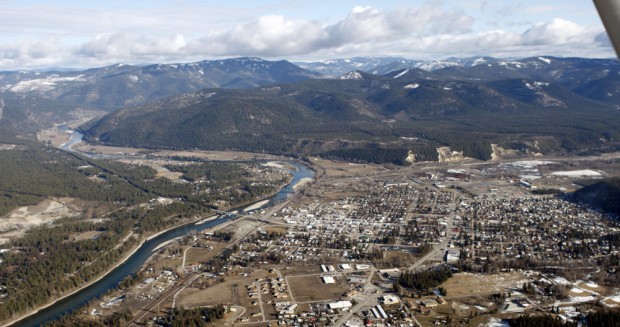 LIBBY – Three new doctors have joined the Libby Epidemiology Research Program, bringing expertise that will help better understand lung disease in people exposed to amphibole fibers from vermiculite mining in Libby.
When Dr. Stephen Levin died last year, the program was left without a primary investigator.
In June, Dr. Raja Flores took over that role for the project, which is part of Libby's Center for Asbestos Related Disease and tends to victims of lung diseases resulting from decades of mining by W.R. Grace and Co.
Flores, chief of thoracic surgery at Mount Sinai Medical Center in New York City, has been ranked in the top percent in his field.
Drs. Claudia Henschke and David Yenkelevitz, both professors of radiology at Mount Sinai, bring lung imaging experience from their international lung cancer screening study that revolutionized the approach for early detection, said Brad Black, the Libby clinic's CEO and medical director.
Bringing such high-level health care professionals onto Libby's team is a winning combination for research and health care in the town where so many already have died from lung diseases, he said.
"To have them on board is tremendous, just tremendous," he said.
The three join the program in the fourth year of a five-year, $5 million grant from the U.S. Centers for Disease Control and Prevention.
Their work will help collect statistical information to form a baseline for understanding and comparison of lung disease from exposure to amphibole fibers in Libby.
"And then hopefully, there's some treatment. But you can only get there by improving imaging," Black said.
People exposed to amphibole asbestos in Libby who develop lung disease largely suffer from pleural fibrosis, in which amphibole fibers migrate out of the lungs and invade the pleural, or outside, lining. They cause a layer of tissue, or scarring, around the lung. As the layer gets thicker, it loses elasticity and makes it more difficult for the lungs to expand. Patients experience shortness of breath and even death, Black said.
Amphibole fibers are composed of three different types of fibers. The needle-like fibers don't deteriorate or dissolve, but do break apart into slivers.
Lung disease caused from amphibole is difficult to see because it develops subtly and forms a thin layer along the chest wall, where it may blend in with shadows, Black said.
Scarring of the lungs is progressive in Libby patients who were exposed to asbestos fibers, so being able to see the scars and gauge its growth through scans is important for care, he said.
"What we need now is better imaging to see this," he said.
The LERP research project seeks to enable doctors to quantify the scarring behavior to better understand the disease.
"We set up a project where we'll have baseline CT scans, and then we'll repeat those in three to four years," Black said.
The program looks at people who had environmental exposure outside of direct participation in W.R. Grace's mining operations, including people who were exposed as children and then moved away from Libby. Those patients are compared to people who were heavily exposed to chrysotile, more commonly known as a form of commercial asbestos, in Mount Sinai.
Research also examines autoimmune outcomes, which could hold the key to why some people react differently to the amphibole fibers, Black said.
People in Libby have more autoimmune antibodies than the rest of the population with no exposure, as well as people who have been exposed to different kinds of fibers, he said.
"We don't know what it means yet, but there are certainly indications that this fiber does something different when it gets in the body," he said.
The findings in Libby could have larger implications for helping doctors across the country better diagnose people who were exposed to the amphibole fibers and moved away or were exposed to the fibers through one of the many products made with asbestos from the northwest Montana mine.
Doctors might not recognize the more progressive form of lung disease caused by amphibole fibers, instead believing patients were exposed to chrysotile fibers, which make up 95 percent asbestos use, Black said.
"Ultimately, this may lead us to intervention that could benefit people," he said.