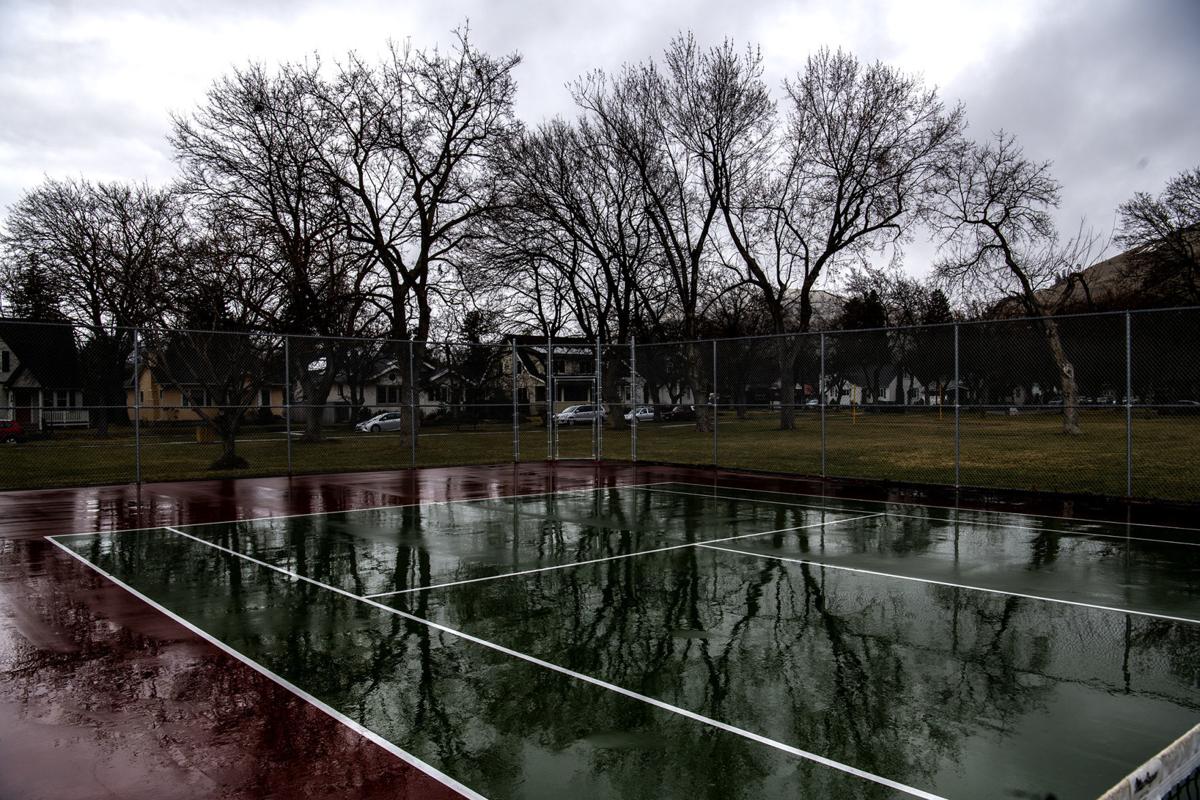 The old normal reigned on Monday.
Steadily, maybe even soothingly, the drops that filled gauges throughout southwestern Montana and central Idaho helped June, on its penultimate day, live up to its reputation as the wettest month of the year.
"We're getting a little less rain than we thought we were going to get yesterday over in the Anaconda and Sapphires region and a little bit more in the Missoula area," meteorologist Ryan Leach of Missoula's National Weather Service station said early Monday afternoon.
By then the storm had dropped nearly three-quarters inch of precipitation at the weather bureau at the Missoula airport since its start at around 4 p.m. Sunday, and was headed for an inch or more by midnight. Another half-inch could fall on Tuesday.
Leach said other areas around the valley such as Blue Mountain and the South Hills had already received well over an inch. A monitoring station near Lake Como in the Bitterroot had checked in just after noon Monday with 24-hour totals of 1.79 inches. Grangeville, Idaho, "the big winner or loser, depending on how you look at it," was closing in on two inches, Leach said.
Flooding feared for Drummond and the Flint Creek Valley didn't pan out, at least to the extent anticipated on Sunday, Leach said. Still, the Clark Fork River near Drummond is expected to reach minor flood level Tuesday night or Wednesday.
Areas of concern instead arose in Ravalli County, where streams were testing their banks and sending the results into the Bitterroot River. The Clark Fork below Missoula, where homes in Orchard Homes represent a troublesome flooding area, was expected to peak Wednesday at 8.84 feet, more than two feet below the 11-foot flood stage.
There were dire warnings of snowfall, up to 6 inches in some locations along the Montana-Idaho border. Leach said he wasn't aware of anything to that extent except from a backcountry trail crew in the mountains west of Salmon, Idaho, at 8,000 feet, where 8 inches of snow reportedly fell overnight into Monday.
The rain in southwest and south-central Montana will slack off Tuesday, shifting northward across northwest Montana as "the closed low pressure circulation wobbles over the region," the weather service outlook said. Tuesday will be the day the excess rainfall reaches the main stem rivers.
Wednesday will be somewhat drier, but high temperatures are to remain 10-20 degrees below normal for a couple of days. They'll approach what they should be by week's end, and Leach said predictions for Independence Day on Saturday are for 85 degrees with the potential of thunderstorms.
At the Missoula airport, the Sunday-Monday rain pushed the precipitation total for the year above 7 inches and closer to the end-of-June normal of 7.8 inches. The cumulative totals have see-sawed by the month: below average at the end of January, above average at the end of February, etc.
For two of the past three years Missoula has finished June with more than 10 inches — including in 2017, which featured the fire-fraught months of July and August in which the Rice Ridge and Lolo Peak fires burned more than 250,000 acres and claimed the lives of two firefighters.
The latest wildland fire outlook for 2020, released on June 1, called for above-normal fire danger in Montana from July into autumn. How the late June gully-washers affect that is unclear. The next National Interagency Fire Center's four-month wildland fire potential outlook is due to be released Wednesday.
On Monday, at least, that wasn't smoke but mist and low-hanging clouds that shrouded the mountains. 
"No campfire restrictions though," noted one wag on social media. "Except getting one started."
Get local news delivered to your inbox!
Subscribe to our Daily Headlines newsletter.