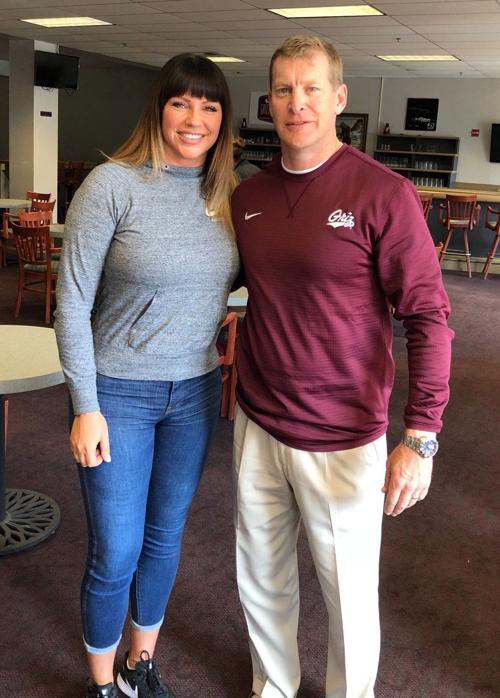 The University of Montana brought a survivor of a reported 1998 gang rape turned advocate for preventing sexual violence in college athletics to talk Monday with coaches and some 280 student athletes.
In 2014, Brenda Tracy first publicly told her story about being raped by four men, two of them Oregon State University football players, in an Oregonian  investigative piece. The story said the district attorney in Benton County, Oregon, believed he had a solid case  with "piles of evidence" and a credible victim. But Tracy wavered in her willingness to testify, so charges were dropped; in the story, she said she wished she'd pursued charges.
She has been speaking to campuses about sexual assault prevention since roughly 2016. Last spring, UM Athletics Director Kent Haslam and senior associate athletic director Jean Gee heard her story at a conference.
Gee said Tracy's powerful talk clearly energized and galvanized the students who heard it, and UM subsequently signed an estimated $8,000 contract to bring the assault prevention advocate to campus. She said the Big Sky Conference Student-Athlete Advisory Committee also decided to bring Tracy to its campuses after hearing her last summer.
"She's got such an incredible message of a survivor, and what I really appreciate about her message is the positive nature," Gee said. "It's not, 'Don't do this, don't do that.' It's about how can we raise awareness? How can men be a part of this prevention? Obviously, it's preventable."
Tracy spent all of Monday with UM. Gee said she met with the coaching staffs for a Q&A, participated in a luncheon with response teams involved in prevention and education, visited with Haslam and Gee, and met with UM President Seth Bodnar.
In a statement provided by his communications director, Bodnar said UM was honored to partner with Tracy in her important work.
"I am inspired by Brenda's strength, courage and leadership and grateful that she is here on campus to speak with our student athletes, coaches and leaders," Bodnar said.
"Her message to 'set the expectation' is an important one, and she is having tremendous impact on campuses across the country in reinforcing that sexual assault and physical violence are never OK."
Late Monday morning, Montana Grizzlies head football coach Bobby Hauck tweeted a picture of himself and Tracy: "Brenda Tracy speaking to the department today. Great to meet you Brenda, great message."
Hauck coached the Grizzlies from 2003 to 2009, leading the team to seven straight Big Sky Conference titles and to three FCS title games, and returned after the 2017 season.
His rehire at UM was controversial. Critics blamed him for contributing to a culture that resulted in violence including against women, while supporters praised his winning record and noted he left before federal investigators launched a review of UM's handling of sexual assault reports in 2012.
Hauck addressed critics at a public forum in February.
"I want to develop men of character, people who are great husbands, fathers, great in the community," Hauck said at the time.
Monday, Tracy said the staff at UM appeared motivated to step up and use their platforms to build a healthy culture. She also said many administrators were asking for her opinion, and she was encouraged by their interest.
"Today, I've had nothing but open ears and hearts, and I've felt really good about my visit thus far," Tracy said.
Rape has been a problem on campuses across the country. UM has had its share of the spotlight, partly after bestselling author Jon Krakauer wrote a book about the national issue and set it in Missoula.
Monday evening, Tracy planned to give a lecture to students that the Athletics Department had made mandatory, Gee said. Tracy said she does two things in her talk, starting with making sexual assault a personal issue rather than an abstract one.
"I share my story, and I do so in pretty graphic detail in an effort to humanize the issue," Tracy said.
She also said she encourages students to take action, even if it's a small step.
"I try to inspire them to get involved," Tracy said. "I spend quite a bit of time talking to the men in the audience, talking to them as the solution and why they should get involved, and the hope after I leave is that people are wanting to get involved."
She said that might mean believing a survivor, paying attention in a class about consent, or raising awareness: "This is preventable violence. It does not have to happen. And it is up to all of us to work on this together, especially men."
In his statement, President Bodnar said he believed Tracy's story would provide a significant benefit to the students who heard it: "I believe Brenda's presentation will provide an emotional and powerful learning opportunity for our student athletes."
Gee said the Athletics Department tries to bring a presenter to campus each year on an issue important to students. In the past, UM has brought speakers to talk about social media responsibility, for instance, and also invited Jackson Katz to speak about issues of gender, race and violence.
In the future, she said UM hopes to bring a group named A Call To Men, which seeks to promote healthy and respectful manhood and shift attitudes and behaviors that devalue women and marginalized groups.