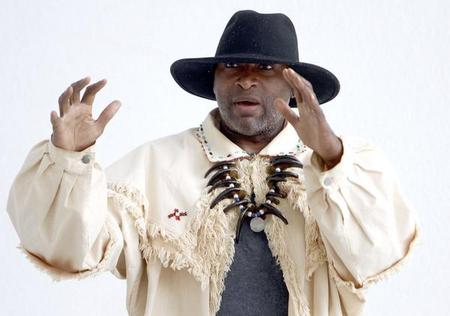 It was out of no great sense of racial or gender justice that prompted William Clark to ask his black slave and the lone woman on the Lewis and Clark expedition their opinions on which side of the Columbia River they should spend the winter of 1805-1806.
York's and Sacajawea's votes counted just as much as each of the 28 enlistees in the party, all but one of whom agreed with a plan to cross over to the south side near Astoria and examine it for its hunting potential.
"A great leadership tactic," Hasan Davis called it Thursday, but not because it represented, as historians like to point out, the first time in American history that a black slave or a woman cast a meaningful vote.
The Corps of Discovery, a military unit, was haggard, cold, and miserable when it got to the Pacific Ocean. The crew needed a morale boost, Davis said, and the vote that Clark tallied name for name in his journal gave equal footing to not just a black man and an indigenous mother but to poor, enlisted men alongside elite officers who were calling the shots (and probably had their minds made up anyway).
Davis, a black author, speaker and performer from Kentucky, has spent most of the past two decades portraying York, Clark's boyhood playmate who became his slave after Clark's father died and bequeathed York to him. Davis came to Missoula in 2005 during the Lewis and Clark Bicentennial to tell York's side of things on stage at the Wilma Theater. Last year he presented "The Journey of York" at Travelers' Rest State Park in Lolo. 
Davis was home Thursday in Berea, Kentucky, speaking and taking questions on a National Park Service webinar called "Hasan Davis: A Conversation About York, Equity, Race and the Lewis and Clark Story."
The recent deaths of George Floyd, Breonna Taylor and Ahmaud Arbery are tragic reminders that discussions of racial justice must continue, Karla Sigala, interpretive specialist for the the Lewis and Clark Historic Trail, said. And who better to provide the forum than the National Park Service, which is charged with keeping the Lewis and Clark story relevant?
"We've been having this conversation for years, but the thing is we need to keep having it over and over again," Sigala said. "Black history is American history. American Indian history is American history."
Davis was an active particpant in the Lewis and Clark Bicentennial of 2003-2006.
"One of the things that was really amazing to me was I saw the intentionality on so many levels to make sure this wasn't just a set story that we'd been hearing for 200 years," he said.
It was and remains a constantly evolving social lesson. He told how during the bicentennial elders from the Nez Perce and other tribes "pulled me aside to say, 'No, let me tell you how we saw York.'"
The black man was prodigious in size and strength, a novelty to tribes that were already acquainted with Europeans but just another one of the strangers to those who weren't.
"Clark's real reason for bringing him along was he wanted to have the biggest, strongest guy behind him," should there be mutiny on the trail, Davis said. "And I think that's what he (York) believed as he started out. But then he starts seeing himself differently because the people they encountered saw him differently."
York was admired as "Black Indian," "Big Medicine" and "Gift From God" by the tribes. Some approached him as chief of the Corps.
"He knew how to fight. He knew how to hunt. He had his own rifle, which was unheard of among slave people," Davis said. "He was a full support member. I don't think he started as that. He started as more or less a creature comfort for Clark, but once they got out of civilization, he was so much more."
There are signs in the journals that York became fed up with natives trying to rub the black off his skin.
"About that same time he realized he was being used. He got tired of being tokenized like that," Davis said.
And so The Vote on the coast should be viewed in a continuum. Upon their return to civilization, others in the expedition were paid off in land. York got nothing. He asked Clark for his freedom, several times. He didn't get it. He asked to be sent to Louisville, where his wife was enslaved to another owner, promising to send what he earned back to Clark in St. Louis.
Clark said in an 1808 letter to his brother he would let York stay "a fiew (sic) weeks with his wife."
But "he is Serviceable to me at this place, and I am determined not ... to gratify him, and have directed him to return," Clark wrote in taking his customary spelling liberties. "If any attempt is made by York to run off, or refuse to proform his duty as a Slave, I wish him Sent to New Orleands and sold, or hired out to Some Sevare Master until he thinks better of Such Conduct."
York didn't run. Now, in the midst of the Black Lives Matter movement more than 200 years later, his story makes a good conversation starter.
"Because then we can see the injustice and recognize that this is just one story of millions where people work hard their entire lives and receive no benefit," Davis said. "Slavery is a mom and dad working seven days a week, no days off, no vacation, they don't get a pension or a 401(k). They do what other people tell them to do, and the other people get the benefits."
On the Oregon coast in 1805, "it's like they tore that first section out of the Declaration of Independence and said, 'Yeah, this right here is what we're going to do.' Then they got back to civilization and they did what we do at every amazing pivotal time in our history. They said, 'Let's not talk about it.'"
"Historically people say, yeah, we did this amazing thing, but that's not who we are. That's our emergency selves," Davis said. "We'd rather ask for forgiveness at the end than do the right thing at the beginning."