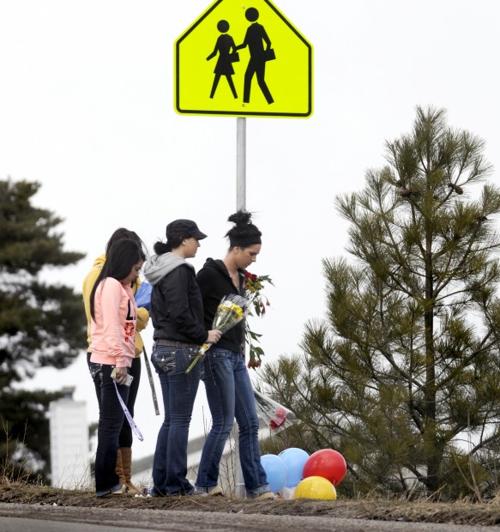 Shaina Fuller stood on the roadside along Hillview Way and cried and cried and cried.
She'd just returned from Harborview Medical Center in Seattle, where her 21-year-old stepbrother, Nic Platz, remains in the intensive care unit with injuries he suffered a week ago in a crash on Hillview.
The 3:15 a.m. wreck killed two of his friends, Jason McDonald, 20, and Josh Gruebele, 18.
Justin Barber, 21, the car's driver, is jailed on $500,000 bail, charged with vehicular homicide while under the influence, and with injuring Platz.
Fuller drove to Seattle the day of the crash. The enormity of the situation didn't sink in until she returned to Missoula on Thursday.
"I didn't have a chance to cry," she said. "Then I went out and saw the crash site and bawled my eyes out."
Fuller is only 24, barely older than the young men involved in the crash. But when she was their age, she said, "I'd call my mom (for a ride), even when I was really drunk, and would take the yelling because I knew what would happen. Kids nowadays should just buck up and ask for help. It's not that hard. And they'd still be living."
Last Sunday's crash brought to seven the number of people killed in alcohol-related accidents in Missoula County in the first nine weeks of 2012.
That's nearly one-tenth of the 80 people who died in such crashes statewide in 2010, the most recent year for which official statistics are available.
It comes after heightened attention to Montana's culture of drinking and driving. Nationwide, Montana routinely ranks near the top, proportionately, for drunken-driving deaths. A social host ordinance approved last year by the Missoula City Council and new laws passed by the 2011 Montana Legislature aim to change that culture.
Last weekend's crash is testament to the difficulty of the task.
McDonald, one of the young men who died, was a passenger in a car involved in another drunken-driving fatality one year and two weeks earlier. That accident claimed the life of another motorist, Rachel Millhouse, 22, and sent McDonald's friend Joshua Thielbar, also 22, to prison for her death.
A total of six people were involved in those two crashes. Of those, three are dead, one is in prison, one jailed facing charges, and one severely injured.
"It's devastating. The history is devastating, said Brandee Tyree, coordinator of the Missoula Underage Substance Abuse Prevention Team. "And it doesn't change."
Lonie Hutchison, who heads Missoula County's DUI Task Force, likewise lamented that "we have more aggressively stepped up enforcement last year and this year, but it's not fixing it. So, why isn't it?"
It's not for lack of trying. The DUI Task Force awards grants to the Missoula Police Department, the Missoula County Sheriff's Office and the Montana Highway Patrol to pay for overtime for DUI patrols.
Hutchison also teaches mandatory training classes for those who sell and serve alcohol. The DUI Task Force has scheduled a meeting Thursday for store and bar owners about the classes.
The Underage Substance Abuse Prevention team and community leaders will hold a public forum April 17 to discuss the problem of underage drinking and potential solutions.
Given the discussion of the crash last year that injured McDonald, Tyree said, it's important to remember that "this can be a tragedy the first time, the 10th time, the 20th time. It can be anyone who drinks and gets behind the wheel, no matter if they've never drunk before, or drink a lot."
Tyree is on the board of Missoula's Challenge, a nonprofit group that urges teens to pledge not to drink until they're 21, and never to drink and drive, do drugs or ride with someone who's been drinking.
Area high schools have their own programs, some of them launched a few years ago with Project Success grants.
"We try to bring continued awareness about drugs and alcohol and the harmful effects they can have," said Deverie Kelley, the part-time Project Success coordinator at Frenchtown High. Missoula's high schools have similar programs.
Jason McDonald, who died in the Hillview crash, was from Frenchtown.
Two days after the crash, Frenchtown's SADD (Students Against Destructive Decisions) chapter staged a "ghost-out" that featured one or another student disappearing from classes every few minutes, representing the number of teens killed by drunken driving.
SADD had planned the program for months, said Frenchtown senior Ana Torres, SADD's president.
"A lot of the students involved in the ghost-out were friends with the two who died," she said. "They were really eager to help with it."
Kelley said the assembly included a moment of silence for the students who died. "It was handled very respectfully," she said. "It's a message that really needs to get out there."
The SADD assembly is one kind of reminder.
The donation jars that Shaina Fuller is putting up around town, to help Platz's family with his medical expenses, are another.
"People need to understand when they're behind the wheel of a car, they're responsible for everyone in the car," she said, summing up her own message simply but bluntly: