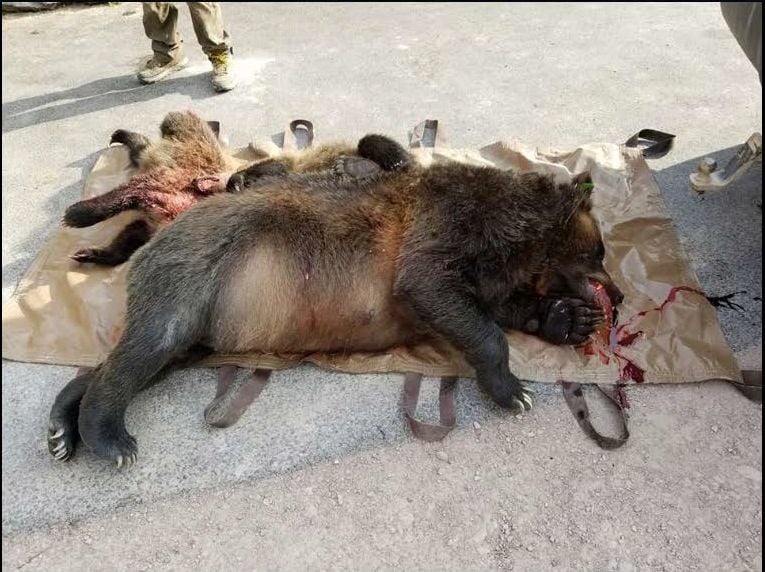 The dictionary defines "mortality" as both death and loss.
For grizzly bears along the Northern Continental Divide, both definitions came into play last month when the ecosystem recorded five grizzly mortalities, although only four bears died. And because two of the deaths were adult females of breeding age, the loss could have longer term consequences.
On July 24, Montana Fish, Wildlife and Parks workers found a dead sow grizzly near the southern end of Hungry Horse Reservoir in the Spotted Bear Ranger District. The 16-year-old female had a radio collar that was sending out a mortality signal, indicating it had stopped moving. The carcass was too decomposed to immediately reveal the cause of death.
Three days later, the driver of a car on Highway 93 ran into a sow grizzly and two of her cubs about three miles south of Ronan. The bear family apparently came out of the barrow pit and tried to cross the highway together about 11 p.m. All three bears died at the scene. The driver and one passenger were injured and the car had to be towed away.
Bear biologists with the Confederated Salish and Kootenai Tribal Wildlife Department found a third cub from the family in a tree near the scene the next day. The 34-pound cub was taken to a tribal holding facility. If it is lucky, a zoo or sanctuary may adopt it.
"The entire family group is functionally removed from the ecosystem," said Stacy Courville, Tribal Bear Biologist. "The remaining live club will not be able to live free on the landscape without its mother." 
This was the second litter of cubs from the female that biologists know of. Courville said she had another group of three cubs when he collared her in 2015. One of those cubs died that fall trying to cross Highway 93 at Crow Creek, almost the same spot its mother died three years later.
"Compared to the rest of the highways in the NCDE, Highway 93 has more deaths per mile than any other highway, including Highway 2," Courville said. "We killed 10 bears on 13 miles of 93 between St. Ignatius and Ronan between 2004 and 2017. And now we have five more this year alone."
About 1,000 grizzly bears live in the 8-million-acre Northern Continental Divide Ecosystem, which includes Glacier National Park, the Bob Marshall Wilderness Complex, Mission Mountain federal and tribal wildernesses, and parts of the Flathead and Blackfeet Indian reservations. The average NCDE vehicle collision toll for grizzlies is three a year. In 2015, there were six, and the previous high was seven in 2007. 2018 has recorded 13 NCDE grizzly road-related mortalities before August. Four of those are living bear cubs too young to return to the wild.
All grizzly bears in the lower 48 states received federal protection under the Endangered Species Act in 1975. Last year, the U.S. Fish and Wildlife Service declared an estimated 750 grizzlies in the Greater Yellowstone Ecosystem of Montana, Wyoming and Idaho successfully recovered and delisted them, turning management of those bears over to state wildlife agencies. That decision has been challenged in court, and a hearing on Aug. 30 in Missoula could return the bears to ESA listing. If the delisting stands, Wyoming and Idaho wildlife agencies have authorized grizzly hunting seasons for this fall.
The NCDE grizzlies may also get delisted by the end of this year. The Interagency Grizzly Bear Committee has mostly completed a conservation strategy for those bears, with rules to keep them from sliding back to threatened or endangered status. Flathead National Forest planners did much of the work, including policies regulating road growth in the NCDE.
"What we're seeing is a wonderfully rapid population growth of grizzlies in the area," said Flathead National Forest Supervisor Chip Weber. The ecosystem is "being overwhelmed by the population expansion. There's a lot of science behind that."
A series of research studies stretching back 20 years indicate the NCDE grizzly bears are expanding by 2 to 3 percent a year. The conservation strategy sets a threshold of 800 grizzlies in the ecosystem as its minimum. If there were between 750 and 850 NCDE grizzlies in 2004, when the initial population surveys started, that growth rate should put the census at 1,050 to 1,350 today.
The model accounts for roughly 25 bears getting killed by people annually, through hunting mistakes, self-defense, management removals or vehicle collisions. So when 2018's tally reached 27 with the worst half of the year still to come, critics of grizzly delisting question the recovery mathematics.
In written challenges to the Interagency Grizzly Bear Committee, delisting opponent Mike Bader of Missoula points out those growth trends depend on several unrelated research projects working together. If they don't mesh, and Bader offers several reasons why they shouldn't, then the 2004 grizzly number might have been as low as 700. That would mean today's population hasn't met the minimum 800 threshold, let alone a surplus.
"It's a mistake to say more mortality means more bears," Bader said. "More mortality means more dead bears."
In Bader's calculations, a mortality threat to grizzlies from one direction should be offset by more protections in another. If the risk of killing bears on highways along the fringe of the core habitat rises, then those core areas should be made safer. And that means fewer forest roads.
"These expansions to four-lane highways make it harder for all wildlife," Bader said. "Bears parallel the roadsides, looking for roadkill (to eat). We've had 26 mortalities just in the NCDE. We're exceeding recent averages and we haven't even hit August. And these are the best bears. They're the ones getting around the barriers, finding the best habitat."
Not all roads are equal
The Flathead National Forest's new grizzly bear management policies will be shared by five national forests and other state and federal agencies.
"It is one of the central challenges for managing for grizzly bears: they cross all those jurisdictional boundaries," said Nancy Warren, a private consultant developing the bear road policies for the Flathead Forest. "The Forest Service has jurisdiction on the national forests, but no jurisdiction on Highway 93. In the (grizzly bear) primary conservation area, the Forest Service will do a 'moving window' analysis which considers just forest and state roads, but not federal roads. There's a lot of interest and commitment to highway road improvement with other agencies, but that's separate from the forest management questions."
Those different roads present different threats to bears. On the highways, grizzlies get hit and die.
"There is a difference in how I look at the impact of highways vs. impact of road access in grizzly bear habitat," said Frank van Manan, research biologist with the Interagency Grizzly Bear Study Team in Bozeman. "When we talk about highways, it's direct mortality from vehicle collisions and barriers to movement. When we talk about access on forest roads into grizzly habitat, the density of those forest roads have an indirect effect. They make grizzlies more vulnerable to various sources of mortality like poaching or conflicts with campers. There's a strong correlation between forest road density and grizzly survival, but it's not necessarily from vehicle collisions."
That makes the death of the Spotted Bear sow significant. She will join 14 NCDE grizzlies killed by something other than vehicle collisions so far in 2018. But along with the Highway 93 sow, the ecosystem lost two of its rarest commodities: mature breeding grizzly mothers. Only such sows drive that 2.3-percent annual growth rate. 
The need to preserve secure habitat led the Flathead National Forest to cap the miles of road it has in grizzly Forest Service bear management subunits throughout the NCDE.   
"The fundamental premise is that habitat conditions as they are currently set in the conservation strategy appear to be sufficient to have a stable or increasing population of bears," said Warren. "We're going to maintain those conditions."
That means keeping the most roadless parts of the national forests secure, so the grizzlies have places to avoid people. The new rules allow new roads to be built or old roads to be reopened for things like timber sales or firefighting or recreation projects.
"What the new decision would do is say where we are now is sufficient; there's no need to go further with road closures or decommissioning," Warren said. "The (grizzly) population has done well with current conditions. We will have no net increase in roads and no net losses of secure core. If you're going to build a brand new road in some subunit, you have to take one off by decommissioning it or making it impassible."
That drives Mike Bader crazy. He argues the whole Forest Service approach to roads will condemn bears to extinction.
"They're saying we can have more recreation, more highways, more mountain bikes, more motorized access and ignore climate change, and still have as many bears as we want," Bader said. "That's why they don't include paved highways in their road calculations. If they did, they would have to include more areas in their security habitat to offset the highway threat. They want to build more roads and walk away from the ones they promised to close."
Who fixes the problem?
The 2018 roadkill statistic carries a double irony because the fatal stretch lies just north of one of the most extensive wildlife highway crossing structure networks in the United States. CSKT, the Montana Department of Transportation and the U.S. Department of Transportation spent millions of dollars installing underpasses and one massive overpass along 56 miles of Highway 93 from Evaro Hill north of Missoula to St. Ignatius. The project ended just south of Post Creek, one of several drainages bears travel between the forested Mission Mountains and the farms and ranches of the Mission Valley.
"This particular area has not been reconstructed and does not include crossing structures at this time," CSKT Wildlife Biologist Whisper Camel-Means said. "We hope to return to work on the remaining section of reconstruction from Ronan to Ninepipe soon and that the reconstruction plan includes adequate and appropriately sized crossing structures."
But will the grizzlies get the memo? In May, Courville recovered the radio collar of another sow he'd captured in 2016. It showed she'd spent most of her time between Post Creek and the National Bison Range.
"She crossed the highway 39 times," Courville said. "We never got a picture of her using a crossing structure. She's probably crossing at grade. The Bison Range did get a picture of her inside the range, with her 2-year-old cub. They're in there on the creek where they find bison carcasses. That's a huge attractant."
The Flathead Indian Reservation has its own policies for grizzly bears and roads, and also has much more road density at the base of the Mission Mountains than the Flathead National Forest rules contemplate. Courville said he doesn't have an explanation why 2018's roadkill number has jumped so high.
A crucial part of the court challenge to grizzly delisting asks if some bear populations can be declared "recovered" while others remain threatened. This gets at a bigger issue for overall grizzly recovery: Can big, productive ecosystems like the Greater Yellowstone and Northern Continental Divide link their populations to struggling areas like the Cabinet-Yaak or Bitterroot recovery areas? Grizzlies have to cross highways to make those linkages.