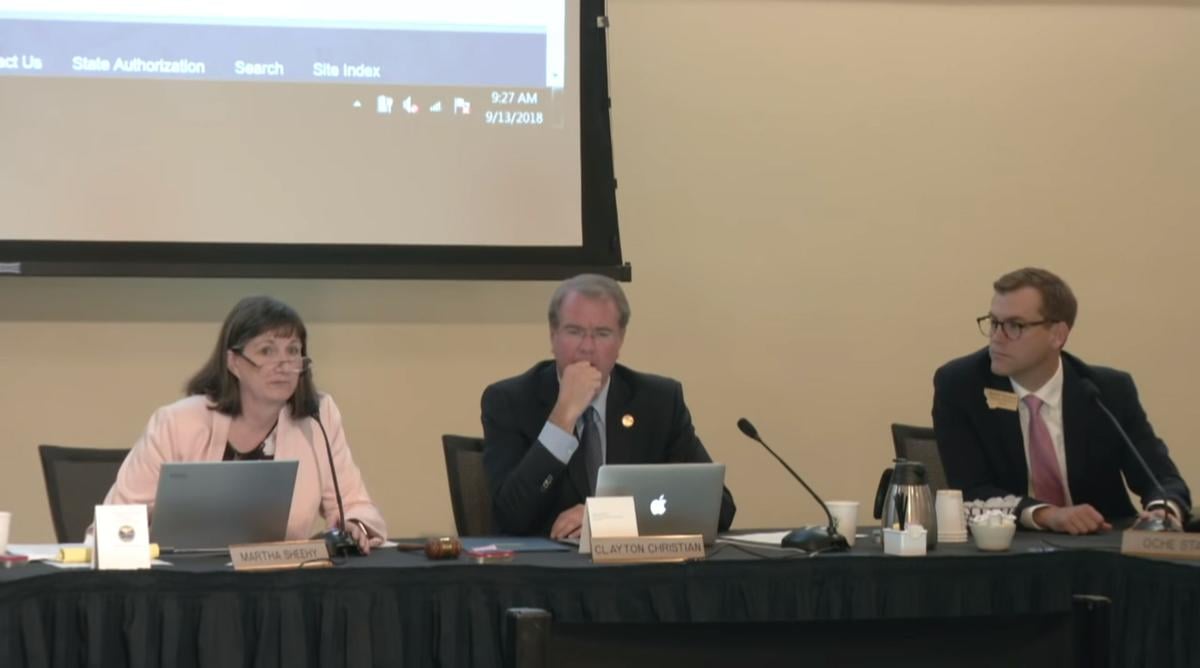 On Wednesday, the board that governs Montana's University System took up matters ranging from a multimillion-dollar debt restructuring to a new institute focused on water research — as well as the rules that let Montanans view the paper trail for these and other ventures. 
University System Chief Legal Counsel Vivian Hammill, who works in the Office of the Commissioner of Higher Education, said the proposed changes had "been under discussion internally for a while."
She said that the changes aimed to standardize the university system's compliance with the 2015 Montana law that authorized — but did not require  — the collection of fees for record requests. "We've had a lot of inquiries from the campuses about what they should charge, when they should charge," said Hammill.
"The reason we changed the word 'may' … to 'should,' not 'shall,' is for you to consider whether it would be the best practice for campuses to be consistent in how they charge," she told the regents.
But Regent Martha Sheehy — an attorney who has represented Lee Montana Newspapers in right-to-know cases — said she had "a strong reaction to the use of the word 'should.'"
"I would really oppose the use of the word 'should.' I think it conflicts with the statute as it was constituted in 2015."
A 2015 addition to Montana's public records laws states that "a public agency may charge a fee for fulfilling a public information request," not to exceed the "actual costs" of filling it. It also says that upon receiving a request, a state agency must either make the information available or give the requester an estimate of the time needed to fulfill the request, and the fees involved.
"If we say that these items … should be charged, we're doing away with the first mandated option under the statute, which is simply making the information available," Sheehy said. She also noted that state agencies' abilities to charge legal fees for public documents "are not settled matters of law."
You have free articles remaining.
Montana Commissioner of Higher Education Clay Christian said that "I have no particular passion about the word 'may' or 'should' … The important (thing) is that we get guidance from this board that we can disseminate across campuses to get some consistency.
"We certainly don't want to preclude people from access to public records," he added. "We certainly embrace right-to-know and we'll continue to embrace that."
Christian's office recently succeeded in a high-profile legal battle to withhold its records. Author Jon Krakauer, author of "Missoula: Rape and the Justice System in a College Town," had wanted to view records concerning Christian's reinstatement of a University of Montana quarterback who was accused of rape in 2012 and ordered expelled by UM. (The quarterback later was found not guilty in a criminal trial.)
For years, Christian's office fought the release of the records on privacy grounds; last week, the Montana Supreme Court sided with the commissioner's office. Krakauer told the Associated Press that he is assessing his options for pursuing the matter.
For now, the records policy remains a draft. Christian said he would like to see further recommendations when the Board meets in September.
The board approved several other actions Wednesday. One was a restructuring of millions of dollars worth of University of Montana debt. The regents voted to issue nearly $13.2 million worth of bonds, in exchange for the same amount that was issued in 2017, and issue up to $146.8 million worth of new revenue bonds.
The proceeds will be used to refinance $106 million worth of existing UM debt, cover the costs of the bond issue and pay for campus improvements. According to a state audit, at the end of fiscal year 2018 UM had nearly $313 million in total liabilities and nearly $591 million in assets. The audit did not identify the university's debt load itself as a problem, but identified both its declining enrollment and $10 million structural deficit as issues.
Paul Lasiter, the University of Montana's vice president for operations and finance, explained that UM is currently set to make service payments of about $15 million for each of the next six years on the debt in question. The restructuring will prolong the payment window to 19 years, but save the university $7 million to $9 million per year in debt payments, he predicted.
"This will give the University of Montana extreme flexibility in redeploying those funds, either in improvements to the campus or in redeployment in operational strategic manners that will help us improve enrollment and retention going forward," Lasiter said.
Asked for specifics on how the university might use those funds, he acknowledged that "to be frank, there isn't a specific plan of deployment for these projects developed currently. However, we do know that there are several areas around campus that necessitate investment due to deferred maintenance issues."
When the restructure came up for a vote, Regents Bob Nystuen and Casey Lozar, who both work in the banking sector, recused themselves to avoid any possible conflicts of interest. The remaining regents voted to approve it.