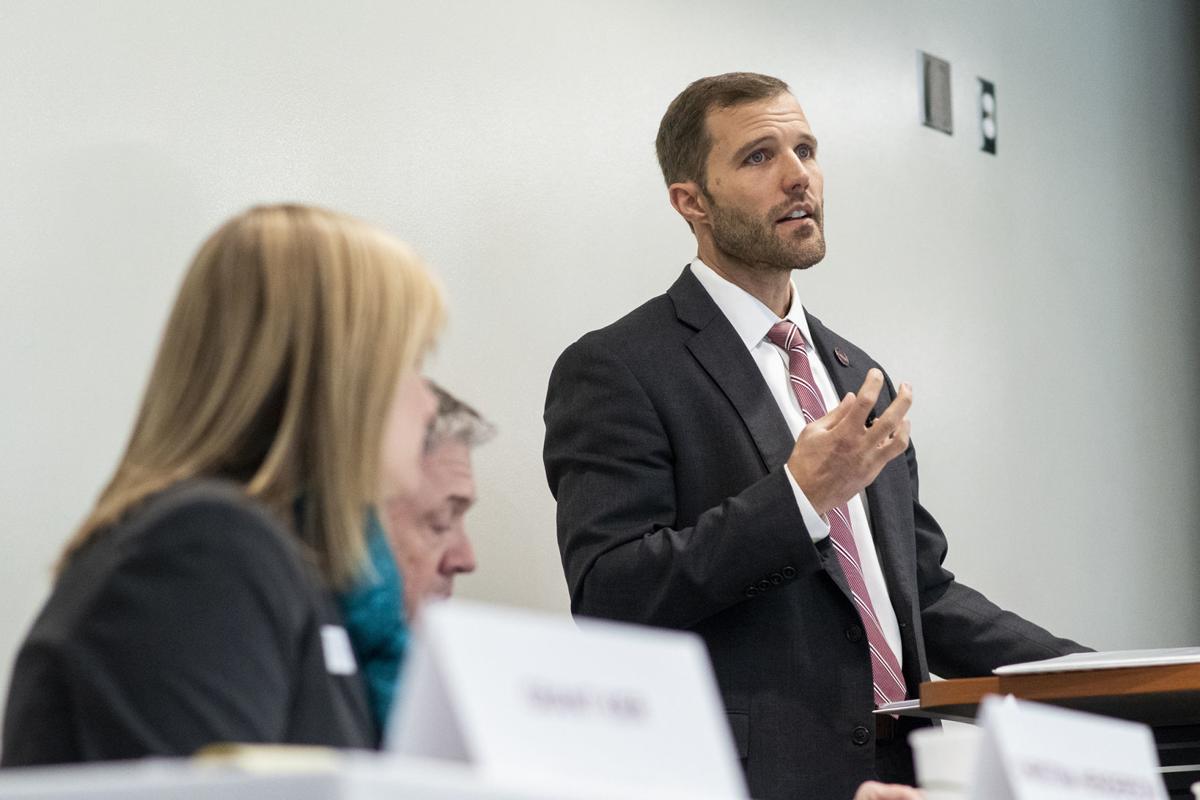 The Montana Board of Regents appeared set to approve pay raises for its top executives, as well as a $500,000 payout for University of Montana President Seth Bodnar if he sticks around for at least five years.
The regents also supported a $150,000 bonus for Montana State University President Waded Cruzado in an attempt to keep her in Montana, as other universities around the country have sought to hire her away.
The regents won't vote on the proposals until Friday, but Thursday, they deliberated the proposals and voiced support for both. 
The payment plan for Bodnar, known as deferred compensation, would set up an annual $50,000 per year payment to the now-40-year-old president from age 65 to 75, if he stays on campus for at least five years.
Both Cruzado and Clay Christian, the commissioner of higher education,  already have similar deferred compensation plans in place.
Regent Martha Sheehy expressed some reservation about giving Bodnar this type of deferred compensation plan just because it's been done before, but ultimately voiced support for the plan.
"I would be more comfortable with a different kind of review process on how we compensate our presidents," Sheehy said. "I do understand how difficult it is to not explain our past to candidates, but it gives me some heartburn, I'll tell you that. But I think it's an appropriate measure given our past and the situation we're in today."
In addition to the deferred payment plan for Bodnar and bonus for Cruzado, the regents also voiced support for 2% raises system-wide for unionized and non-unionized employees.
Deputy Commissioner of Higher Education Kevin McRae told the Board of Regents that the Montana University System has among the lowest salaries for public university presidents in the country, and the deferred compensation plan helps to keep leaders in the state, while costing the state very little.
McRae said investing the money now for the payment plan allows the state to spend maybe half of the total $500,000, and if the University of Montana Foundation chips in, as he said its directors have expressed interest in doing, the university system could spend as low as a quarter of the total to set up the future payments.
Bodnar was hired in November 2017 to help stem an enrollment decline at UM and fix resulting budget problems, and he fully assumed the presidency in January 2018. That year, he received more than $316,235 in total compensation, according to data compiled by the Chronicle of Higher Education. Cruzado received $327,793, and Christian, $326,493 (their total compensation includes salary and other benefits). Both flagship presidents' compensation was below the national median of $460,000.
Cruzado, who has overseen rapid growth at MSU since being hired in 2010, has been sought out by other universities, Christian told the regents, and with the relatively low salaries in Montana, he hoped offering a $150,000 bonus would keep her in Bozeman.
Enrollment at most of the university system's campuses has been either declining or flat these past nine years. The outlier is MSU-Bozeman, which added about 3,200 students from 2011 to 2018 before dipping slightly last year.
"You can't achieve those sorts of results without catching notice around the country from other peer institutions," Christian said. "We have a president, here, who has caught that notice, and has been recruited a number of times in the past to look at other opportunities, more recently recruited again with an offer placed in hand.
"We've asked our good president to consider staying here. While we can't match offer of other institutions in many cases, but we can do something to help close the gap somewhat."
The regents also heard from UM Budget Vice President Paul Lasiter on proposed projects to bring the campus infrastructure up to date, including renovating one of the dorms, renovating Jeannette Rankin Hall, and adding turbines to the campus heating plant that would generate the majority of the campus' electricity needs.