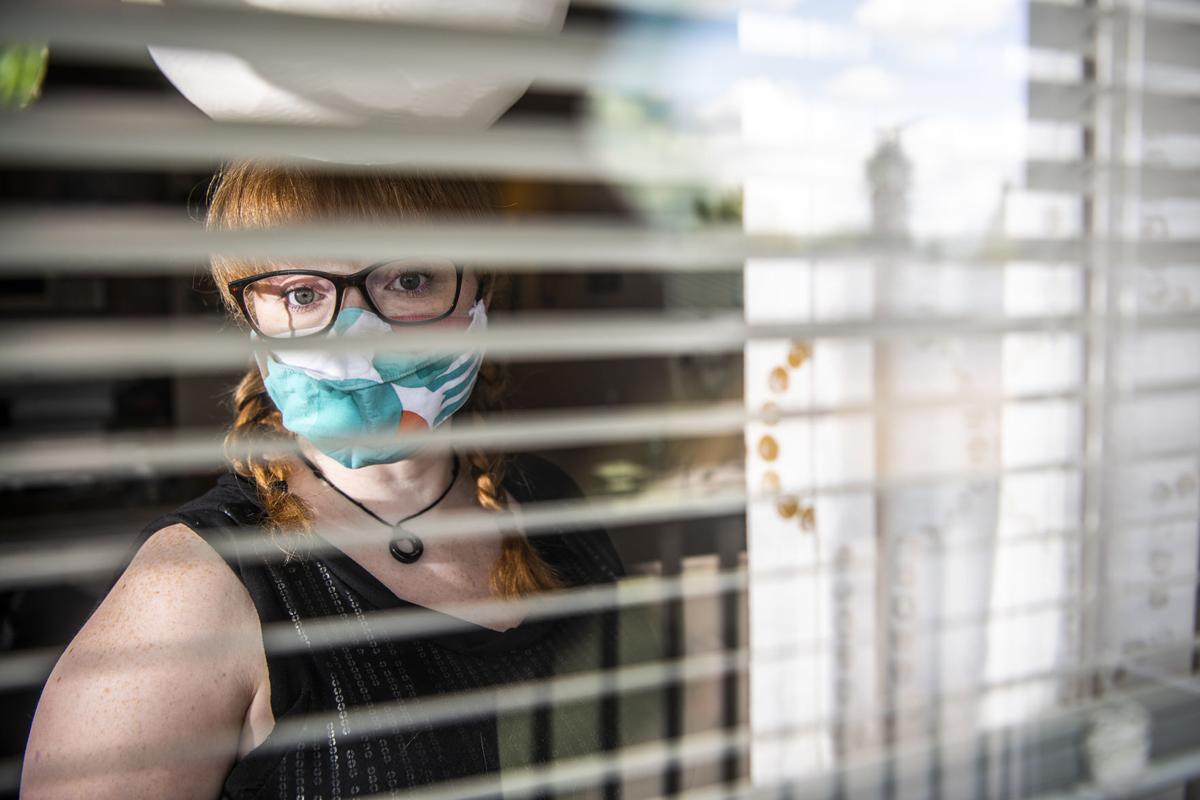 Amanda Barr originally agreed to pay $675 per month in 2018 when she moved into a one-bedroom apartment in a large complex on the south side of Missoula.
There have been small increases in the rent since then, but she's been able to make it work.
Earlier this spring, though, she was shocked by a letter from her property management company, Missoula Property Management. The letter told her that her current lease would expire on July 30. If she wanted a new one-year lease, rent would be $850 per month with a $35 utility/trash fee.
"That's a 25% increase since 2018," she said.
County property tax records indicate the building's property taxes went up a little over 6% between tax years 2018 and 2020.
Missoula Property Management did not return a request seeking an explanation for why the rent was raised so much on Barr's apartment.
Missoula's apartment vacancy rate was at an extremely tight 1.24% in the first quarter of 2021, according to Sterling Commercial Real Estate Advisors. That means renters are finding few options and landlords have the ability to drive the terms of leases.
"I looked at other places and there's nothing," Barr said. "Half the people I know are scrambling to find a roommate or something. So it seems like I could not re-sign (the lease), but am I gonna get trapped in a worse situation if I attempt to do that? Come July 31, everybody and their brother will be in the same situation. That's when most leases in Missoula for apartments come up because of school."
Average rent in Missoula stands at $1,076, according to a Sterling report from earlier this year. That's an 8.9% increase from 2020. By comparison, Missoula's average rent increased only 8.6% between 2009 and 2018, according to the Missoula Organization of Realtors.
The median income of Missoula renters in 2019 (the latest year data is available) was $37,538, according to the Missoula Organization of Realtors. That year, about 48.2% of renters in Missoula were cost-burdened, meaning they spent more than 30% of their income on housing.​
Buying a home to get out of the renting cycle isn't easy on Missoula wages either. To purchase a median-priced home of $315,000 in 2019, you would need an income of $98,123 (and a 5% down payment on a 30-yr conventional loan) to afford that home. Meanwhile, the actual median income for a two-person household was $58,688 in 2019. And the median sales price of homes sold in Missoula County between Jan. 1 and April 30 of this year was $419,069, a 28% increase over the same time period in 2020.
Paul Burow, a property manager and Realtor in Missoula who often compiles statistics about renter incomes and rent prices for the Missoula Organization of Realtors, said this year has seen historically high competition for apartments and houses.
"Our biggest issue with rental stuff right now is just supply," he said. "Probably on a typical year, two or three years ago before the pandemic, I'd be processing 40-50 move-outs. And I've got like four right now. People aren't moving. If something does come up, the prices are getting jacked because we have a waiting list of people who want it."
Property managers also work for the owner of the property, he noted.
"It's not that we're trying to take advantage, but holy cow, our job is to rent things at the highest price possible and people are paying anything right now," he said. "I feel bad for everybody."
Several Missoula renters told the Missoulian stories of rent prices increasing drastically after their building was sold but asked for anonymity because they feared repercussions.
Barr said Missoula is in danger of replicating another high-priced city.
"I was in Seattle before I came here and that kind of stuff was happening there as people who had rented their house for 30 years were told the rent's going up $6,000 or you can leave," she said. "They would have to leave and whole families would be homeless. That's what I see happening here. What could have prevented it was limitations on rent increase and renter's rights and more affordable housing and more accessible housing."
With housing prices one of the most challenging issues facing the Treasure State, the Montana Legislature and Gov. Greg Gianforte tried addressing the problem in various ways. Gianforte signed a law that gives a tax credit to companies that train workers in trade skills, saying it would address the shortage of skilled workers who build housing units.
The bill was sponsored by Rep. Sue Vinton, a Republican from Billings whose family owns a construction company.
"Everyone in Montana is dealing with issues of how to make housing more affordable, but I don't believe that inclusionary zoning effectively deals with that issue," Vinton told Montana Public Radio in early May. Vinton argued that inclusionary zoning forces builders to pass on the costs of affordable housing to market-rate homebuyers.
Bob Oaks is the executive director of the nonprofit North-Missoula Community Development Corporation, which has built several permanently affordable housing developments in Missoula using the land trust model.
Oaks said inclusionary zoning is one of the most established and effective tools for building workforce housing in places where housing costs are soaring.
Inclusionary zoning recognizes and harnesses a fraction of the power and ability of the private sector to reduce some portion of the burdens of government to provide for workforce housing needs.
"Both Bozeman and Whitefish had new, promising (inclusionary zoning) programs in place, supported by the public and the local Chambers of Commerce," Oaks said. "Any housing lost to the workforce from the Legislature's ban will be opportunities lost for communities all over the state. Missoula's dire problems in meeting its own workforce housing needs speaks dramatically to the need for this tool, now denied us by our Legislature and Governor."
The debate over inclusionary zoning aside, Missoula's renters are facing tough choices.
Krista Hill drives for a ride-share service in Missoula and said it's been impossible to find anything affordable to rent.
"I have been searching since Feb. 25 and looked for everything from a studio to a three-bedroom apartment, but waitlists are ridiculous," she said. "It's a minimum of $1,000 a month even for crappy places. And we're paying $40 application fees and people aren't even bothering to tell us why we didn't qualify."