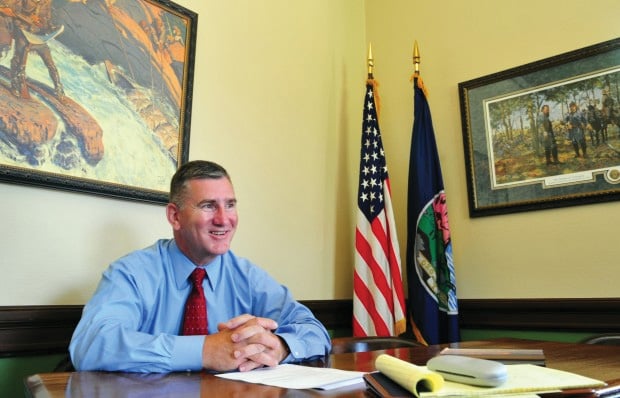 HELENA–Lt. Gov. and U.S. Senate candidate John Walsh said Saturday he disagrees with a 2010 report by the inspector general of the U.S. Army concluding that Walsh, then adjutant general of the Montana National Guard, had improperly used his position for private gain.
On Friday, the Montana Television Network reported the Army's inspector general also concluded that Walsh improperly used government resources and improperly endorsed a non-federal entity.
The investigation involved Walsh's soliciting members of the Montana National Guard to join the National Guard Association of the United States. It's a private group, started in 1878 and funded by memberships. The association lobbies on behalf of the guard for better equipment, training and benefits.
"I don't necessarily agree with the conclusion," Walsh, a Democratic Senate candidate from Helena, said in an interview. He said responded with a letter to the Army disputing the findings, but to no avail.
Walsh said he received no personal gain, nor was he disciplined after the report.
At the time, Walsh was running for, and was later elected, to be vice chair-Army of the national association. He previously served on its national board of directors. Both were unpaid positions.
"The state wouldn't pay for us to go back there," Walsh said. "It was my time and my own resources in a lot of cases."
Walsh informed his then boss, Gov. Brian Schweitzer, of the investigation. He said Schweitzer said, "You work for me. You are my adjutant general and my director of the Department of Military Affairs and were to continue (in those posts)." Walsh said he always received "glowing reports," in his evaluations, including from Schweitzer.
Before Walsh solicited guard officers to join the association, he said sought a legal opinion from the Judge Advocate General of the National Guard Bureau in Washington, D.C.
"The way I interpreted the legal opinion is that I could endorse the NGAUS in my state capacity," he said. "The IG (inspector general) disagreed."
How the controversy will affect Walsh's Senate campaign is uncertain. He is in a three-way Democratic primary for U.S. Senate seat in 2014, facing former Lt. Gov. John Bohlinger of Helena and Dirk Adams of Wilsall in the primary.
"It cuts against Walsh's strength," David Parker, political science professor at Montana State University, said. "While I don't think the allegations are a huge deal, it makes it harder for him to say he's going to go and clean up D.C."
Walsh called it unfortunate that "there are people out there that are trying to make political hay of this. It's not the way I was brought up in my career."
Walsh said he doesn't believe the news will derail his campaign.
"When people see what I was doing as adjutant general and as a board member of the National Guard Association of the United States, that's the kind of leadership that citizens of Montana want in Washington, D.C. Someone who's going to stand up and have the courage to do what's right and then take the responsibility for their actions."
Walsh added, "I'm not going to apologize for fighting for the young Montanans that served under my command in the Montana National Guard or for trying to make the Montana National Guard a better organization, and I'm not going to stop fighting for it."
The inspector general's report said that Walsh, at two workshops in February 2010, said that membership in the association and a similar group for enlisted men, "was a top readiness priority" for the Montana National Guard.
In a six-page May 2010 email to Montana Army National Guard officers, warrant officers and senior leaders, Walsh told them he was a lifelong member of the NGAUS and a regional director.
He told how membership in the association contributed to the readiness of the Army, National Guard and Montana National Guard and included its history and benefits, the report said. It quoted Walsh saying he "strongly believed it was the responsibility of leaders to support the association."
Walsh sent another email in June 2010. The report quoted a subordinate officer testifying that Walsh's message felt "more like coercion" and those senior members of the command talking to him in other emails felt "very threatening."
Another subordinate said in an email later that month that "I find it a little intimidating and fear that I am being bullied (read Strongly Encouraged) into joining," according to the report.
Walsh said he strongly believes in the importance of the National Guard Association of the United States and the similar organization for enlisted men.
"My supervisors taught me professionals belong to professional organizations," Walsh said. "I learned that early in my career. I saw the benefits."
As adjutant general, he said likewise he encouraged guard professional to join. The association, he said, fights daily to make sure the Army and Air National Guard receive the same kind of equipment and benefits as the other branches.
"They just don't give the National Guard the equipment that they have out of the kindness of their heart," he said.
Walsh said he made then-Attorney General Steve Bullock aware of the investigator general's letter when Bullock, a candidate for governor, was considering Walsh to his running mate. Bullock later picked Walsh to join his ticket.
"The governor understands that Lt. Gov. Walsh, throughout his long and decorated military career, went to great lengths to strengthen the military, the Montana National Guard and the representation our citizen soldiers and their families have in Washington," Bullock spokesman Kevin O'Brien said Saturday.
Chuck Johnson is chief of the Lee Newspapers State Bureau in Helena. He can be reached by email at: chuck.johnson@lee.net or by phone at (406) 447-4066 or (800) 525-4920.