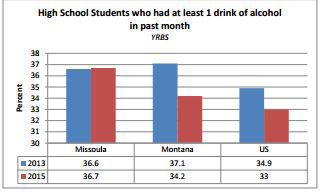 Missoula County has more heavy drinkers than anywhere else in the state, according to a new report.
Some 26 percent of the adult population self-reported heavy or binge drinking in the last 30 days, which puts the county in the top 13 percent of all U.S. counties for booze consumption.
Home to the University of Montana and with a population of roughly 116,000, Missoula County takes the dubious distinction over Powell, Gallatin (home to Montana State University), Richland and Fallon counties at 24 percent each.
That's according to a new report from the University of Wisconsin's Population Health Institute, which uses statistically modeled data and survey results from 2016 recorded by the U.S. Centers for Disease Control. Excessive drinking is defined as five drinks for a male on one occasion or 15 in the last week, and four drinks on one occasion for a female or eight in the last week.
And the Missoula City-County Health Department's Community Health Assessment shows that while Montana's percentage of high school students who self-reported drinking dropped from 37 percent to 34 percent from 2013 to 2015, in Missoula it stayed about constant at 36.7 percent.
Overall, Missoula ranked 11th in the state for health outcomes, mainly because the number of adults who reported receiving clinical care ranked second in the state and the county's premature deaths are far below the statewide and national average.
However, 23 percent of adults in Missoula County are obese, 18 percent smoke tobacco and 15 percent of children here live in poverty. A total of 19 percent of Missoula County adults report severe housing problems, including at least one of the four problems: overcrowding, high housing costs, lack of kitchen infrastructure or lack of plumbing facilities.
That ranks in the worst 9 percent of all U.S. counties, and in Montana only places like Glacier, Lake, Ravalli, Big Horn and Mineral counties report worse housing statistics. Gallatin County only reports 16 percent of adults having those problems.
Missoulians do exercise a lot, though. Only 15 percent of adults here report having no leisure-time physical activity, which is lower than every county except Gallatin County.
Loni Hutchison, the coordinator of the Missoula County DUI Task Force, has compiled data showing that DUI arrests in Missoula County have fallen steadily for the past few years, from 1,368 in 2012 to 851 in 2016. Those numbers include arrests by the Missoula County Sheriff's Office, the Missoula Police Department and the Montana Highway Patrol.
"We're also seeing a nice little decline in alcohol-involved crashes," she said.
According to her data, the number of alcohol-impaired driving crashes that resulted in a fatality dropped from four in 2015 to zero in 2016, and the number of serious injuries resulting from those crashes dropped from 16 to two in that same time. The total number of alcohol-impaired crashes in Missoula County dropped from 438 in 2007 to 153 in 2016, with a low of 101 in 2011.
The ride-sharing app Uber launched in Missoula in August 2016, and Lyft followed in 2017. Hutchison said she's talked with many of her law enforcement contacts, and she's been told the drop in DUI arrests is not due to a lack in enforcement. She also doesn't believe it's solely because of Uber or Lyft either, although those do help.
"Folks have more options than they've had in a long time," she said.
Capt. Rich Stepper with the Missoula Police Department said there are two designated DUI patrol positions that have not been filled for the past two years. Their only job was to enforce impaired driving laws.
"Every time I think I'm coming close to filling those two positions, another retirement or something happens," he said. "We can never quite get to full capacity through manpower attrition. Those poitions are just vacant right now."
He said that other officers are taking emergency calls or responding to burglaries, so there is less time that his patrols can dedicate to DUI enforcement.
Although he doesn't have statistics or studies to back it up, Stepper believes that Uber and Lyft have led more people to choose to get a ride home rather than drive drunk.
"The availability of a designated driver is a phone call away for a few bucks," he said. "That definitely has to play a part. We haven't done any studies and so information isn't available to us, but common sense would dictate that it has to help."
Ellen Leahy, the director of the Missoula City-County Health Department, said she doesn't want to speculate about whether the presence of a university plays a role in Missoula's high ranking for excessive drinking.
"I would want to know more about the younger demographics that we may have in Gallatin and Missoula counties because of the presence of a university," she said. "That's a question, not an assumption, I want to be clear about that."
But, she said, there is no question many Missoulians have substance-abuse issues and alcohol is clearly a part of that.
"It's very vividly in the negative range," she said. "Nationally, about half of alcohol-related deaths, where alcohol is a contributing factor, half of those will come from these states of excessive drinking. That's why it matters not only to the individual, but the whole community. It just doesn't hurt you, it can kill people around you."