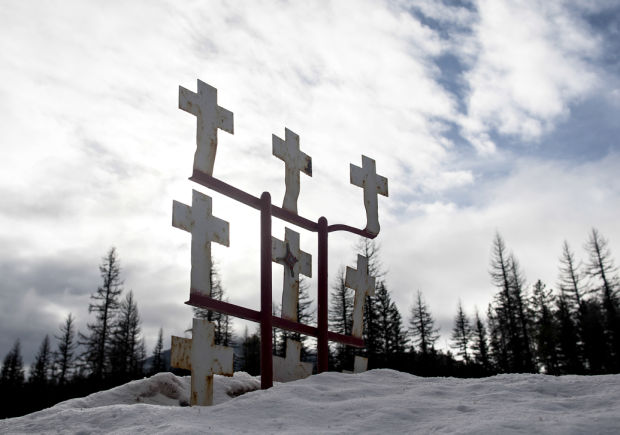 HELENA – Montana's roads and bridges are deteriorating and becoming more crowded, and the state's traffic fatality rate is the third highest in the nation, a report released Wednesday by a nonprofit Washington, D.C., group shows.
Officials from TRIP, a national transportation research group, and executives of Montana business groups said at a news conference at the Capitol that increased investment in transportation improvements at the local, state and federal levels could improve the condition of roads and bridges. In addition, more funding could improve efficiency and help boost long-term economic growth in the state.
The report found that nearly half of major urban, locally and state maintained roads are in poor or mediocre condition. TRIP said 28 percent of Montana's major urban roads have pavement in poor condition, while an additional 18 percent are in mediocre condition.
Driving on these rough roads costs the average urban Montana driver $484 in extra operating costs annually, the report said, or $170 million statewide. These costs include accelerated vehicle depreciation, additional repair costs, and increased fuel consumption and tire wear.
The group said 8 percent of Montana's bridges are structurally deficient. That means the bridge decks, supports or other major components have experienced significant deterioration.
An additional 10 percent of the state's bridges are fundamentally obsolete, which means they no longer meet current design standards.
Bridges that are structurally deficient or functionally obsolete are safe for travel and are monitored regularly by organizations responsible for maintaining them.
Traffic crashes in Montana have resulted in the loss of 1,053 lives between 2008 and 2012, for an average of 211 fatalities per year. The state's overall traffic fatality rate of 1.72 fatalities per 100 million vehicle miles of travel in 2012 was third highest among the states, TRIP said.
"Maintaining highways and streets in good repair so that they are safe is important to the economy of Montana," said Barry "Spook" Stang, executive vice president of the Motor Carriers of Montana. "Commercial motor vehicles transport over 80 percent of the freight that is manufactured in Montana."
Given Montana's rural nature, Stang said it's important that the state have a transportation system that "provides for the safe, efficient movement of goods and services to markets around the world."
Webb Brown, president and CEO of the Montana Chamber of Commerce, said the business group "knows how important a good infrastructure system is to a strong economy and long-term prosperity. To have that good system, we must have stable, dependable funding to ensure it."
TRIP said the federal surface transportation program is a critical source of highway funding in Montana, returning about $3 to Montana for every $1 the state contributes to the federal Highway Trust Fund.
However, a lack of adequate funding of the federal program may result in a significant cut for Montana's roads, highways and bridges, starting as early as this summer, TRIP said. That would lead to fewer highway and bridge projects being completed.
If the funding is not addressed by Congress, highway and transit improvements in Montana could be cut by $395 million for the federal fiscal year that begins Oct. 1, the report said.
TRIP's website said it is a nonprofit group sponsored by insurance companies, equipment manufacturers, distributors and suppliers, businesses involved in highway and transit engineering and construction, labor unions, and organizations concerned with an efficient and safe surface transportation network.
Chuck Johnson is chief of the Lee Newspapers State Bureau in Helena. He can be reached by email at: chuck.johnson@lee.net or by phone at (406) 447-4066 or (800) 525-4920.