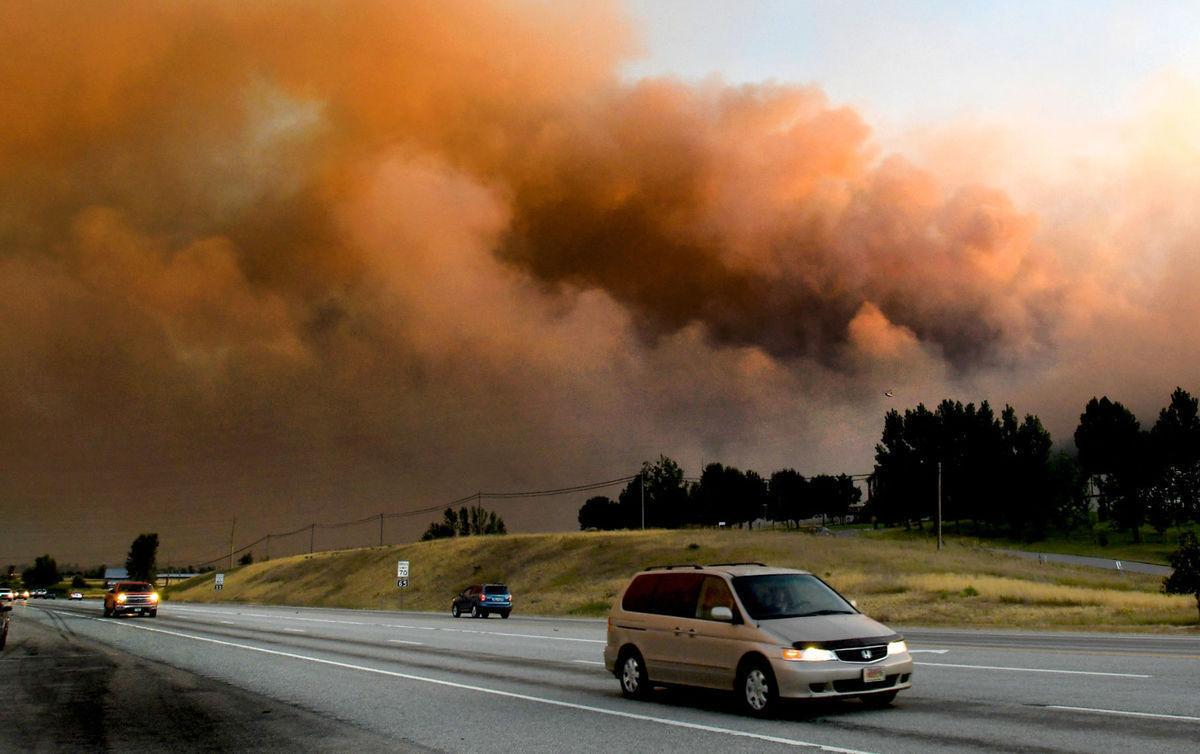 Hotter, drier summers. More wildfires and smoke. Additional flooding. Lower stream flows with higher water temperatures. Shorter ski seasons.
Welcome to what could be Missoula's future.
A draft Vulnerability Assessment on what the greater Missoula area might be like by 2050, based on climate projections paints a disturbing picture. Despite that, two authors of the study are upbeat, noting that now that the community has identified potential impacts, its residents can prepare and work on strategies and solutions.
"Climate change is such an overwhelming issue. But when people dive in and start to understand the local effect, they can start to think about what approach we can take so it's not so depressing that we want to run away," said Amy Cilimburg, executive director of Climate Smart Missoula. "It is sobering and a lot to take in, but the Vulnerability Assessment should lead to helping people feel motivated and figure out what to do."
Diana Maneta, the energy conservation and sustainability coordinator for Missoula County, adds that they learned a lot in creating the report, which used input from more than 100 local stakeholders ranging from agriculture to public health sectors.
"The report is based on a workshop that brought together the stakeholders, many of whom I knew nothing about," Maneta said. "It was interesting to learn about the impacts to these stakeholders."
The new document, which was unveiled on Friday, comes on the heels of a "Climate and Community Primer," which included three mid-century climate scenarios that illustrated a range of possible futures Missoula County could face within 30 years. That document was released in December.
"The climate projections presented in the primer suggest that Missoula County is likely to experience hotter, drier summers; warmer, wetter springs; decreased low-elevation snowpack, and earlier spring runoff," the Vulnerability Assessment notes. "We are already beginning to see the impacts of these changes. The conditions that led to our 2017 fire season and the 2018 flood season are likely to become increasingly common in the coming decades."
Addressing more frequent and intense wildfires, with the potential loss of lives, is probably the greatest climate-related change for Missoula city and county emergency services. The report notes that rural parts of the county are served by a combination of paid and volunteer firefighters, whose departments already are understaffed and shrinking. With more people building homes next to forested wildlands, those limited resources are expected to be increasingly strained.
For instance, the Missoula City-County Health Department recommended evacuating the entire town of Seeley Lake in 2017 due to wildfire smoke, and there may be an increased need for such evacuations in the future.
The reports note that these and other impacts may be wide ranging. People could experience more health problems and increased health care costs due to smoke from wildfires. Water supplies could become unreliable due to drought. Business revenues could drop as tourism declines due to smoke, fires and floods. Forests could change to grasslands. Crops could be damaged from more intense rains and early or late freezes.
The report adds that it's important to keep in mind that although the risks are described one by one, in the coming decade, the Missoula community may experience impacts concurrently, like wildfire smoke combined with higher temperatures. They also could come in quick succession, with heavy precipitation and flooding in the spring followed by dry conditions and wildfires in the summer. That will make dealing with them even more challenging.
Yet even as the local results to a worldwide problem are daunting, Cilimburg said they're not insurmountable.
"We need to think about mitigation to reduce carbon pollution and our carbon footprint. Everyone needs to do it," she said. "We also have some time to adapt to changes that already are here and those that are coming. This Vulnerability Assessment is part of the process of us understanding the risks, prioritizing those risks and impacts, and deciding which really are the most crucial to develop strategies to deal with them."
The report also notes that warmer weather may have positive impacts on Missoula County's agricultural sector. It could increase the length of the growing season, creating opportunities for new crops such as stone fruits, grapes, melons and corn. Those extended growing seasons also could benefit alfalfa and hay producers by allowing for additional cuttings.
Two informal workshops, where the public can provide input on the draft and gather feedback, are set for this month. One will be from 4 p.m. to 6 p.m. Wednesday, May 8, and the other is noon to 1:30 p.m. May 16.