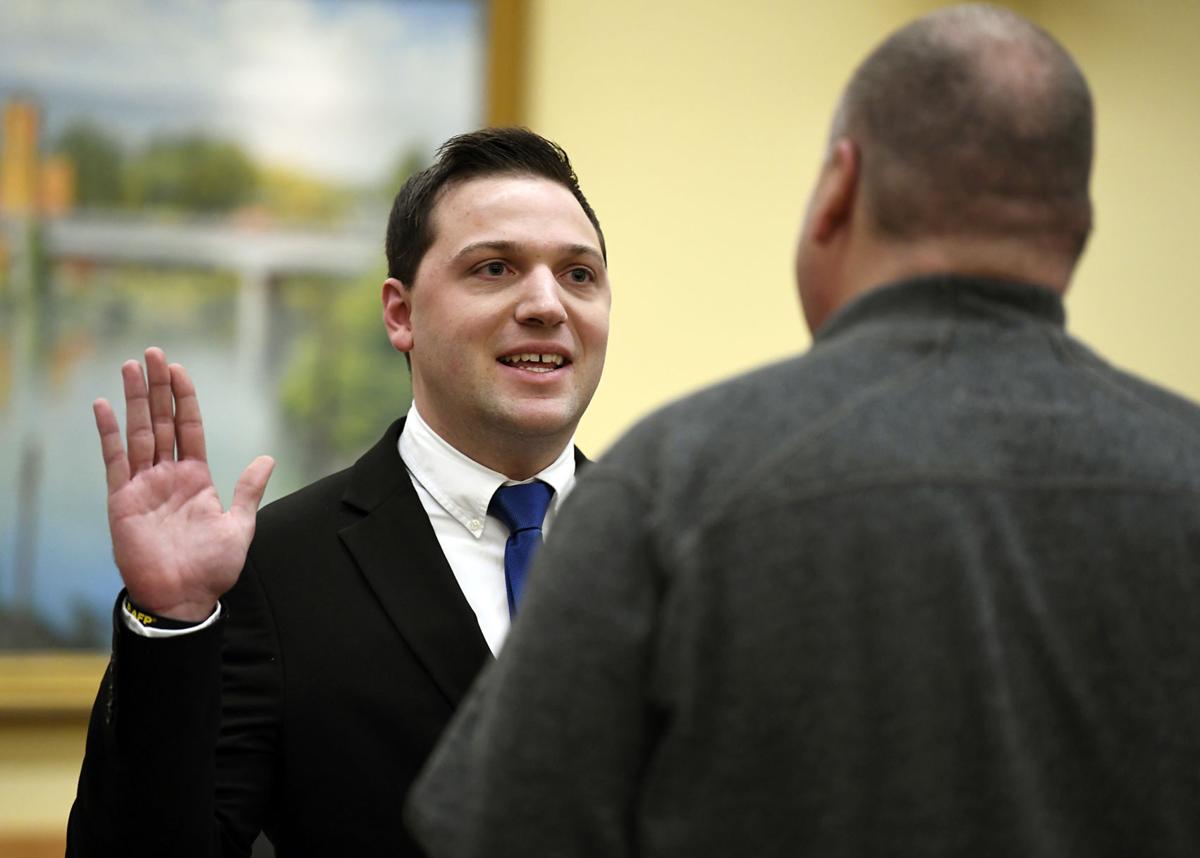 Jesse Ramos, the only member of the Missoula City Council who identifies as a Republican, says he doesn't fully support the Trump tax cuts, was an "obnoxious supporter of Obama," agreed with Bernie Sanders on opposing large bank bailouts and recently met with Mitch McConnell to rail against Tax Increment Financing.
Ramos recently sat down with the Missoulian for a freewheeling interview to discuss his fiscal views. He's been a vocal critic of Tax Increment Financing, and has been the lone dissenting vote against TIF projects among the 12 City Council members. Ramos, as the lone conservative, has often found himself at odds with the rest of Missoula's elected officials on fiscal issues.
Much of his criticism of TIF has been to describe it as "gifts" to wealthy corporations and individuals. That criticism sounds exactly like that leveled by Democrats against the Trump tax cuts, so the Missoulian asked Ramos to clarify his stance on national economic policy.
Ramos didn't hesitate to explain that he's not completely on board with the Tax Cuts and Jobs Act of 2017 passed by Republicans at the federal level and signed by President Donald Trump.
"I support a tax cut, but the way it was done, basically, our spending didn't go down," Ramos said. "When our spending goes down, a benefit of that, a benefit of the government getting smaller is we get a reduction in taxes. But in this case spending went up and we're paying for that on borrowed money."
The nonpartisan Congressional Budget Office estimates that the federal budget deficit is about $900 billion in 2019 and will reach about 150% of the nation's Gross Domestic Product in 2049, which would be "far higher than it has ever been."
"Moreover, if lawmakers amended current laws to maintain certain policies now in place, even larger increases in debt would ensue," the CBO report read.
The Republican tax cut package, which costs about $1.5 trillion over a decade, came without deep spending cuts because Trump administration officials like Treasury Secretary Steven Mnuchin told Congress that "not only will this tax plan pay for itself, but it will pay down debt," by increasing economic growth and reducing corporate tax avoidance, according to John Harwood of CNBC.
However, the nonpartisan Congressional Research Service recently reported that "there is no indication of a surge in wages in 2018 either compared to history or relative to GDP growth. Ordinary workers had very little growth."
The CRS' analysts also reported that "much of the tax cut was directed at businesses and higher-income individuals who are less likely to spend."
"There's all kinds of criticisms to be had with the Republicans over fiscal responsibility, that's for dang sure," Ramos said.
Ramos said he's concerned that the Trump tax cuts were financed by debt, and that Republicans, who passed the legislation mainly on party lines, did that on purpose so as to avoid politically unappetizing spending cuts.
"That's why they did it that way," he said. "If there was public support for the cutting of services, then they would have done it that way."
The CRS report stated about the tax cuts that "the data appear to indicate that not enough growth occurred in the first year to cause the tax cut to pay for itself."
That means more of a debt burden will fall on American taxpayers.
"We're financing it with debt and I'm not a fan of that at all," Ramos said. "I do think it was a temporary Band-Aid that's helped keep this economy rolling but I think it's just adding to the bubble. I don't think it was good. I think spending needed to go down in order to have a tax cut. I don't think we should finance spending on borrowed money.
"It just doesn't make any economic sense."
He believes America's economy is headed for a downturn within the next two years most likely, but definitely within the next six.
"Politically speaking, if the bubble lasts, it could be enough to get Trump re-elected," he said. "But it's not going to last another six years. The bubble's going to keep growing and it's going to pop. It's long overdue and it's going to be horrible. I mean, it's just basic economics that will tell you that you can't continue to finance a country off debt and then you increase it by a tax cut."
He said he would have been "all for" a tax cut that was combined by a corresponding spending cut.
"But that's not what happened," he said.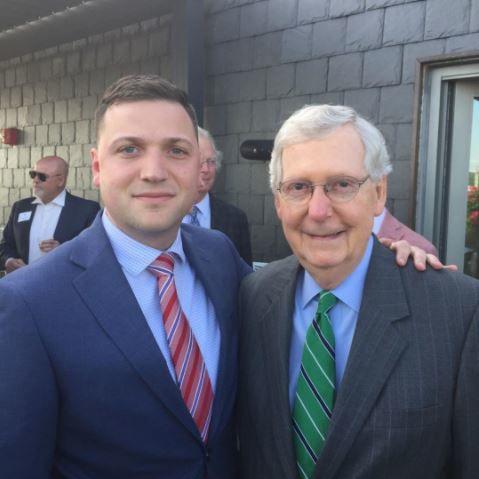 Ramos with McConnell
Missoula City Council member Jesse Ramos recently met with Senate Majority Leader Mitch McConnell and conservative icon Grover Norquist to adv…
TIF CRITICISMS
Perhaps Ramos' most pressing concern on the City Council has been to criticize Tax Increment Financing, both in Missoula and nationwide. He recently flew to Washington, D.C., and met with political leaders like Senate Majority Leader Mitch McConnell (R-Ky.) to discuss the negative effects of TIF.
Tax Increment Financing is a program used in Missoula to keep new property taxes within Urban Renewal Districts. Developers can apply for TIF money, which is paid back by the new property taxes their development generates, for projects that ostensibly benefit the public such as new sidewalks, new facades and new infrastructure. Both TIF and the Trump tax cuts are touted to spur job creation and investment, and both decrease the revenues going to the government's general fund.
With the TIF program in Missoula, however, developers are still paying the same property taxes; it's just that the money is used however the Missoula Redevelopment Agency's board deems fit.
Ramos has criticized the TIF program as "giving money" to wealthy developers like Bill Coffee, the owner of Stockman Bank, and hotel developer Andy Holloran, who built the new Marriott hotel on the site of the Merc. The Trump tax cuts also benefited those same developers by decreasing their taxes, but in exchange they weren't required to build new buildings in Missoula that will eventually pay property taxes into the city's general fund or build new sidewalks.
For example, Andy Holloran received $3.59 million in TIF aid for the new Marriott hotel but had to use the money to build new sidewalks, preserve the historic Pharmacy and salvage materials. The new property taxes the hotel generates, estimated to be $186,000 a year, will not go to city schools or police through the general fund but will instead be used to service the debt on the $3.59 million and will also be used for other projects in the Front Street Urban Renewal District. When the district sunsets in 2044, the property taxes will go back to the general fund.
Advocates like MRA director Ellen Buchanan and City Council President Bryan von Lossberg say TIF aid incentivizes development that wouldn't happen otherwise and provides leverage for developers to complete big, difficult projects in blighted areas and spur the economy.
It's impossible to know how much Andy Holloran or Stockman Bank benefited from the Trump tax cuts. But Marriott International Inc., the company running the new hotel, got a $200 million windfall from the Trump tax cuts. That money is no longer going to the government to provide services to Americans, but is being added to the national deficit. And Marriott wasn't required to build any sidewalks in Missoula or anywhere by the Trump tax cut legislation.
In 2017, the MRA board approved $1.5 million in TIF aid for burying overhead utility lines, new sidewalks, street trees and other public improvements for the new Stockman Bank building downtown.
But Ramos said Stockman Bank benefited by underwriting its own debt on the bonds for that project, meaning it earns interest and got an underwriting fee.
"I like Stockman Bank as much as the next guy," Ramos said. "Bill Coffee is a big contributor to Republicans. But it's like I'd tell him straight to his face, 'I'm a Republican but I can't vote for this. Are you kidding me? It's ridiculous.'
"There's a lot of hypocrisy within the Republican Party for sure."
Ramos considers TIF a tax break, where the government is choosing favorites, whereas the federal tax package was a "tax cut."
"I called TIF worse than a tax break" at a recent City Council meeting, Ramos explained. "The difference is, it seems subtle but the difference is a break goes to a select group of individuals where a tax cut is a reduction overall."
Ramos also criticized the fact that hotel developer Andy Holloran got TIF to build new public sidewalks downtown while Missoula taxpayers were forced to cough up for new sidewalks in 2012.
"The hypocrisy of that is ridiculous," he said.
He also said that when the MRA approved $6.9 million in TIF aid for a new road, sidewalks, street trees and other infrastructure near Southgate Mall, it mainly benefited the wealthy Lambros family, who later sold the mall for $58 million. 
"They needed that road specifically to benefit the business to get the Lucky's Market in there," Ramos said. "It was directly to benefit them. I wouldn't have had a problem if the road was created because of demand, if there was a bunch of petitions that people really wanted a thoroughfare there.
"But that's not what triggered it. What triggered it is a private developer who asked for this money. He'd already invested millions of his own money into it and then he sold the mall later because it was more valuable after that and that was my issue with that."
City officials have argued that developers would choose not to take on projects in blighted areas if it weren't for TIF aid. Much of the development in Missoula over the last few years has been inside the six Urban Renewal Districts.
Ellen Buchanan, the director of the MRA, told the City Council earlier this year that the first Urban Renewal District in town encompassed much of downtown and TIF aid is responsible for Missoula's revitalized and booming downtown.
"I would argue all day long that most of those projects won't happen in those districts without the investment of the public funds," she said.
Ramos argues that all of the development, from the new ROAM Student Housing to the Merc hotel to the new Stockman Bank building, would have happened anyway without TIF help, and if it weren't for TIF the property taxes would be going to the general fund and school districts. Instead, he says, taxpayers must shoulder the burden while the TIF money goes to special projects.
Ramos often characterizes TIF aid as a "cash gift" to developers. When asked how he can use that term, considering developers don't get to decide how to spend the money and still have to pay property taxes, unlike with the Trump tax cuts, Ramos sticks to his argument.
TIF "is a direct deduction from (the developer's) expenses, so that is directly more profit to him because of that," he said. "Yeah, it's not the same as giving him a check that he can put under his mattress but it's still going to help him out. And then with that profit he can do whatever the hell he wants. So it's not the same as a gift, there's still an extra step in there, but by indirectly reducing his expenses it allows him to make that much more profit."
Ramos says he doesn't like the two-party system and calls himself "more of a Libertarian" even though the Republican party in Missoula is more likely to support him than Democrats. 
"I do consider myself maybe a traditional type of Republican," he said. "But now we've got Republicans who are now maybe as big government as anybody else. You can't have a two-party system and say, 'Just because he's in this party or that party that means he's good or she's good.' No, that's not the case. I care what candidates support. And I've supported Democrats, too. I was an obnoxious Obama supporter the first two terms, believe it or not."