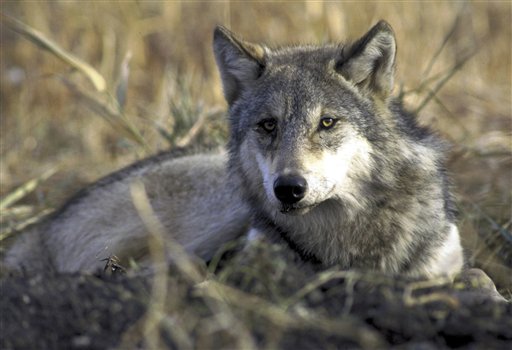 Rocky Mountain Elk Foundation leaders want state wildlife officials to get more aggressive about wolf control, and they've offered at least $50,000 to make it happen.
"We are not utilizing anywhere near to the fullest of what the wolf management plan authorizes," RMEF president David Allen said on Monday. "The go-slow, take-it-easy approach is not working."
The Missoula-based group wants Montana Fish, Wildlife and Parks to use the money to contract with the federal Wildlife Services agency to kill more wolves.
For the past three years, FWP has spent $110,000 annually for Wildlife Services to trap or shoot wolves suspected of attacking livestock or dogs. The money has been a quarter or more of Wildlife Services' wolf management budget, with the balance coming from the Montana Department of Livestock, private stockgrowers and affiliated organizations.
Allen said his group wants to see reductions in black bears, mountain lions and coyotes as well as wolves to help the state's struggling ungulate populations. Wolves, lions and bears are blamed for falling populations of elk in several parts of Montana, while coyotes are a threat to eastern Montana deer and antelope populations that have also suffered major disease outbreaks.
"This is where this all starts to domino if you don't keep predators managed," Allen said. "And the next step is the grizzly bear. We've got bear issues with elk calves in the spring – both grizzly and black bear. We can't have all these predators with little aggressive management and expect to have ample game herds and sell hunting tags and generate revenue that supports FWP nearly 100 percent."
FWP spokesman Ron Aasheim said the agency is still considering the offer.
"If they can work with Wildlife Services, that would be a help for us," Aasheim said Monday. "But when they talk about $50,000 for Wildlife Services – we contract with the agency for depredating wolves, not other purposes. If we went to other techniques, like aerial gunning, that's a bit of a gray area. That's sensitive enough we'd want the (FWP) commissioners to discuss that."
The suggestion drew criticism from Mike Leahy of Defenders of Wildlife, which in the past contributed $100,000 to livestock producers in compensation for wolf depredation.
"Financial assistance from conservation organizations should further conservation, not undermine it," Leahy said. "I guess we have a difference of opinion whether predators are part of the system or not. We work for conservation of the whole system and all of the wildlife, including predators. And we think it's not the federal government's role to be managing unendangered state wildlife. The federal government's role is to help recover endangered and threatened species."
In February, Wildlife Services agents killed 14 wolves from aircraft in Idaho near the Montana border at the request of the Idaho Department of Fish and Game. The area was one where private hunters had relatively little success hunting wolves during Idaho's wolf season.
Montana had at least 653 wolves at the end of 2011. Its 2011-12 wolf hunting season tallied 166 wolf kills, including 92 adults, 35 yearlings and 25 juveniles. Most of the adults weighed 91 pounds, with the largest weighing 120 pounds.
Despite that hunting effort, Montana biologists estimate the state's wolf population grew by at least 15 percent compared to 2010 levels. FWP director Joe Maurier has stated the goal in Montana is about 425 wolves.
"Despite a six-month season that started in September, hunters were only able to take enough wolves to reach 75 percent of our wolf hunting quota," Maurier said in the annual wolf report. "And with livestock depredation down from last year, there were fewer control actions, so it makes sense that the wolf population grew in 2011. We will definitely seek additional management tools to reach a better balance among wolves, prey populations, hunters, landowners and others."
Idaho has an estimated population of 746, after hunters and trappers killed 362 wolves in the current season. Many parts of Idaho allow wolf hunting through March 31, with two zones remaining open until June 30.
Both states took over wolf management from the federal government last spring, after Congress passed a law removing the Rocky Mountain gray wolf from Endangered Species Act protection. Montana set a hunting quota of 220 wolves for the 2011 season. Idaho did not set a quota.
Federal protection could be reinstated in Montana or Idaho if any of three trigger-points are reached. They are:
n if a state's wolf population drops below 100 animals or 10 breeding pairs in a given year;
n if a state's population stays below 150 animals and 15 breeding pairs for three consecutive years; and
n if the state government enacts laws or policies that the federal government deems a threat to wolf survival.
"Montana never committed to saying we'd manage to 15 breeding pairs and 150 wolves," Aasheim said. "That is the point at which we cease any hunting or trapping. We're going to manage for a balance, and we don't know where that is yet. But we are going to aggressively work to reduce wolf numbers in Montana."
Allen said the Rocky Mountain Elk Foundation would set up a special donation account to raise the wolf-control money, and not use any of its existing elk habitat funds for the project. He added he was confident the group could raise more if necessary.
"The Rocky Mountain Elk Foundation doesn't say wipe out all the predators," Allen said. "But we've got to be more aggressive in managing them. We want to see substantially fewer than what we have now."