Meanwhile, one local Afghan refugee is pleading for help, compassion and understanding and is trying desperately to get her family to America.
On Sept. 16, U.S. Rep. Matt Rosendale, a freshman Republican, tweeted that he learned that day that 75 refugees from Afghanistan would be arriving in Montana soon.
"I strongly oppose the resettlement of these Afghan nationals in Montana," Rosendale tweeted.
Today I learned that 75 refugees from Afghanistan will be arriving in Montana. I strongly oppose the resettlement of these Afghan nationals in Montana.

— Matt Rosendale (@RepRosendale) September 16, 2021
His Twitter thread went on to say that he didn't think the Biden Administration's withdrawal from the war in Afghanistan justified "flooding our communities with unvetted refugees."
"At this time, it appears extremely unlikely the Biden Administration properly vetted the Afghan nationals being resettled in Montana," he said.
Rosendale has since doubled down on his position in an interview with Politico.
"This is nothing more than people's attempt to try and silence me. I won't be silenced," Rosendale told Politico. "It would be better for these folks to be settled in nations around them — Uzbekistan, Tajikistan — where they do share their culture, where they do share the religion, and everybody involved would be happier."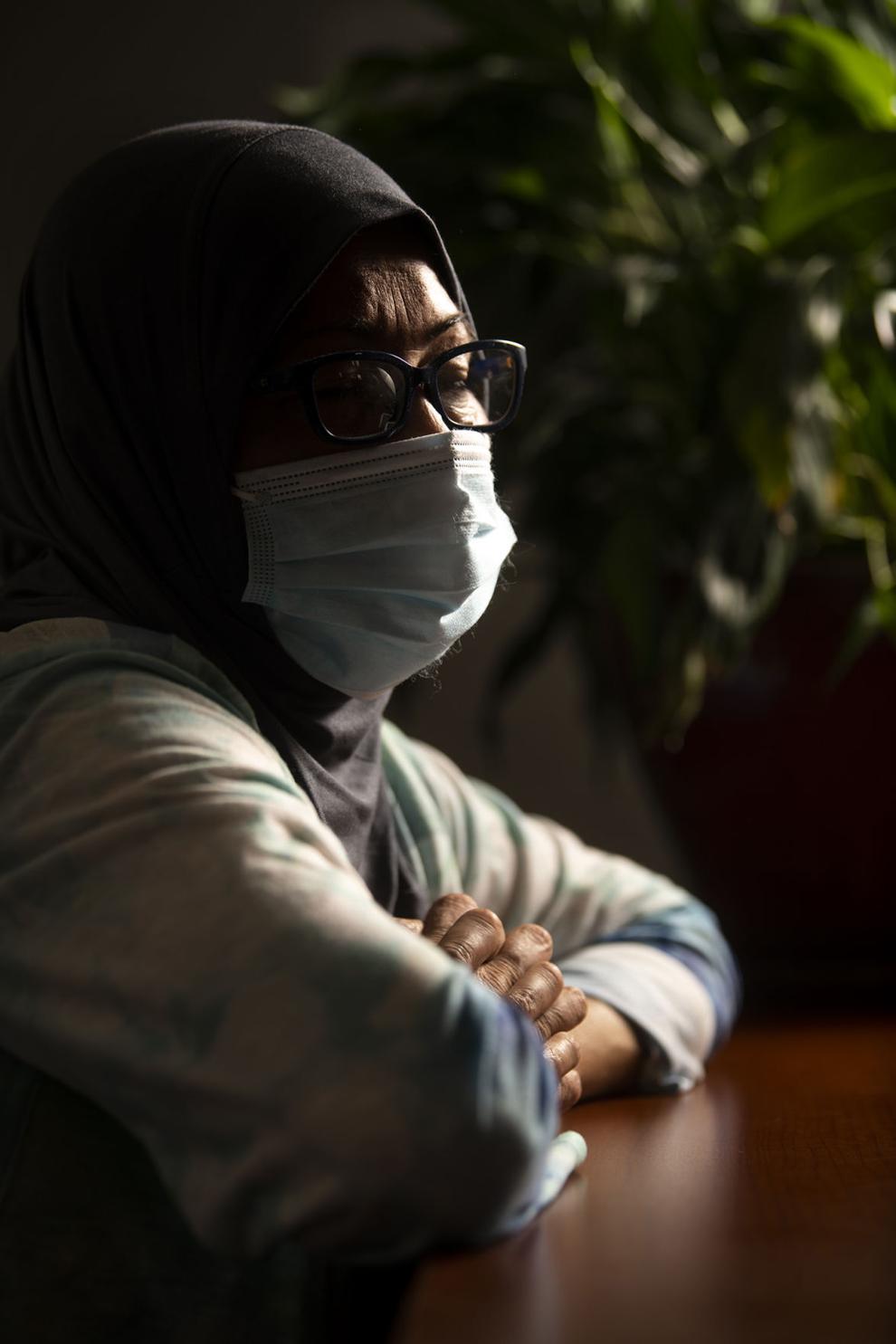 'Really distressing comments'
Soft Landing Missoula is a nonprofit that has worked with the International Rescue Committee to help refugees adapt to resettlement.
"They were obviously really distressing comments," said executive director Mary Poole. "Not only did we feel they were distressing, but a lot of people felt that way. It started kind of a Twitter storm."
Poole doesn't use Twitter, but that night someone showed her how many people were talking about the issue online. And because Soft Landing is set up to receive donations online, money starting pouring in from all over the country.
"We ended up getting close to $10,000 that evening and the next morning from 118 donors in 32 states," Poole said. "It was just wild."
One donor came from Great Britain, she noted.
"We were trying to think of some response to counteract the inhumane and misinformed comments," Poole continued. "The best response was to take all that money our representative had raised for us and turn it into a brand-new fund directly going to give support to Afghan arrivals and new arrivals."
The "Afghan and New Arrivals Fund" has since raised another $4,000 from local donors, she said.
People have also sent her messages saying they don't agree with Rosendale. Poole also saw how many people on Twitter criticized Rosendale's stance.
"Tweets or comments like that hit you in our gut when you know how misguided they are," she said. "And then to see the community and nation say no, that's not how we feel, that's not our values as Americans."
"That's not how we want to treat families that U.S. policies have had such a detrimental effect on, families that are trying to create a better life."
Eamon Fahey, the deputy director of the International Rescue Committee branch in Missoula, said refugees are "the most vetted travelers to the United States."
"I believe that many of these same vetting processes, albeit in sort of a much quicker process just because of the need to get people out of harm's way, many of those same processes are still occurring with the humanitarian parolees from Afghanistan," he said.
His organization has also received an "outpouring of support in the form of financial contributions" and people asking how they can help in the days since Rosendale's tweet.
"It's been overwhelming and heartening to receive so much support," he said.
In a statement to the Missoulian on Wednesday, Rosendale reiterated his stance.
"We still do not know what individuals are coming to Missoula and who they are," he said. "Are they (Special Immigrant Visa) or parolees? We still don't know. If they are SIV we believe they should go through the normal vetting process, as required by law, not a rushed process."
"Parolees currently have very limited vetting especially after the Afghan government has collapsed," Rosendale continued. "The idea that we do not know who is coming into our communities from a war-torn country that has a history of terrorism should be concerning."
'I believe in humanity'
Poole said she likes "the idea of turning intolerance into generosity."
"And I feel like that's what our community has done with hearing that Rosendale is not supportive of Afghan arrivals," she said. "They've turned that intolerance into generosity, and that generosity is going to go directly to support a new arrival family."
One Afghan woman who lives in Missoula arrived here several years ago and has been granted asylum as a refugee. However, she has many family members — including her children — still stuck in Afghanistan.
She's been trying desperately to figure out a way to get them here, and she requested anonymity because she fears Taliban reprisals.
On Wednesday, she described how heart-wrenching it has been to see her country fall to the Taliban because now her family members live in fear. She described desperate poverty in the country, and said she's especially worried that schools for girls have closed.
Her family members have filled out the proper paperwork, but because of the pandemic and the rise of the Taliban, there's a backlog of people seeking entry to the United States.
Breaking down in tears, she said that although the Taliban has put on a façade of being more tolerant now, she believes that people are still being killed "for no reason."
"You're seeing one thing, but in action, things are completely different," she said through a translator.
She could pay $1,000 for Taliban-issued passports for her family, but she has no idea if the American government would recognize those, she said.
As for Rosendale's assertion that refugees from Afghanistan should be settled in neighboring countries, the woman believes those countries are just as dangerous for refugees.
She hopes Americans everywhere will reach out to their elected leaders and plead for compassion for people fleeing a war-ravaged country.
"I believe in humanity," she said.
Poole said the Afghans who arrive here will be coming under a humanitarian parolee designation. Because of that, as of right now they will not be eligible for low-income assistance programs such as Temporary Assistance for Needy Families, Supplemental Nutrition Assistance Program and Medicare, among others.
"And while that may change, it is very important that we be prepared to provide additional community support," Poole said. "While we prepare for the proposed 75 Afghan arrivals, not fully knowing what exact support they will need, we also want to acknowledge that Missoula will be welcoming up to 150 refugee individuals from other locations in the world."
Those families will also be able to utilize the new fund.
Syrian families are arriving in Missoula in September, and the fund will also help those refugees, Poole said.
"They will get case management for 30-90 days through the International Rescue Committee," Poole said. "But since they may not be eligible for those other support networks, we thought this fund would be a good way to fill those gaps."
The donations are a great way to "respond to the negativity" and provide a "really useful fund" for incoming families, she said.
Missoula is in the midst of an affordable housing crisis, and one big question is how the new arrivals will find places to live. Usually, the U.S. Department of State has strict regulations on the types of housing used for refugees.
"One interesting thing about humanitarian parolees is they don't have as strict regulations," Poole explained. "Through the contract the IRC has with the State Department, there are really strict rules on how many bedrooms must be available for a family, and there has to be a separate kitchen."
For humanitarian parolees, however, people in the community with appropriate space in their homes can provide a temporary option.
That means Missoula community members can "get creative" in the effort to shelter the new arrivals, she noted.
"We already have an incredibly tight housing market, and these refugees don't come with the ability to enter low-income housing," Poole said. "It's all market-rate. It's incredibly expensive here. We know there's housing issues so this fund is a means to solve that."