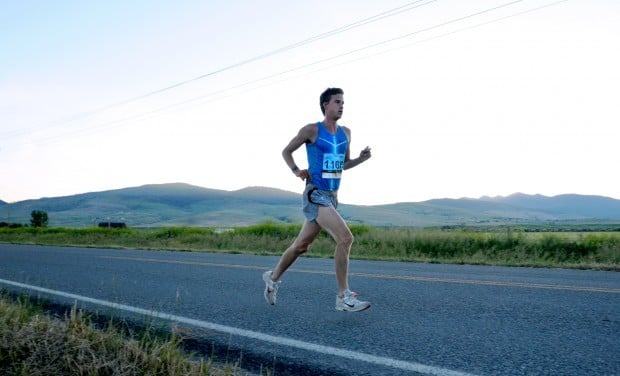 As dawn breaks Sunday, thousands of runners will stand poised at the starting lines of the sixth annual Missoula Marathon and Half Marathon races with the same ultimate goal: to cross the finish line.
But that's where the similarities end.
How each runner prepared for Sunday's test varies greatly. Some packed on the miles while others will have never run 20 miles in their life, let alone 26.2. Some focused on walking as one way to quicken their pace. Others focused on speed rather than miles. There are many ways to train for an endurance race; no single regimen is deemed "right."
"You have to find one that's best for you," said Jo Ruby, running coach at the Missoula YMCA and a personal running coach in Missoula.
Run Wild Missoula's marathon training classes are by far the most popular training program in town, with hundreds of people of all ages and speeds meeting twice a week to run together.
They start in March running as few as two miles and eventually work their way up to the longest run of 24 miles three weeks before race day. Miles are important, said Anders Brooker, co-owner of the Runner's Edge, Missoula Marathon race director and coach for the training program. Brooker encourages people to run as much and as far as they can while still staying healthy and injury free.
It's the longest distance that runners can go and still recover in time for the marathon itself, he said. If runners can accomplish 24 miles in the midst of other training runs and on tired legs, then they can accomplish 26 miles on the day of the race after having tapered for two or three weeks.
The training program doesn't have racers run the full distance because some runners can't recover from even the 24-mile training run in time for race day, he said.
However, runners taking part in the increasingly popular Missoula Marathon Galloway Training program have already gone the full 26.2-mile distance.
Jeff Galloway is a U.S. Olympian who created of the run-walk-run training program on which the group bases its efforts. These folks have been training for several months longer than the regular Missoula Marathon training program, having started in January.
The difference is that this group has been practicing both walking and running. The goal is to prevent injury, erase fatigue, increase speed and recovery while still maintaining a life.
For this group, the idea is to walk consistently in the beginning in order to have more energy at the end when many runners run out of gas.
Unlike racers who run continuously, people following the Galloway running program can run 26.2 miles three weeks from race day and still recover in time, said John Pitcairn, co-director of Missoula's Galloway training program. Plus, it helps the runners mentally.
Standing on the starting line, these folks know for certain that they can achieve the entire distance, Pitcairn said.
"The walk breaks are crucial to erase race fatigue," he said. "You take the walk breaks early and often. It's going to be frustrating (on race day) because the rest of the pack will move away from you at the beginning, but you'll catch them at the end. Don't worry."
Other coaches focus less on packing on the miles and more on picking up the pace.
"Quality over quantity is my philosophy," said Ruby, the YMCA coach. "It's not just piling on the miles, but it's what you do with those miles."
Ruby is a fan of more individual-specific training programs and tempo runs, which means training at a higher intensity for a longer period of time. It means paying attention to times and meeting goals throughout the workout, not just at the end.
"It's where your strength is built," she said.
Ruby has her runners run only one 20-mile run and one 18-mile run prior to a marathon race. Sure, mileage is important, she said, but an intense 15-mile tempo run can be just as challenging. Ruby refers to them as "quality runs." She has runners complete two tempo runs a week.
It's not just a matter of picking up the pace haphazardly. Ruby breaks runners' tempo times down based on the race goal they want to achieve.
"The beauty and magic of the tempo run is it's so dialed in to each individual," she said.
Ruby recognizes that she trains a manageable number of runners, making it possible to give each marathon runner pace times they need to hit throughout their workout. At the same time, tempo runs also force runners to think about what they're training for and to establish a race goal time.
"I hear all the time, 'My goal is just to finish.' " Ruby said. "You don't just want to finish, you want to have a good race and feel good about it. Everyone is going to finish, but it's how much you have prepared yourself to have a good experience. Set yourself up for a good time."