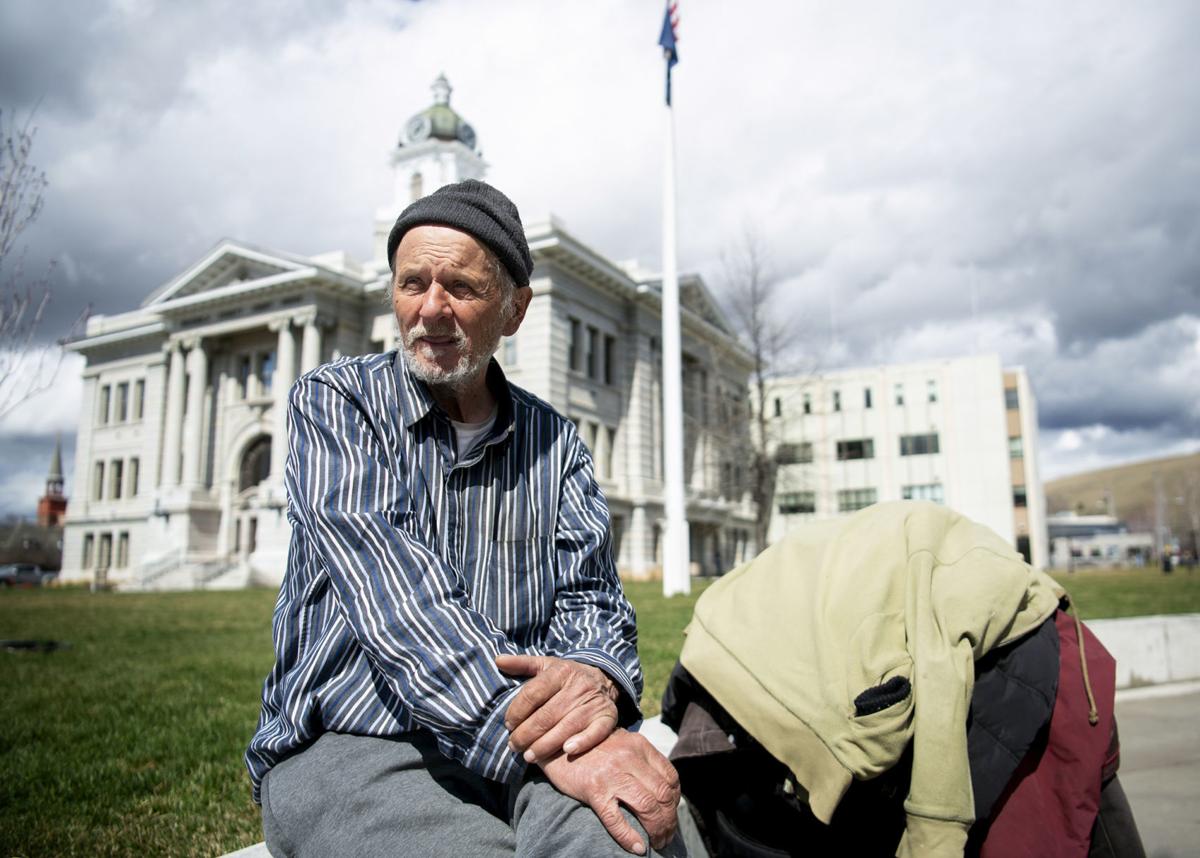 Before COVID-19, Missoula's greatest challenge was affordable housing. Coupled together, the public health pandemic and lack of affordable units appear to be pushing people further away from shelter, according to groups who engage with people experiencing homelessness on a daily basis.
It's a difficult balance. Social distancing is nearly impossible in shelters, but hygiene products aren't readily available in encampments, and those who choose to live without shelter are further from the resources that help reach stable housing. 
April Seat, director of outreach at the Hope Rescue Mission, said outreach teams are seeing more and more people in encampments each time they head out, and hearing concerns about density at the Poverello Center, even though guest numbers there are down to roughly 125 a night from the 150-person average headcount typical for this time of year.
"We are finding more people are unsheltered at this moment," Seat said. "It's hard right now. We have a home to go to, to be able to quarantine or isolate. They don't have a home or safe place to go to. To be able to provide the services we can, the least we can do is make sure they have enough to keep their hands clean and have their basic needs met.
"It's not a good situation for the shelter or those who are unsheltered," Seat added. 
Randy Krastel, downtown officer at the Missoula Police Department, said Friday he's seen similar spikes in people moving out of shelters since the outbreak began.
"I am seeing not only an increase in people experiencing homelessness in city parks, I'm also seeing people I've never seen before," said Krastel, who is not usually patrolling by car but on foot, and spends a lot of face time with people without shelter. It's not clear, Krastel said, whether the new faces have blown into town or recently moved out of a shelter. "It's highly unusual."
At Missoula's Poverello Center, the largest homeless shelter in the state, director of development and advocacy Jesse Jaeger said the impact of the COVID-19 pandemic is dramatic for people experiencing homelessness. Risks for people who have shelter are heightened for populations without it, considering they tend to be older and have health complications already, Jaeger said.
No one connected to the Pov, either staff or guests, has tested positive for the virus, Jaeger said Thursday, and procedures have been put in place in an effort to keep it that way. Everyone in the building is screened multiple times a week. Only 28 people at a time are allowed in the building during meal time to follow social distancing guidelines when people are eating. "Deep cleans" happen in high-traffic areas of the building each day, and much time has been spent on keeping people distanced from one another during sleeping hours. 
"We're trying to figure out how to spread people out as much as possible," Jaeger said. "How do we spread people out in a communal living space? We're framing bad outcomes either way."
To get the resources out to those who have taken to the camps, perhaps encouraged by the oncoming spring warmth, the Poverello Center's Homeless Outreach Team program and the Hope Rescue Mission are heading out to encampments with more frequency. Seat said the groups, bolstered by volunteers from local churches and coordination with the city's Reaching Home program, began heading out on Saturdays to bring items like hand sanitizer, hygiene kits and food to the people that need them. But as camps were growing in numbers, Seat said the plan changed. Now they head out four times a week. A nurse has also joined their efforts, volunteering her time to screen individuals in camps for possible symptoms.
"The food banks are being overwhelmed and the stores are getting empty," Seat said. "But the biggest thing that would be incredible right now would be affordable housing or facilities to open up and let folks have a place to go and not be in the thick of it all."
Officer Krastel has seen the silver lining here, noting conditions could be worse if the COVID-19 outbreak took hold during winter, when people are filling the Poverello Center to the brim. For good or bad, he also sees the pandemic as a common denominator.
"I'm just seeing what the pandemic has done for all Missoulians, with social distancing, businesses being closed, resources shutting down, it's affecting every one, not just the homeless," Krastel said. "We're all learning how to survive a new life, at least temporarily."
Concerned about COVID-19?
Sign up now to get the most recent coronavirus headlines and other important local and national news sent to your email inbox daily.