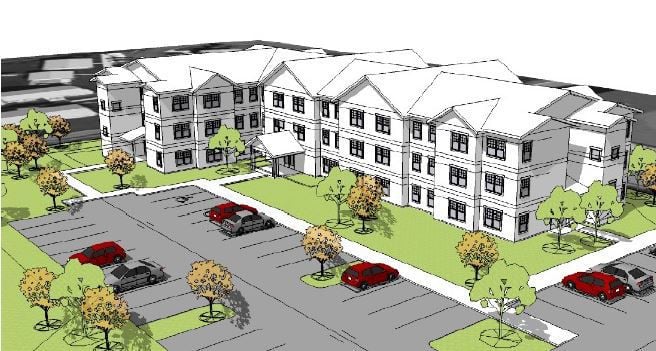 People sent mixed messages to the Missoula City Council during a public hearing Monday night as they considered a proposed 36-unit affordable senior housing complex in the Franklin to the Fort neighborhood.
Area residents voiced concerns that the facility doesn't fit into the residential area of mainly single-family homes, and worried out loud about the increased traffic and influx of people to the area without adequate infrastructure like sidewalks and bus services.
"We who live there now are telling you now you will create an unsafe situation," said Malcolm Lowe, speaking on behalf of about a dozen of his neighbors. "We are frustrated."
However, members of what one man called the "silver tsunami" urged the council to support the project based on the growing need in the community.
"There has to be a place for seniors who are active like myself in the $500 to $600 bracket," said one woman, referring to monthly housing costs. "You have to find space for us. We are being run out of buildings that are substandard. I need a place and hopefully this might be it."
Alex Burkhalter of Housing Solutions wants to build the complex at 2400 Ninth St. W., which is two blocks east of Reserve Street on a vacant plot of land. It's an area identified in the city's growth policy as suitable for higher-density housing, and comes at a time when Missoula's affordable housing shortage is worsening.
You have free articles remaining.
He noted that currently, 266 people are on waiting lists for limited-income senior housing in Missoula. Burkhalter added that he's reduced the number of apartments from 39 to 36, which allows him to narrow the building by 30 feet, moving it farther back from the street. A manager would live on site, and he promised that the complex would be "much different than the traditional units in a college town."
He added that the seniors who would live on site probably are the "most effective neighborhood watch policy you can find."
Council members seemed split on the proposal, with Gwen Jones and Heidi Armstrong, among others, saying this complies with the new housing policy, and the need for affordable housing for people on fixed incomes is only getting more acute. Julie Armstrong added that the benefits of having elderly people close to other neighbors is important not just to the seniors but also to the entire neighborhood.
But councilors John DiBari and Michelle Care said it's just not the right fit for the neighborhood.
"I would like to see a project like this … in a place where we already have the infrastructure and made an investment in our community," DiBari said. "We need to fully engage with this problem and figure out … how every neighborhood has this kind of housing."
No decisions were made after the hearing. Burkhalter seeks Housing Tax Credits from the Montana Board of Housing to make this affordable rental project for lower-income people age 55 and older a reality. If approved by the housing board, the project will return to the City Council for a final decision.
Last year, Burkhalter also applied for, but was denied, the same tax credits for a different Skyview project on Missoula's Westside neighborhood, where a trailer park formerly was located.