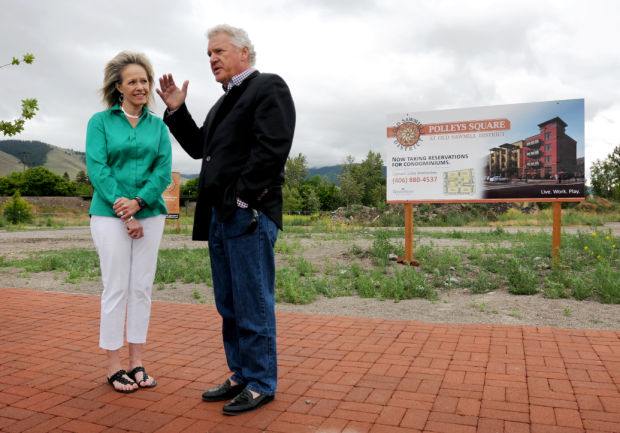 The city of Missoula has spent more than $12 million of public money in the Old Sawmill District, according to the Missoula Redevelopment Agency.
So far, though, private construction on the former industrial property on the edge of downtown amounts to $0.
"Obviously, we had hoped that there would be private development coming out of the ground by now, and thus far, that hasn't happened," said Ellen Buchanan, director of the MRA.
Behind the scenes, however, an estimated $75 million in private development is in "some stage of discussion or letter of intent" for the 45 acres, according to developer Ed Wetherbee. He said the first condominium project, called Polley's Square, already counts eight reservations.
"Just be patient," Wetherbee said. "You know, the market can only absorb a certain amount of product at a time, and the market has certainly gotten better, but we're talking about some pretty big projects.
"We just don't want to be out front talking about things too much until we know for sure they'll happen, but we're working pretty hard."
Once a dilapidated lumber mill site, the district along the southern banks of the Clark Fork River has represented vast potential for a mix of residential and commercial development. The developer estimates the public and private money spent to date is in the neighborhood of $20 million, and Wetherbee lauded the city and the Missoula Redevelopment Agency for the park, timber structures and trails.
"We see a lot of people down there using the trails and the park, and that's really great to see," Wetherbee said.
Missoula City Councilwoman Emily Bentley, who represents Ward 3, agreed the work completed by the city is beautiful, and she said she's proud of the public investment. However, the Sawmill site is part of Urban Renewal District II, and Bentley said other projects in the district also need money generated from the district – the increment.
Most of it, though, is already committed, she said.
"I'm worried we're running low on increment because we've spent it so much," Bentley said.
Even though private development hasn't yet followed public dollars, the Old Sawmill District already can be called a success, Buchanan said.
"We wouldn't have Silver Park today but for this project, and I don't think you'll find anybody who has anything bad to say about Silver Park at this point," she said. "It's just wonderful."
The public money also went to opening Wyoming Street, which adds another connection between Russell and Orange Streets, she said. It has paid for a boat ramp and a new railroad trestle that will last 100 years.
"In a perfect world, we'd have buildings out there that would be generating property taxes paying back that public investment," Buchanan said.
The entire urban renewal district, first established in 1991, will generate $1.4 million a year, without a project on the Sawmill site. However, she said some projects take longer than expected.
"Even if there aren't private buildings coming out of the ground, it's a far cry from where we were when we started this project," Buchanan said.
By comparison, the downtown district created $3 million a year when it was done, Buchanan said. In the Midtown area, Urban Renewal District III is generating $1.7 million since its creation in 2000, and she said the amount is on the brink of growing.
"It will be up considerably next year as a result of the South Crossings development," Buchanan said.
Wetherbee, with the Old Sawmill District, said he can't speak in specifics about many projects because he is bound by confidentiality. Almost every project in the works will take six to 12 months to get financing.
"So there's a lot of long timelines that go along with these things, and we'd just rather talk about them when we know for certain they're going to happen," he said.
At the same time, Wetherbee said he anticipates some $200 million in private development overall in a mix of 75 percent residential and 25 percent retail and office space, although the ratio might change.
On the front burner is Polley's Square, on the eastern end of the property. It will have four buildings, each with roughly 20 condominiums, underground parking, and a courtyard in the center, and he said units are being successfully sold in advance.
"So we're really moving forward on that," Wetherbee said.
Also, Homeword, an organization working on affordable housing, signed a contract for a small number of units, he said. Homeword expected to build 26 units near California Street for people at 60 percent or below median income levels, according to city council committee minutes from August.
Other projects in the works include one for student housing, one for seniors, and an executive rental project, Wetherbee said. The developers also are working on master planning for the mixed use commercial part of the project and a portion for town homes and other residential units.
Of the $75 million in pending projects, some may pop as early as the end of this year, and others may emerge 12 months from now, Wetherbee said. While the MRA's Buchanan said the public investment in the Old Sawmill District is done, Wetherbee said developers may need assistance with streets, water and sewer in the future.
"We might need more help before it's all done," he said.
Wetherbee also stressed the exhaustive amount of work already done to prepare the site for development. Not long ago, the site was a polluted, abandoned wasteland, and he said developers annexed the property, removed old buildings, did environmental remediation, entitled the land and more.
"We'd like to think we've cleaned up the mess that was the source of a fair amount of crime and blight in the core of the city," Wetherbee said.
Councilwoman Bentley said the Homeword project isn't quite what the council had in mind, but it is "a step in the right direction." She also said Homeword will make payments in lieu of taxes, and the organization has a record of creating beautiful buildings.
"And truthfully, council has been saying for years that we want there to be some element of affordable housing in the Sawmill district," Bentley said.
As a ward representative, she said she appreciates the speed of public investment in the site. She said neighbors had wanted to see a private development start coming to fruition this summer.
"I think people who live in the neighborhood are anxious to see private development, but people are still patient," Bentley said.
Some people who are not familiar with development processes also have "a level of anxiety" around the district and wonder, "Is this ever going to happen?"
As a ward representative, Bentley said she wants to see the district generate enough money to be able to go toward other projects while the funds can be reinvested into the area – it's established until 2031. However, she also said the money still will benefit the city's general fund if some of the development happens more slowly.
Looking at work in the surrounding area, like Silver Park and the MAX Wave project, she said she is hopeful private development will come around.
"I feel like all the ingredients are there, and we just need the market to do its thing," Bentley said.