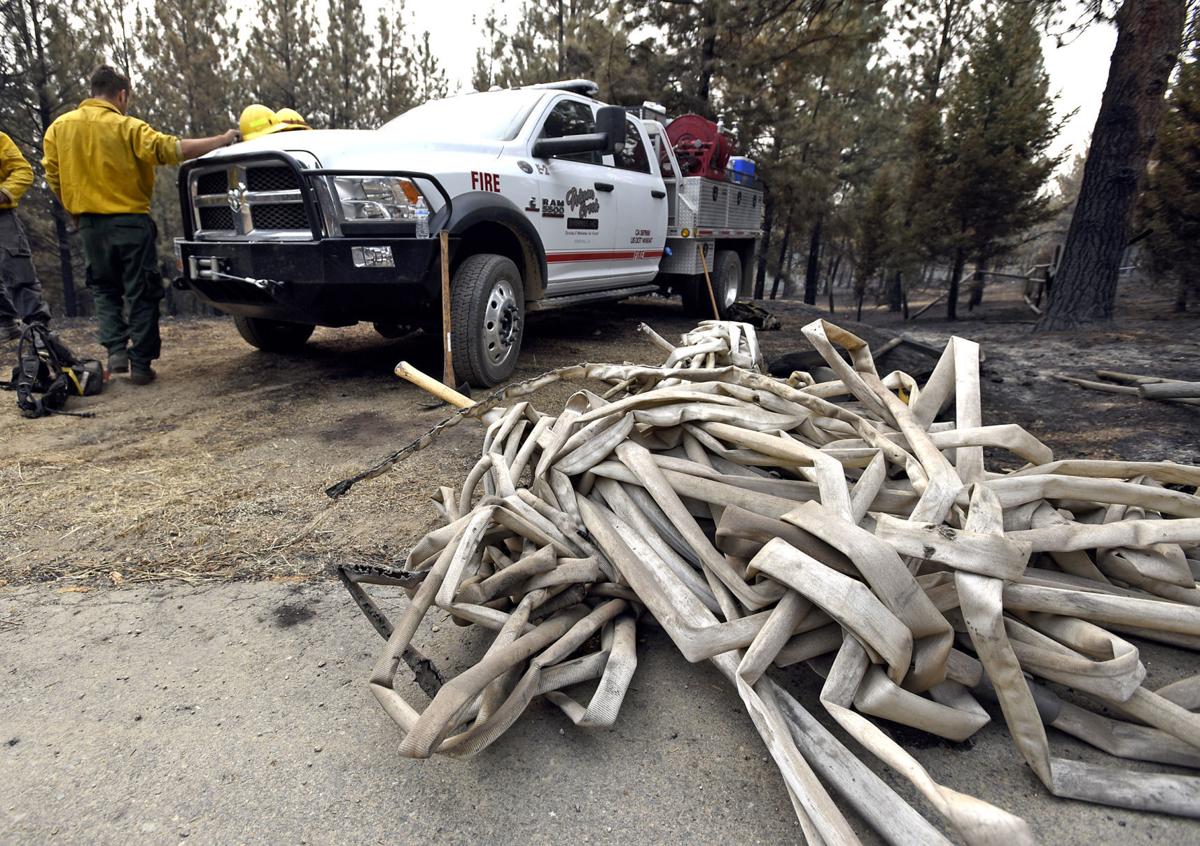 This is how an epic fire season in western Montana ends ...
Crews and support staff in a fast-disappearing Alice Creek fire camp near the eastern foot of Rogers Pass were sloshing around in two inches of snow at noon Friday. A winter storm warning called for up to 13 inches of new snow on the pass by Saturday morning.
What firefighters remained on the fire couldn't get to it. The roads were too muddy.
"We have some of the division supervisors up there assessing the situation, but we didn't have all the engines and equipment head up there because they didn't want to do damage to the local resources," information officer Liza Simmons said.
The winter storm warning, in effect until noon Saturday, was initiated on Thursday, less than a day after yet another Red Flag Warning expired that prompted an evacuation order of neighborhoods on Montana Highway 200.
"We went from worrying about heat stress to worrying about hypothermia," Simmons said.
At the Rice Ridge fire camp in Seeley Lake, Montana National Guard troops and the Nez Perce fire crew rolled some 20 miles of fire hose and shipped it back to the Missoula fire cache.
"It has been quite a procession here in camp," said Lily Palmer, an information officer on the state's second-largest fire of 2017. "There's kind of an airstrip for rolling up hoses. There've been folks out there rolling for days."
The helicopter base and a portable retardant base at Kozy Korner east of Salmon Lake were decommissioned Friday, and occupants of 35 homes in the Coopers Lake area were allowed back in at 11:30 a.m. by the Powell County Sheriff Scott Howard. So were those in the "Sheppy Zone" near Monture Guard Station Cabin to the west.
It marks the presumed end of a month of displacements in Missoula and Powell counties due to the fire that started on Rice Ridge, a few miles north of the town of Seeley Lake. Evacuation orders in late August closed down most of Seeley, affecting 1,090 structures on both sides of Montana Highway 83.
Seeley-Swan High School students will return to their home school on Monday after a couple of weeks of classes at Paws Up Resort in Greenough. The school announced with joy that it will be able to host football and volleyball games Saturday against Twin Bridges at 1 p.m. and Lincoln at 5 p.m., respectively.
The Montana Department of Natural Resources and Conservation gave the go-ahead to burn wood stoves in the Seeley area. The DNRC asked that chimneys have screens over them to contain large embers.
To the south, Granite County lifted all evacuation orders for Upper Rock Creek Road. Roughly 45 homes there had been threatened by the Little Hogback fire as it grew to 34,500 acres, largest of the three Sapphire Complex fires.
Snow fell in flurries throughout the day in the Meyers fire camp, 23 miles southwest of Philipsburg, and temperatures topped out in the low 30s.
"I took a trip to Philipsburg from camp today and there's a lot of accumulation between here and there," said spokesman Josh Szopinski.
The longstanding evacuation orders around Moose Lake and Frog Pond were lifted Thursday and Friday, respectively. All evacuation warnings on the Meyers fire in Ravalli County on the upper East Fork Bitterroot were lifted at noon Friday.
Evacuation warnings in the Ravalli County side of the Lolo Peak fire between Florence and Stevensville are still in place and will be evaluated again Saturday. 
A day after Weyerhaeuser Co. re-opened most of its 740,000 acres in western Montana as the storm front moved in, the Nature Conservancy did the same. The Blackfoot-Clearwater Wildlife Management Area is also open for public use.
Montana Fish, Wildlife and Parks reminded people that some road closures and Stage II fire restrictions are still in place. The latter prohibit campfires and other activities on state lands across western Montana. For up-to-date information call 406-542-5500 or visit fwp.mt.gov.
Overnight the Northern Rockies coordination area slipped from first to third on the national fire-fighting priority list. It had been either No. 1 or No. 2 since mid-July.
Regaining the top spot was the Northwest area, where smoke is still heavy in some regions of Oregon and Washington. Up to No. 2 was the Northern California area, where even the human-caused Helena fire between Eureka and Redding is tapering off after claiming 72 homes.
Flames were still active Friday in far western and northwestern Montana, where the first rains weren't expected until Friday afternoon. Still, cloud cover, cooler temperatures and higher humidity significantly decreased fire activity on the Highway 200 fires, where manpower and equipment have been stretched thin.
"As other fires in Montana receive wetting rain and are brought under better control, released resources are being procured for use amongst the ongoing fires," a Friday morning report on InciWeb said.
They'll have to wait until early Monday for rain in Lincoln County and the Kootenai National Forest. A scheduled burnout on the West Fork fire north of Libby was going as planned Friday afternoon, with a low-intensity, backing fire, the fire's Twitter feed reported. Crews were lighting from Lindy Peak south to the junction of Quartz Creek Road and Bobtail Ridge Road.
Missoula Electric Cooperative and Blackfoot, each with customers and employees living and working in fire areas, said Friday they will jointly donate $10,000 to the United Way Fire Fund to help in the aftermath of the fires.