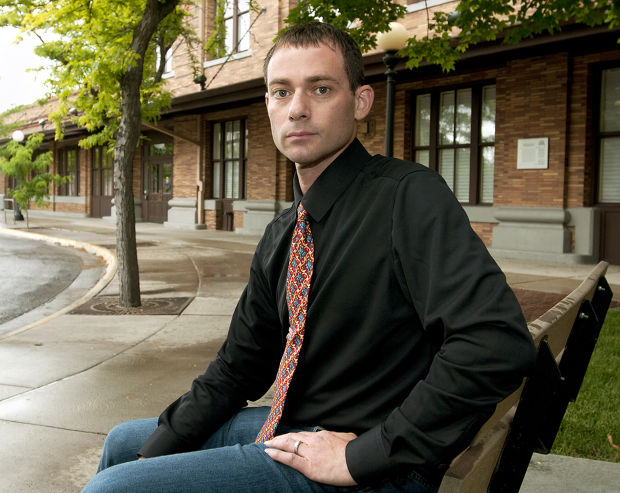 Before June's primary election, Missoula County Justice of the Peace Karen Orzech wrote an editorial that essentially endorsed any candidate except Matthew Lowy.
Despite the criticism, Lowy made it through the primary in a field of five, as did Marie Andersen. In November, the two will face off to serve as Justice of the Peace in Courtroom No. 1.
The person who wins will fill the seat Justice of the Peace John Odlin left open when he retired this spring, and as far as he's concerned, the election is playing out well. Odlin is backing Lowy, but he supported Andersen in the past and said both candidates would serve Missoula well.
"I think the people have got it right," Odlin said. "They've got Marie Andersen at the top, and they've got Matt Lowy. So I think they've got it right. I think either one of them would be good."
But Orzech, the sitting justice of the peace in Courtroom No. 2, clearly does not agree. Before donning a robe, Lowy must rise above the allegations of partisanship Orzech levied, and address some of his own reversals and challenges on the campaign trail.
• In her editorial, Orzech called into question Lowy's judicial temperament and political independence; she continues to stand by her opinion piece.
• Primary opponent Harlan Wells filed a complaint alleging Lowy violated the Montana Judicial Code of Conduct.
• In his campaign, Lowy first listed partisan politicians as supporters, then removed their names.
• He named John Engen, Missoula's mayor, as his deputy treasurer, then opted to go without a deputy after being criticized for a partisan affiliation.
• On Facebook, Lowy requested friends share his campaign message in exchange for "copious amounts of Black Coffee Roasting Company coffee," then pulled down the solicitation.
"I've never run for office before," Lowy said last week. "I am finding my way as I go. And I'm trying to do the right thing because I think that if I win, that it will be best for Missoula."
Lowy also has never served as a judge, and justice courts are busy. According to the Montana Courts website, justice court judges see nearly 10 times the caseload that district courts process, and are the place where most Montanans "encounter the justice system."
Anyone who steps into a new job faces a learning curve, said Odlin, who held the job more than 19 years. As far as Odlin is concerned, Lowy has a level head, and the candidate's critic in the other courtroom has her own record of missteps.
"(Lowy) made some mistakes when he first started running, but so did Judge Orzech," Odlin said. "I think everybody makes mistakes from time to time. And I get pretty testy about this because Judge Orzech is putting herself out there like she's queen bee and knows everything about everything, and she doesn't."
Lowy said his lack of experience running a political campaign isn't a reflection of his experience in court, either. He has worked in the criminal arena, on civil suits, in district court, in justice court. He's argued before judges and juries, recommended bails and observed reasons judges change bail. In short, he said, he has risen to the top of his field, noting his membership in the inaugural class of certified child welfare law specialists in the state of Montana for the National Association of Counsel for Children.
"My profession in the courtroom for the last decade has been enforcing Montana's laws, following the rules of court, following the rules of evidence," Lowy said. "My experience in the courtroom suits me well to sit on the bench."
Initially, Lowy had named partisan politicians on his list of endorsements, many albeit not all Democrats. He listed Engen, arguably the highest-profile Democrat in Missoula, as his deputy treasurer.
He isn't the first judicial candidate to name partisan elected officials as supporters. However, when allegations of partisanship arose, Lowy said he scrubbed his list of endorsements and opted to go without a deputy treasurer; Odlin is his treasurer.
"It was being made into an issue that was truly detracting from the issues relevant to Justice Court, which are how to make Justice Court function as well as possible for the citizens of Missoula County ... ," Lowy said in an email following an interview.
And the role of partisanship in judicial races is a matter of debate.
The Montana Code of Judicial Conduct comes down clearly on the side of retaining a politically independent judiciary. In a comment on its canon related to campaigns, the Code notes: "Judges and judicial candidates must, to the greatest extent possible, be free and appear to be free from political influence and political pressure."
"Public confidence in the independence and impartiality of the judiciary is eroded if judges or judicial candidates are perceived to be subject to political influence," reads a portion of the code.
The Montana Supreme Court established the Commission on the Code of Judicial Conduct in 2003, and the commission adopted the code for Montana in 2008. Some judges, though, have a different philosophy of the role politics play in judicial campaigns.
Missoula District Court Judge Robert L. "Dusty" Deschamps, on the ballot more than 20 times in Missoula County, is among them. Deschamps, a former Missoula County attorney, was named as a partisan candidate in most of those races.
"I kind of wear my politics on my sleeve and don't make any bones about it," Deschamps said.
He isn't troubled, then, to see partisan endorsements in judicial races. In fact, Montana Supreme Court justices don't run on partisan tickets, but "anybody who pays attention at all" knows the Republican from the Democrat, he said.
"Logically, it's absurd to think that people suddenly lose their political philosophy when they become a judge," Deschamps said. "And Matt Lowy, for Pete's sake, is married to a Democratic state legislator."
But he's in no way bought off, said Odlin.
Deschamps, though, raised a concern that Lowy has butted heads with opposing counsel. In the most heated instance, he said, another person in court pushed Lowy's buttons, "but Matt really reacted strongly to it."
You have free articles remaining.
"I had to stop the proceedings and back everyone into corners and try to calm the situation down," Deschamps said.
He took Lowy aside and talked with him for 20 or 30 minutes. "I mean, he was pretty wound up."
"I've seen some real maturing and mellowing on his part in the last year and a half since that occurred, but he still has that type of high-strung personality," Deschamps said.
He would not comment on whether he believes Lowy is mature enough to serve as a judge. Rather, he encouraged voters to evaluate the candidates for their judicial temperaments and backgrounds.
"If you get wound up, I think you lose your objectivity, and you might not do as good a job as you could if you were more calm," Deschamps said.
Lowy remembers the incident Deschamps mentioned, although he believes it took place in 2010. "I lost my cool in court. He's right."
"I took away from it an opportunity to improve as an attorney and a professional," Lowy said.
He also said he's kept his cool in court since the incident, and Odlin agreed the lawyer has been even keeled in the three or four years he's known Lowy.
Some approaches Lowy has taken with his campaign have caused others discomfort.
Early on, he asked Justice Court No. 1's office manager, Amy Blixt, if he had her support. At the time, Blixt said, Lowy was the only candidate running, and she agreed to back him. However, she said she is unfamiliar with political processes, and she didn't understand her name would end up on an endorsement list.
Blixt, subsequently appointed interim Justice of the Peace, would have to work with any candidate that was elected, and colleagues advised her an endorsement could place her in a precarious position. Blixt agreed, she said, and asked Lowy to remove her name from his website.
Initially, he informed her she had every right per statute to endorse him, Blixt said. She said the matter became especially pressing to her once she received the temporary assignment to head the court, and over the course of a couple of months, she asked him three or four times to take down her name before he took action.
"It's unfortunate that it took so long," Blixt said. "It's unfortunate I had to ask multiple times. But it's done, and I can remain neutral."
Lowy recalls the exchange differently.
"If 24 hours is a long time, then it took a long time, and she asked me one time to have her name removed, and that's it," Lowy said. "And anyone who would say otherwise would either be uninformed or have reckless disregard for the truth."
A campaign request on Facebook also raised the eyebrows of some campaign watchers. In a post, Lowy challenged people who "liked" his link to share it with 10 Missoula voters who did not know him in exchange for "copious amounts" of coffee.
Any political candidate would be hard-pressed to buy votes with coffee, and Lowy laughed at the notion the request was some sort of breach. However, the post was removed, and Lowy said he did not recall the circumstances under which it came down.
Early on in his campaign, he also unwittingly disturbed some employees in the county courthouse. After he filed to run for office, Lowy introduced himself to court clerks in Justice Court and passed out business cards, and he later walked a couple of courthouse employees to the parking lot to talk with them.
"I wanted to reach out to them as a candidate for office, not as a prosecutor," Lowy said at the time.
He said he "felt terrible" when he learned his actions were not permitted. However, Lowy said it's an overreach to say he campaigned in the courthouse since he never told anyone to vote for him.
"The last thing I would have wanted to do as a candidate for office was to have the people I was reaching out to turn against me. I was trying to be professional," Lowy said at the time.
Initially, he said he did not recall the identity of the people who spoke with him about the courthouse incident, but he later said he needed to "backtrack a hair," and he identified the person who spoke with him as his supervisor. Lowy said he had claimed not to remember the person involved because he did not know if he was free to discuss the matter.
In previous years, Odlin said, the county posted signs during election season to warn people against campaigning in the courthouse, but signs weren't posted when Lowy took action.
"A lot of people wanted to jump on him for whatever reason, so they saw this opening, and they just jumped on him. And I don't think it's fair," Odlin said.
To detractors, the series of slips and readjustments in Lowy's campaign paint the portrait of a candidate who isn't on sure footing and has not fully developed a compass suited for the judiciary. Orzech, for one, has thrown her full support behind Andersen, who has experience as a judge.
"I'd rather not be working with (Lowy). I'd rather have a colleague there," Orzech said.
To other onlookers, the early actions Lowy took in his campaign are evidence of an ambitious candidate eager for the job. Odlin said despite his errors, Lowy has "a good head on his shoulders" and valuable ideas.
"It seems like he has a genuine concern about general things in Missoula, about the traffic, about trying to do something about drunk drivers and things like that," Odlin said.
Indeed, the community has tangible needs, Lowy said. He has clear goals for the way Justice Court can meet them, and in particular, he has the experience to "hit the sweet spot between accountability and rehabilitation."
Lowy also said he is interested in service beyond the bench, in taking education and violence prevention into the community.
Asked if he was concerned about the stance his potential colleague had taken against him, Lowy said he was concerned Orzech had taken a position at all. He also defended his campaign as consistent with previous judicial races.
"I disagree that if I have made a misstep, that therefore I have no ethics whatsoever," Lowy said. "I think that's a far leap to make."
A complaint alleging Lowy violated the Montana Code of Judicial Conduct appears to be pending. The outcome is confidential, but Lowy said he would waive his right to privacy because he believes in transparency.