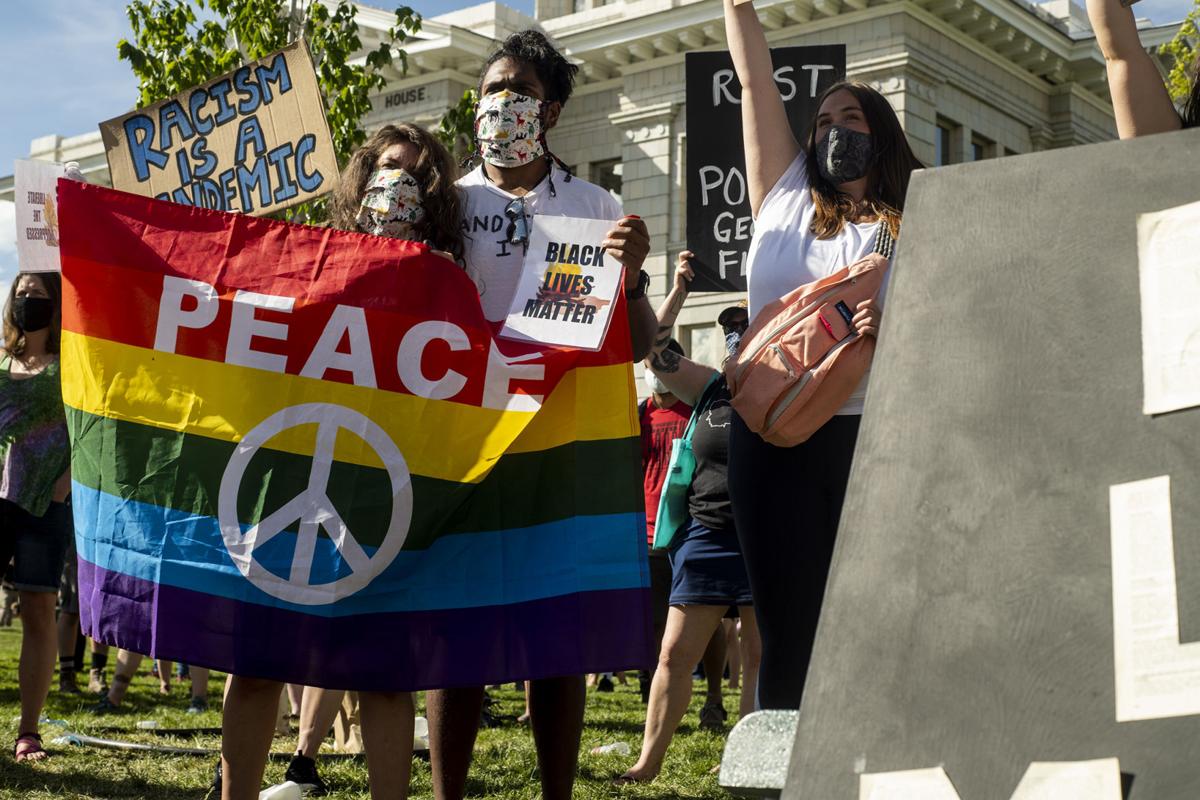 For too long, the voices of people of color have been pushed aside, or silenced altogether. Yet again, a moment in the nation's history — with demonstrations around the country and the world sparked by the May 25 death of George Floyd when a white police officer knelt on his neck for nearly nine minutes — aims for lasting change. Some of the people protesting in Missoula spoke last week with Missoulian reporter Seaborn Larson and photojournalist Ben Allan Smith.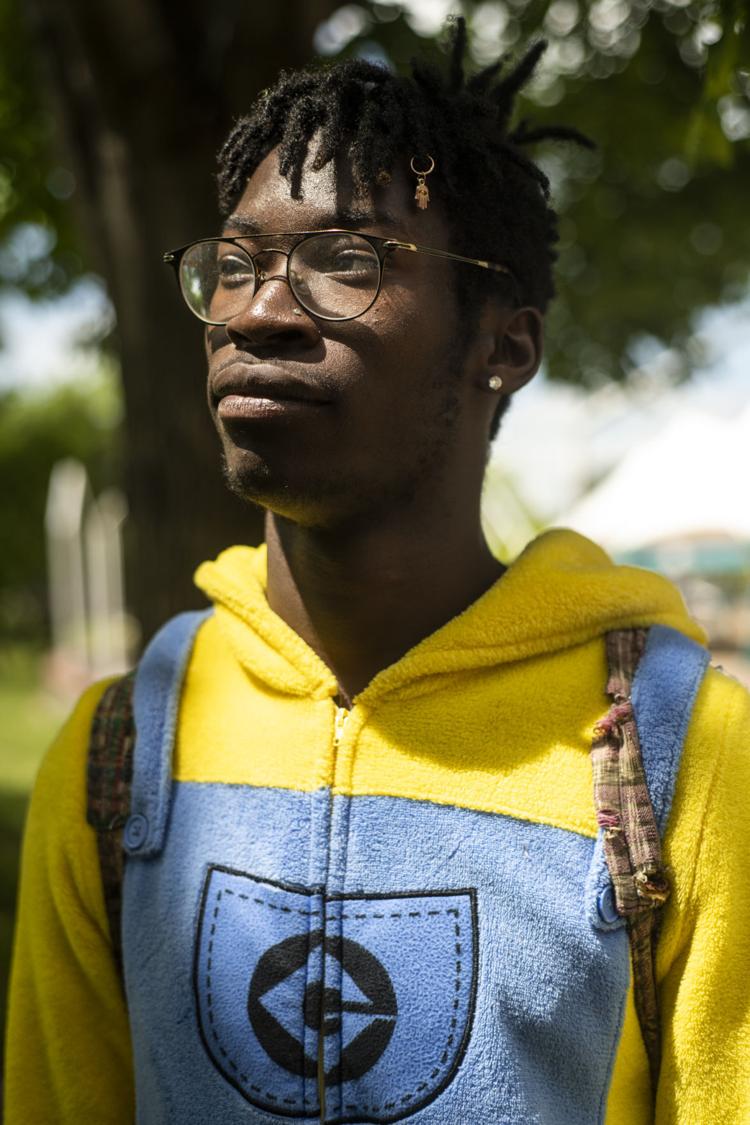 Jay Mattson, 21
My parents, they had to deal with a whole bunch more than I've had to deal with. It might not get better for me, but as long as some black child at some point in time can say, "I feel like I can walk through my door and not feel like I might not walk back through it," which is a thought that I have, I know a lot of black people have. You leave your house and you do not, you honestly do not know if you're coming back some days. Someone could just be having a bad day, wrong place wrong time. Trayvon Martin, that's how he died.
You know how Instagram has filters for videos and pictures. There's always the filter of "I am a young black male" and I can never turn that off. If I do, that's when things can go really bad for me. Any decision I make, I have to put it through that filter, "You're a young black man, can you do this?" I have white friends who do stuff that's a lot raunchier than I can. I will watch them do it, but I'm not going to take part it in.
It's an all day, every day thing. It's like as a police officer you go can go to work, you're a police officer, you come home, you're a person. This sh-- does not rub out; trust me, I've tried.
Missoula is great, love it. Like any place, there's microaggressions and they do build up but it's better than the blatant stuff. I can deal with someone who crosses the street with their kid. It's like OK, more sidewalk for me, right? People grab their purse and it's like OK, society told you to feel this way about me. But I'm a pretty nice person, I think so.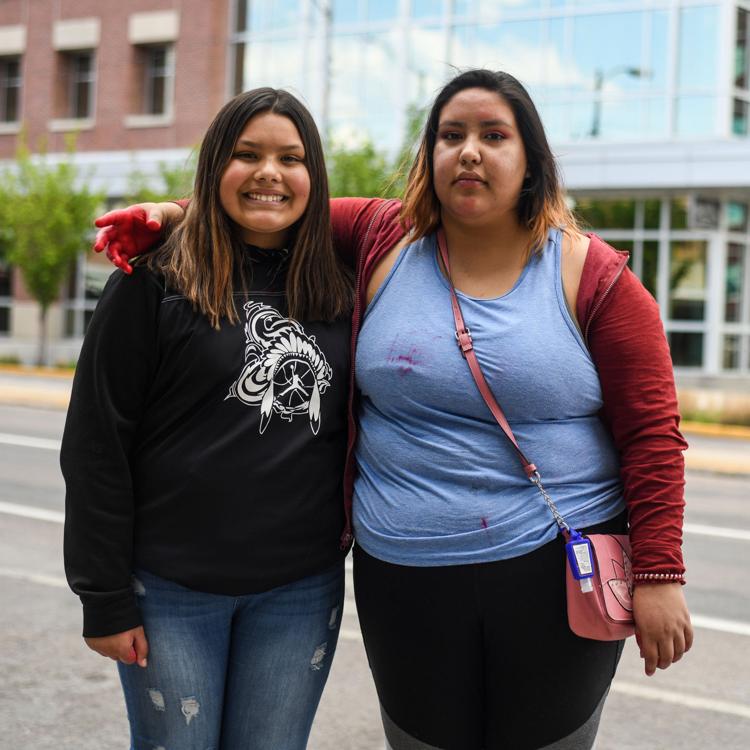 Aaliyah Whiteman 12, and Chandra Whiteman 19
To use our voices — most Native American women, they can't use their voice. And that's what the red hand over your face means. I think all the colors need to rise up and use their voices, especially for this type of situation. — Aaliyah Whiteman
The color red, meaning to bring the spirits to us, to use our voice and to have everyone hear us all. We're missing too many people. We need to be heard.
I think of my family, I think about my niece, I think about my friends who are missing. It brings me to tears every time I think about it.
Listen to people that are talking. Listen to Native Americans. Listen to black people. Listen to people who are hurting. — Chandra Whiteman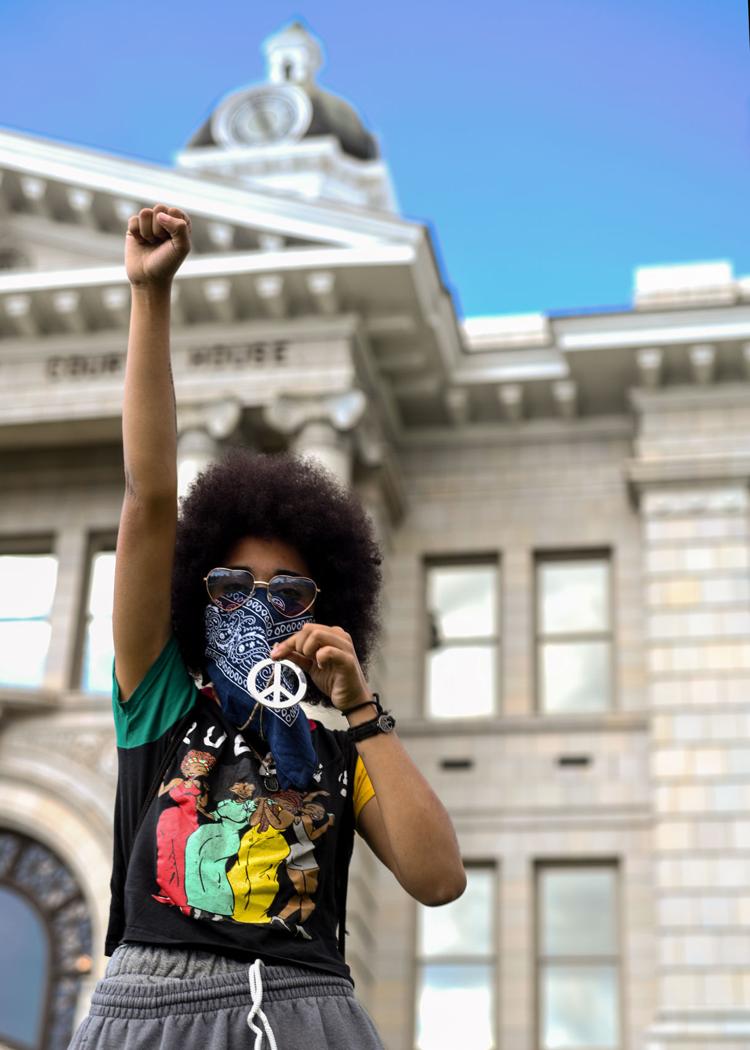 Morenike, 19
I think we spread a way bigger message by staying peaceful. I really want people to see that peaceful protests are possible. I feel like, with the support we've gotten from the police, if we can get that message out, then we can inspire other officers to do what these two lieutenants (Missoula police lieutenants at the protests) have done and that's to support us and protect us. It's also really important that it stays peaceful.
A really big thing that I've argued with people is we want to bridge those gaps with people who think, "Oh, this Black Lives Matter movement is stupid." They think it's stupid because they don't understand, and if they don't understand then it's our job to explain that to them, because it's easier for people to get behind something and support something if they understand it.
I am someone who's really good with connecting with a ton of different kinds of people, different audiences. I feel like a lot of the older generations messed everything up and said, "Here, you fix it." I was really inspired by everything that Martin Luther King Jr. had done. Since my father wasn't around, he was like my actual father figure. I would watch videos of him, I would listen to his poems, all of that. I was all about it. Because he taught me what right and wrong is.
It's cool to be able to know that I am the one who is helping these people understand our cause. I feel like people seeing this, it will inspire something. But if it doesn't, that sucks, but I've still got 30 years, 40 years, I don't know, I have a lot of time to be able to make that change and it all starts right here.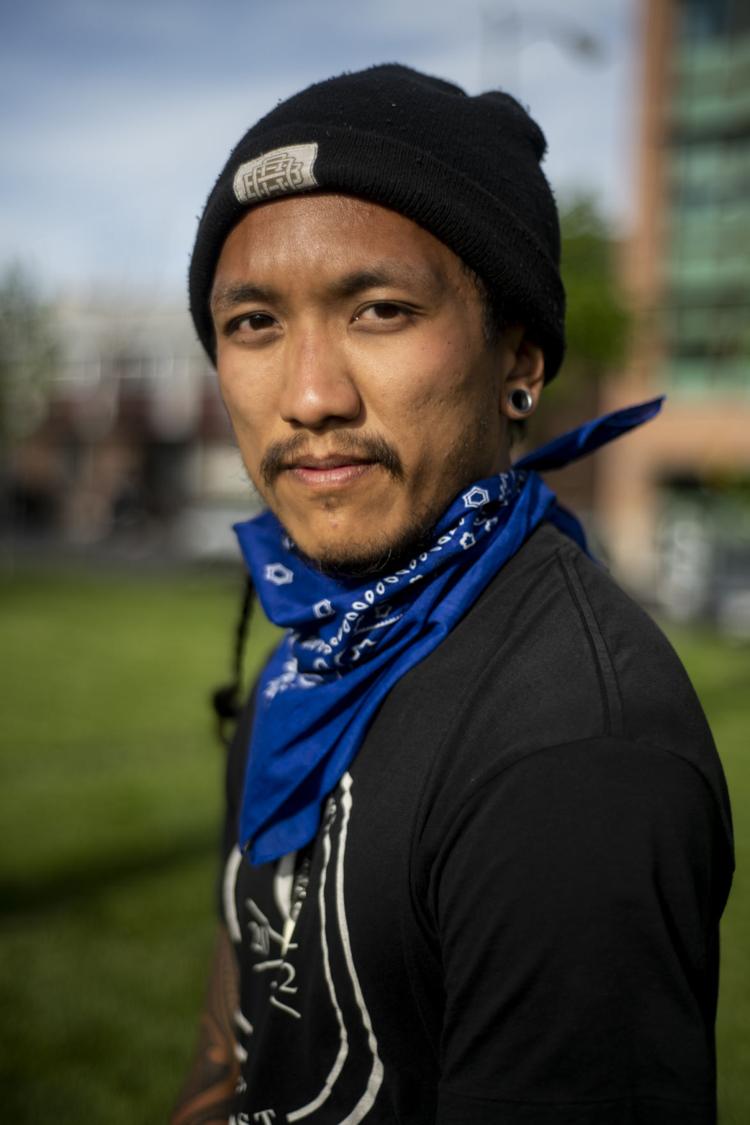 Ward Wilson, 27
For me, it means that I can, as a person of color, I can be heard for not only myself but for black lives and for anyone else who has been a victim of racial injustice. It just feels good to be able to come out here and voice myself and support other people and at the end of the day come together and have a civilized talk with everybody. The community, we all have opposing views but also similar in a lot of ways. I just want to be peaceful and protect the community from troublemakers, anyone who's trying to cause harm. We don't want that, we want balance. We want to live and be peaceful.
First off, the ideal situation would be that we make a difference and the judicial reform, reform within the police state throughout the country, the education of people about racism and ultimately destroying racism so we all can live together in harmony and peace, and share this earth together. To not have to live in fear.
It starts with education. It starts with voting. It starts with getting people fired up about the problem that this is happening.
I can see it in their eyes, especially today after I had spoken. It shows that people do care and they want this change, not only for black people and people of color but for themselves, for a system that is oppressive, that is designed for only certain people. It's nice to be able to see that people do care, especially in a community like Missoula. I really hope that our small town in Montana can echo across the country, hopefully across the world and set an example. 
They don't want us unified.
Desmond Davis, 22
For me, it means a possible change, a possible change that never I thought could happen. I'm seeing a lot of changes, sadly a lot of negative that makes it hard to see the positive, but you just gotta focus on the positive, look at the better things in life. I'm just focusing on the positive changes and I can say I see a lot of them. I see a lot more acceptance, a lot more understanding.
As we said before, I want the right police chiefs in position, I want the right mayors, I want the right governors, anything. I want the right people in the Legislature. I want a better president, of course. And it really comes down to everybody keeping everybody else in line. We need white people to keep that train going, so we can get going the right direction. 
The right direction would be just equality, and it's not just a black and white thing. People just have to be understanding of one another, or at least willing to understand.
Equality to me looks like the percentages we see in this day and age, they drop down below 10. I want a lot less police shootings. I want a lot less police shootings in both ends. I don't want police being shot in the wrong situations and I don't want police shooting people in the wrong situations.
To see all these violence percentages to go down and black percentages to go down, so cops don't have to come into these situations with the mentality of thinking, "Do I need to pull my gun to save my life?"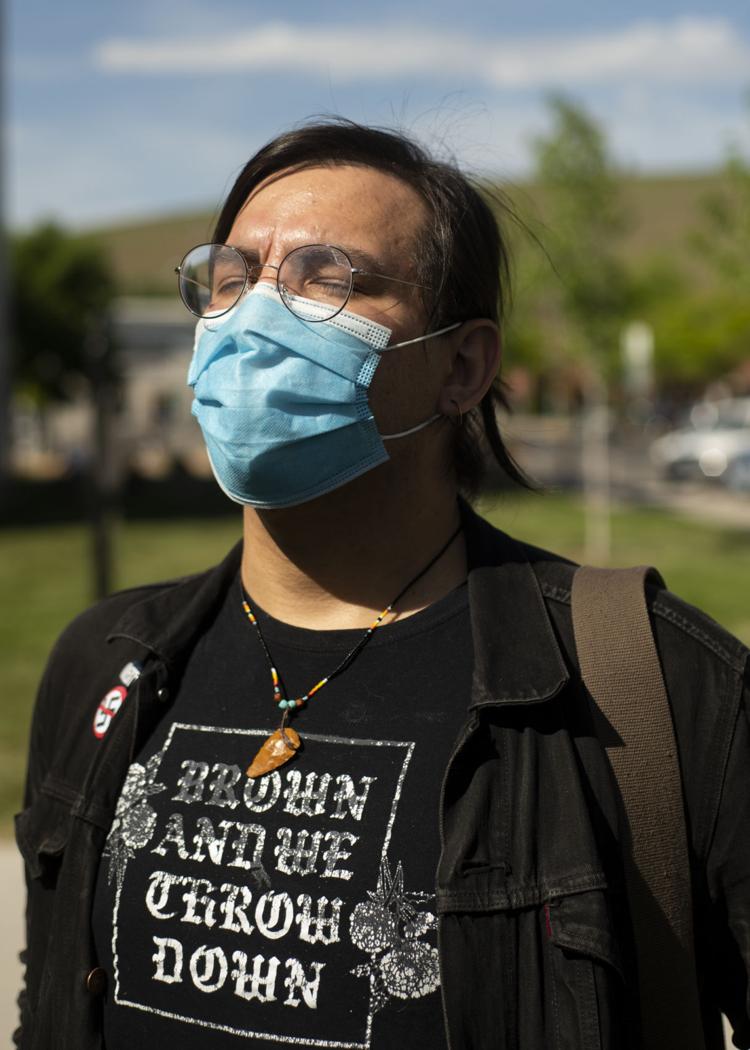 Ash Nataanii, 29
It's different from reservation to reservation, from tribe to tribe, from people to people, no matter what, but we all still deal with one of the same basic issues, the erasure of who we are. That's something that is so real about my community, is that we had everything stripped away. That's the difference that is between black pain and Indigenous pain. We've both had our genocide, but the black community was put into an ecofascist kind of wheel, where they were used as specific capital gain and have never really been released from that. They've been placed in situations of long-term duress, until they die. Whereas for my people, we've been put in situations of erasure, and pushed out and left as refuse on the outskirts of society, basically left to fend for ourselves but with no means to do that.
Having our culture stripped from us in any way possible so that we had no means of gathering, no means of continuity in terms of family, our language was erased, which is one of the main ways that a people grow strong, is having their language power them mentally and spiritually, to have your language stripped away is to have your voice stripped away, and to have your voice stripped away is to have your face taken away. In all ways, they have just left us as a broken body on the side of the road and have tried to leave us behind so many times but there is part of our spirit that will never give up. And we are undeterred from that and fighting always to reclaim who we are past the sadness and past the grief of what's been done to us.
Like I said, it's different between nation to nation. But I know in this specific moment, the connection we all have globally with other peoples, and more of the acknowledgement that's coming toward the Indigenous people, the Indigenous people are also very receptive to that and want to partner with our families across racial divides and we want that to be known, we believe in family.
We can't just ignore the black community's suffering, so this moment isn't really about us right now. We understand their pain is different and we stand in solidarity with the black nation. But we also do hope to in the future to address that and they'll come together with us as family when it's our turn to raise our voice.
There's one thing I've been thinking about a lot lately. The empowerment of Missoula comes from raising awareness of other communities. And in a predominantly white city, that is very, and I know it's a term that puts a lot of people off because they have a hesitancy of admitting the fact that they have privilege, but it's not bad to have privilege. It's bad to get upset when you have that privilege because you feel guilty. No one has to feel bad about having that privilege, you just have to share.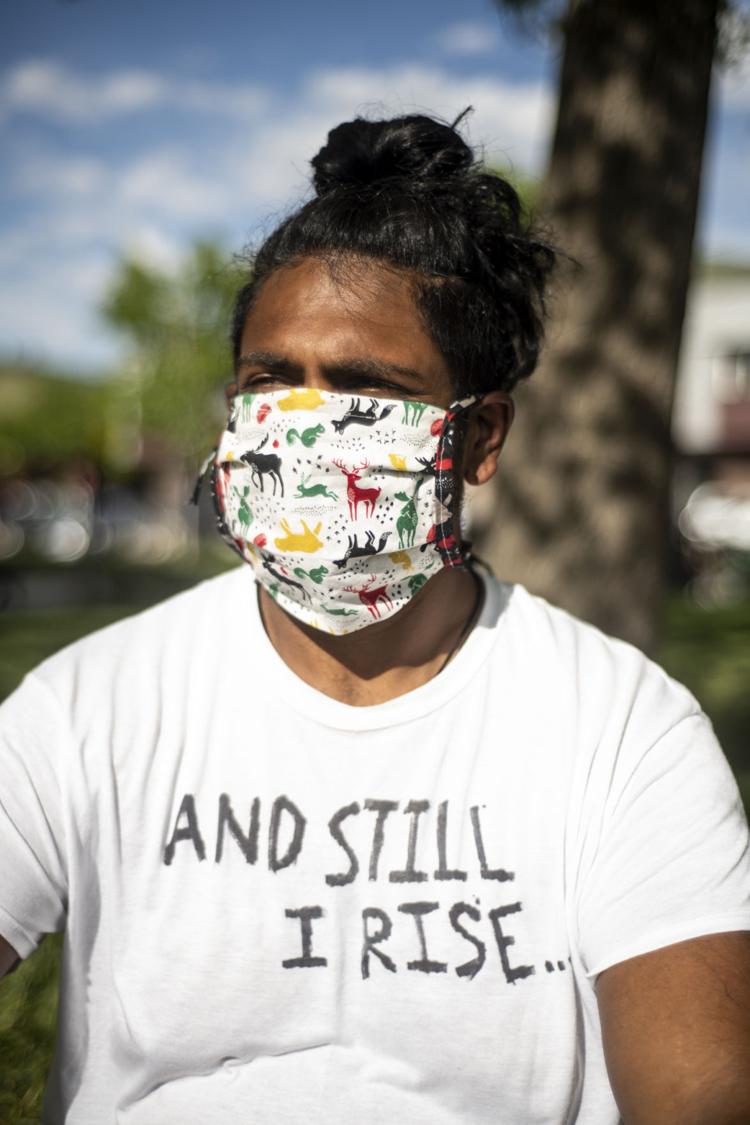 Manoj Battar, 27
I've experienced a lot of downs but some really powerful ups, just seeing what's going on around the nation and especially something about seeing the resistance to it. I don't understand why people want to resist it other than lack of exposure, ignorance, but whatever the reason, it makes me feel unwanted at times. My mental health has certainly suffered. I'm currently pursuing a graduate degree and learning about health care, I find that meaningless. Just sitting and looking at lectures when you just wonder, "What is the value of life and different people?" I know I want to make the world better but I just question it when the world doesn't want to make you better. But on the flip side, when I look around at these, and I look on Facebook and see so many people posting about solidarity, it's made me feel supported in a way I cannot say I have ever felt supported. 
Yesterday I was in the gym and I was thinking about my roommate who works downtown. One night this week she said there were people driving around in trucks and Confederate flags were waving, and they had guns. And I was just thinking about that and I couldn't get it out of my head. I was at the gym, which is generally a place where I escape, and I started crying and I sat in my car for, like, five minutes, an eternity, with a thousand-yard stare. Just contemplating, because I wanted to come down here (to the protests), but I don't want to die. I don't want people I'm with to die. It's weird contemplating your life when you're going to a peaceful protest that's trying to address why minorities, especially black people and Indigenous people, suffer way disproportionate affects from the current system. It brought me to weird place. I suffered from depression for about 10 years before I was really out of it. And I was suicidal for maybe seven, and I haven't felt that way in a long time. I haven't questioned the value of my life for even longer. And yesterday brought those questions back. So it's just like, I don't trust people who lack the emotional intelligence to show up to a peaceful protest with guns, I don't trust their judgement when emotional tensions rise. It almost dissuaded me from going, but I tried to be more rational.
Listen, I love the Constitution, I think it has the potential to be the living document that shapes a better society for everyone under it. But the First Amendment of the Bill of Rights is the right to Free Speech and I don't understand how what I consider hate speech because I lived in the South and know what the Confederacy means and its cornerstone speech, I know what it stands for, I've felt it and I believe their actions and brandishing firearms and waving that flag and symbol of hate, I believe that equates to hate speech, but I would say it's threatening my right of free speech and that's all you have. I think in a nation where everyone doesn't have free speech within reason due to other people, well, I think that might mean the system is failing us.
Get local news delivered to your inbox!
Subscribe to our Daily Headlines newsletter.