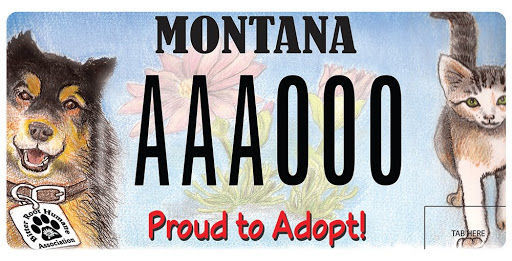 That's all it would have taken to keep the nonprofit Missoula Freestyle Team specialty license plate from being revoked under new state rules that require a minimum number sold for a nonprofit to have its own plate.
The 2019 Legislature set that number at 400. Donovan Power, the director of the freestyle team, said people bought 389 license plates with their design last year at a cost of $20 each that went to the organization.
"So this arbitrary number of 400 means we got cut," he said. The organization will be devastated by the loss of about $7,780 a year, Power said.
"It's a complete gut punch for us," he said. "It's a tremendous hit for us. This is more than the amount we give out in scholarships every year. Personally, as the director I made something like just over $7,000 last year. So this is the equivalent of me, as the person who does the most work, not getting paid."
The organization provides ski coaches to about 170 kids for about 13 Saturdays every year, and they provided need-based scholarships to about a dozen kids this year. Their mission is to teach kids to ski anywhere, in any condition, and still have fun and many of the coaches have been or are on the U.S. National Ski Team.
"Somebody came up with this brilliant idea, didn't vet it at all, didn't think about who it's going to impact and it gets thrown on us," Power said. "Now we have to make a serious decision about whether or not to pay me, the director, or not give kids scholarships. Or should we raise the cost of the program for all the other kids to make up the shortfall? It's a huge hole."
Power said his organization spent $4,000 to get their license plate approved by the state three years ago, and spent another $1,000 to hire a graphic designer so they could qualify for the rigorous state design standards.
"So once we got it approved, it took time to pay back the $5,000 we invested in it," he said. "Then all of the sudden, out of the blue, two state representatives come up with a brilliant idea to set the number at 400. We're at 389, so it's like, can we just write (the state) a check for the $220 that we're short so we can have the almost $8,000 to make up for that?"
He said he's a little unclear on why the law, which came from Senate Bill 353, was passed. A call to Montana state Sen. Jill Cohenour, a Democrat from Helena who introduced the bill, was not immediately returned on Tuesday afternoon.
"First of all, my understating is this was pushed by larger nonprofits who felt like they were losing money to the smaller ones," he said. "They felt like we were getting in on their money. If that's the case, it seems like such a shame because it's the small people feeling the brunt of all of this. I hope you realize the impacts you're having on small organizations who have to make up huge amounts of money."
He noted other small organizations in Missoula, like AniMeals and the Humane Society of Western Montana, were also cut.
"Why are you going after these tiny, really good organizations," he said. "It's very very frustrating."
Power said he's also been led to understand that the Highway Patrol and other law enforcement agencies supported the bill because there were too many different plates.
"Another reason they gave us was the Highway Patrol and police were having a hard time recognizing plates," he said. "As I understand it, they cut 85 out of 200. So now there's 120 (sic) to recognize instead of 200. That's not a valid thing from my perspective. I'm also not in law enforcement. I'm just so pissed about this."
The Bitter Root Humane Association likewise fell just short of the threshold.
Its bright blue license plate featured one of the association's most famous canines, a cute cat and a drawing of bitterroot flowers above the words "Proud to Adopt" in red letters.
You have free articles remaining.
In seven years, the plate brought in $41,480 that was used to operate the association's shelter in Hamilton.
But as of the Jan. 3 cutoff date, Humane Association had 377 registered plates.
The specialty license plate program brought in about $7,500 a year for the Humane Association. That amount is not going to be easy to make up in other fundraisers.
"Part of the problem is we really didn't know about this," said Linda Williams, the association's treasurer. "They said they sent us a letter in September, but no one remembers seeing it."
The association's president, Kathy Butts, said the issue was first brought the board's attention last week.
Both agree that it probably would not have been that hard to find another 23 people willing to purchase the license plate to retain the funding.
"People are always so supportive of us," Williams said. "I wished we would have had a little more time. I think there would have been people willing to get a license plate to support us."
A Montana Department of Justice spokesperson shared a copy of the September form letter notifying the Humane Association of the new rules. The September letter referred to the 400-plate minimum requirement, but it did not say the Humane Association's plate numbers were lagging.
That notification didn't come until a Jan. 31 letter that informed the Humane Association its plate would be revoked.
By then it was too late for the association to attempt to get more license plates sold.
Child Bridge of Bigfork also saw its license plate discontinued.
Its co-founder, Mary Bryan, said that the organization knew that it was short of the 400 minimum by 158 plates.
While every opportunity to generate revenue is critical for all nonprofits, Bryan said her organization focused on finding and equipping foster families saw the license plate as a way to build awareness of Child Bridge and its goals.
The organization's license plate prominently included the phone number, (406) 2-FOSTER.
"We thought getting that phone number out there was huge at a time when the needs are very high for new foster families," Bryan said. "I think every opportunity to get the word out in an appropriate way is important … especially in a culture where we are already bombarded by information."
Byran said it's disappointing to lose to a tool to bring awareness to the issue of foster care, child abuse and neglect in Montana.
Other organizations didn't find much support through the program.
The Montana Area Agencies on Aging Association only had about 80 plates in the program.
"It raised a little bit of money, but it was pretty minimal," said Montana Area Agencies on Aging Association area director Karin Roehm. "We made a conscious effort to just let it go."
The Bitter Root Humane Association plans to ask the state for some additional time to find another 23 drivers willing to buy a license plate.
"This is a program that has grown over the years," Williams said. "Once it's revoked, we have to wait four years to reapply."