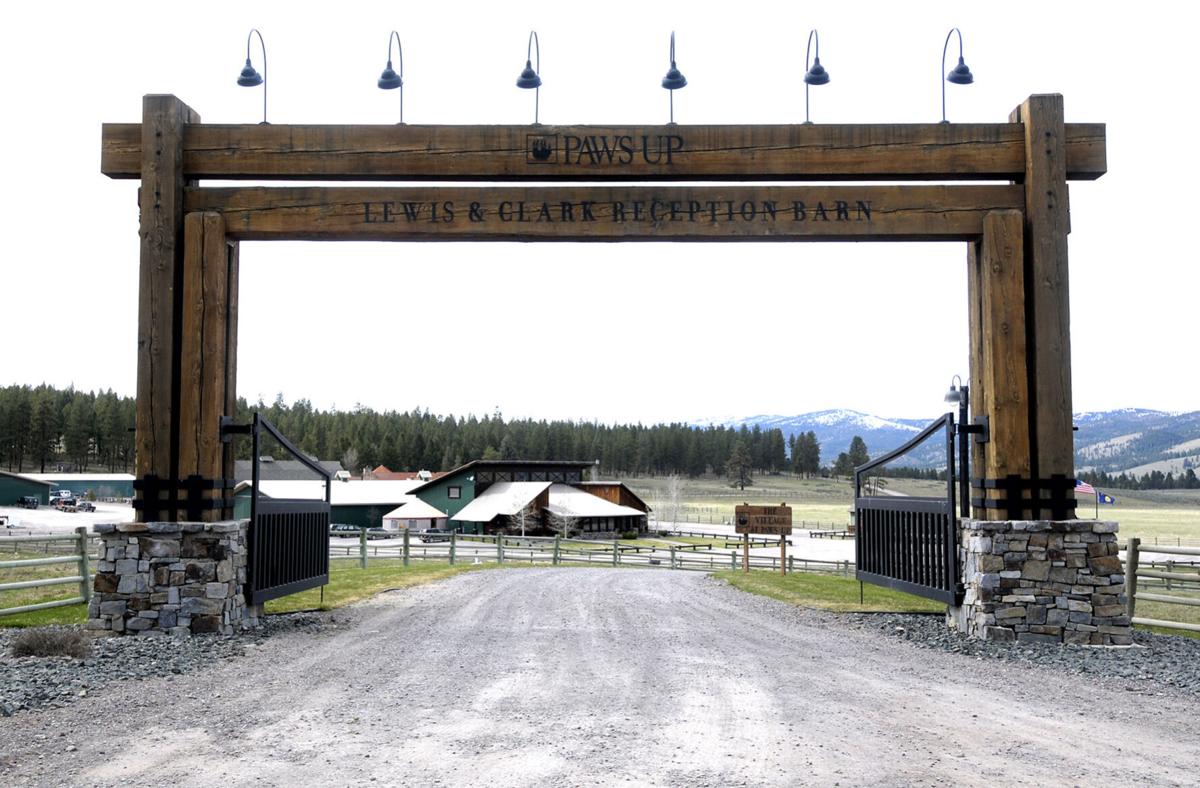 Employees at a luxury resort ranch in Missoula County say they have grown frustrated in recent weeks as management has dispensed little to no information about positive COVID-19 cases among staff.
Paws Up has not publicly released any information about positive cases, although three employees from different departments who spoke with the Missoulian said a staff thinned by quarantines required of positive cases and their close contacts, as well as those who felt unsafe in returning to work, has been discouraged with the resort's response to coronavirus cases at the ranch some 30 miles east of Missoula.
It's unclear to staff how many employees have tested positive for the virus. The resort has posted a list of health and safety policies and precautions established due to COVID-19 on its website, including measures such as creating more distance between guests and employees during activities, limiting on-property guest counts and providing a vehicle for guests to drive themselves.
Asked for comment on Thursday, Paws Up Managing Director Steve Hurst declined to comment whether employees had tested positive at the resort, but said management is "committed to informing employees and guests through appropriate medical professionals that will protect the HIPPA rights and privacy of the person, while quickly and accurately informing those who might be impacted."
The Missoula City-County Health Department confirmed the agency has received public comments and complaints about Paws Up. Public Health Officer Ellen Leahy told the Missoulian on Friday the department has followed up to investigate the complaints.
"I wouldn't say we're done with that, but we have followed up," she said.
Hurst did not return a follow-up email seeking comment about the complaints against Paws Up.
Employees who spoke with the Missoulian on the condition of anonymity for fear of losing their jobs during the pandemic said several employees have tested positive, including a batch of cases confirmed on July 18. Meanwhile, they said work has been frustrating when management does not offer information about who worked with someone who tested positive.
In fact, an email to staff  from management sought to discourage discussions among employees regarding confirmed cases, characterizing their concerns as "rumors," and said "we are also fighting a pandemic of misinformation within our team." The Missoulian received a copy of that email.
The health department, however, has notified several Paws Up employees that they may have been close contacts of a confirmed case and told them to quarantine for two weeks, employees said. Two of the three employees who spoke with the Missoulian are quarantined as close contacts.
One employee who has been quarantined as a close contact said bookings ramped up once the statewide lockdown ended and businesses began reopening in May at the guest ranch whose website lists summer rates ranging from $2,180 per night for two people in "luxury homes," to $5,235 per night for four adults and two children in a lodge. Guests can pay as much as $4,040 per night for a tent accommodating two adults and two children.
The staffers said that bookings quickly neared maximum capacity while staffing levels remained low because employees felt unsafe returning to work where out-of-state visitors gather. After several positive cases and close contacts were identified, staffing was further depleted, the employees said, and staff members were required to work across different departments to keep operations running.
"They were so backed up that most of the managers and supervisors are working double time," one employee said.
Employees who have tested positive include those among the transportation team and the food and beverage department, in some cases in both the morning and evening crews, according to employees who spoke with the Missoulian. While these departments are separate, staffers come into contact with one another at times during the day, they said.
Leahy said Friday it is the department's duty to notify co-workers and guests who may have been close contacts with a confirmed case, although it is the business owner's and operator's responsibility to provide the department with the information to do that.
"If we need a schedule of workers on a shift and their phone numbers, and we need to contact certain guests, it's the facility's responsibility to provide us the information so we can carry out our duty.
"We've had a lot of workplace clusters, as we do with other diseases, and a lot of times the owner or manager will take the initiative to say this is what's going on, so on and so forth, but they're not required to do that," Leahy added. "So that may set an expectation for some."
Hurst's full response to emailed questions from the Missoulian is as follows:
"We at The Resort at Paws Up are very careful to protect from any comment about any employee or guest on any matter, including medical or personal information," Hurst wrote. "While COVID-19 continues to impact our world, and our community, we remain mindful of the lives of those impacted and are willing partners to reduce the spread while keeping our regional economy and the livelihood of our valued employees safe. We partner under the experienced leadership of the Missoula County Department of Health to respond to any potential contact related to our staff or guests and will provide the appropriate unfettered access to their experts in hopes of having a positive impact on eliminating any potential spread. If a contact to COVID-19 does occur, we are committed to informing employees and guests through the appropriate medical professionals that will protect the HIPPA rights and the privacy of the person, while quickly and accurately informing those who might be impacted."