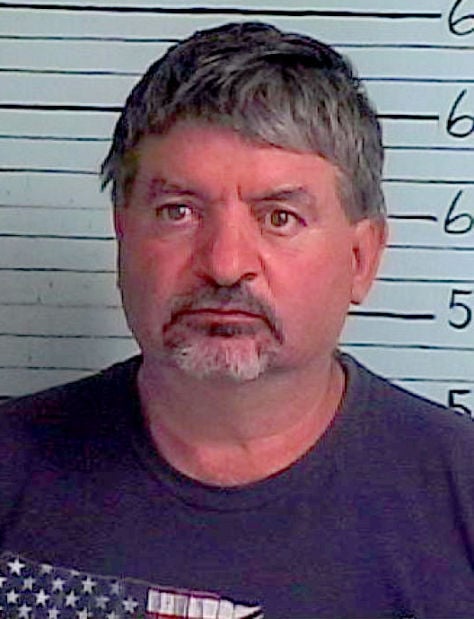 HAMILTON – A 55-year-old Stevensville man who impregnated an 11-year-old girl under his care was sentenced to 200 years in prison Wednesday.
Mikeal Shane Pruett will be eligible for parole when he is 105.
After considering evidence presented in the case, Ravalli County District Judge Jeffrey Langton said Pruett wasn't someone he would be willing to invest the time or effort to extend probation.
Langton said the evidence showed that Pruett had a longtime history of a predatory type of sexual conduct toward younger females and that did not bode well for his possible rehabilitation. The judge said Pruett would be a menace to children anytime he was outside of a prison setting.
"You seem to lack any semblance of a conscience," Langton said.
Langton followed the recommendation of Ravalli County Attorney Bill Fulbright in handing down 100-year sentences on each of the felony charges filed against Pruett. The sentences will run consecutively.
Pruett was arrested in June after the 11-year-old girl was found to be 32 weeks pregnant following a doctor's visit.
Pruett was the guardian of the girl and her then 9-year-old sister.
Val Widmer, director the children's advocacy facility Emma's House, interviewed the 11-year-old girl shortly after the pregnancy was discovered.
Pruett brought the girl to Emma's House for the initial interview and remained in the waiting room when Widmer spoke with her.
The girl initially told Widmer that she had met a boy at the Ravalli County Fair the summer before and had become pregnant by him. Widmer showed her a calendar and explained that didn't make sense, considering the gestational age of the child.
Pruett was not present the next time the girl met with Widmer in August after she had given birth to the child. The girl told Widmer that Pruett was the father.
During the interview, the girl told Widmer how Pruett would come into her room at night and molest her. She also said that Pruett had created the story about her meeting a boy after he learned she was pregnant.
Portions of the girl's interview were presented in court via videotape.
"Instead of him doing the wrong thing, he would come in and tell me what to say," the girl said in the August interview. "He didn't want to get caught."
The girl said she didn't know that she was pregnant until the doctor told her.
"I didn't know what pregnant felt like," she said. "So I didn't know."
The girl told Widmer that when she rebuffed Pruett's advances, he would go out and lie on the couch and pout.
"He would go to couch and pout if he didn't get what he wanted. ... He'd wait to see if I could come out and look at him and feel sorry for him, but I wouldn't," she said.
In a later interview, the younger sister told Widmer that she sometimes woke up and watched "through a peeking hole" in her bunk bed as Pruett molested her sister.
"I've been keeping a secret," the younger girl said in the interview. "Now I want to tell."
Pruett eventually molested the younger sister as well.
Ravalli County Attorney's Office investigator James Hulme testified that Pruett had been involved in two other cases that made it into the court system, but didn't lead to any jail time.
In 1980, he was charged with taking indecent liberties, but most of the records in that case had been lost.
In 1985, he was arrested following an accusation that he had molested a niece in Arco, Idaho. Pruett was charged and then apparently fled the jurisdiction. A bench warrant for his arrest was issued in 1987. The case was dismissed two years later. No one is sure why.
During sentencing, Fulbright said Pruett's case met the requirements of Jessica's Law, which required a 100-year sentence.
"The only real question is how much should be suspended," Fulbright said.
The Montana Legislature enacted Jessica's Law in 2007 to require stricter sentences on convicted child molesters. The law was named after 9-year-old Jessica Lunsford, who was kidnapped and murdered in 2005 in Florida. Montana law requires convicted child molesters to spend a mandatory minimum 25 years in prison and be subjected to supervision for 100 years.
Fulbright said Pruett has a long pattern of committing "eerily similar" sexual offenses.
"In my view, over the course of his life, he has set no boundaries when it comes to committing sexual offenses. ... Everything about the defendant's life and conduct in Ravalli County has earned him a 100-year sentence," Fulbright said.
Fulbright also asked that Pruett be designated a tier 3 sexual offender.
When Langton asked Pruett if he had anything to say, Pruett replied: "I'm so sorry."
"Is that all?" Langton asked.
Pruett sniffled and nodded his head.