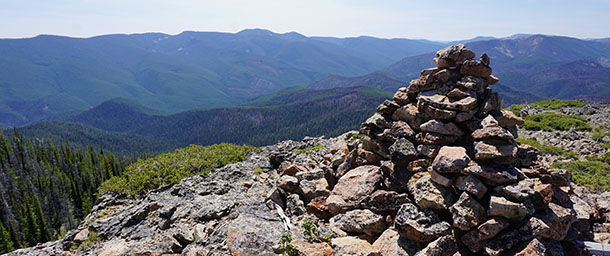 Both sides declared victory in a federal lawsuit challenging the Bitterroot National Forest's travel ban on bikes and motorized vehicles in remote areas.
A ruling by U.S. District Court Judge Dana Christensen on Friday upheld most of the Forest Service's plan to preserve the Blue Joint and Sapphire Wilderness Study Areas in the primitive conditions that existed in 1977.
But Christensen also ordered Bitterroot Forest officials to hold a new public comment period to hear objections to closing 110 miles of trail to bicycle use. The judge rejected claims by snowmobile users that they had been unfairly excluded from using the areas.
"With the exception of the narrow remand ordered above," Christensen wrote, "the court finds that the Plaintiff has failed to establish that the challenged actions of the Forest Service were arbitrary, capricious, an abuse of discretion, or otherwise not in accordance with the law."
"It's a pretty good result for the Bitterroot Backcountry Cyclists," plaintiffs' attorney Paul Turcke said on Monday. "The court declared the agency decision to close the areas unlawful as far as bicycles are concerned. For snowmobiles, not so much."
Turcke and attorney Robert Bell represented the Bitterroot Ridge Runners Snowmobile Club, Ravalli County Off-Road User Association, Montana Trail Vehicle Riders Association, Montana Snowmobile Association, Citizens for Balanced Use and Backcountry Sled Patriots.
The Forest Service was joined in defending its travel plan by Friends of the Bitterroot, Hellgate Hunters and Anglers, Missoula Backcountry Horsemen, Montana Wilderness Association, Selway-Pintler Wilderness Backcountry Horsemen, Wildearth Guardians and Winter Wildlands Alliance.
"They kind of threw the kitchen sink at this to find some toehold to get it struck down," said Earthjustice attorney Josh Purtle, who represented the private groups supporting the Forest Service. "It didn't work."
The Bitterroot Forest travel plan affected both recommended wilderness areas and wilderness study areas. It prohibited all motorized and mechanized travel for both summer and winter in Selway-Bitterroot and Blue Joint RWAs. And it called for preservation of wilderness character in the Blue Joint and Sapphire WSAs, which also banned ATVs, snowmobiles and bikes there.
Christensen agreed with a Forest Service analysis that showed in the Blue Joint Wilderness Study Area between 1977 and 2009, "snowmobile use grew more than four-fold, off-highway-vehicle use grew ninefold and bicycle use went from non-existent to common use." He cited other decisions requiring the Forest Service to preserve the area's wilderness characteristics as close to 1977 conditions as possible.
"Thus the Forest Service adequately grappled with the problem defined by the (Montana Wilderness Study Act) and appropriately limited use in WSAs to maintain wilderness character," Christensen wrote.
Both the 117,030-acre Sapphire WSA and part of the 68,860 Blue Joint WSA are included in proposed legislation by Sen. Steve Daines and Rep. Greg Gianforte, both Republicans, for removal of protections imposed by the Montana Wilderness Study Act.
While the members of Congress cite support from affected county commissioners and off-road vehicle groups for returning the areas to general multiple-use status, a recent statewide opinion poll by the University of Montana reported only 11 percent of registered voters approved of the bills.
The judge also rejected claims that Forest Service employees showed political bias in closing Recommended Wilderness Areas to snowmobile use. Instead, Christensen wrote the agency had ample data to justify reducing the Bitterroot National Forest's snowmobile use area from 748,981 acres to 543,840 acres of its 1.6-million-acre territory.