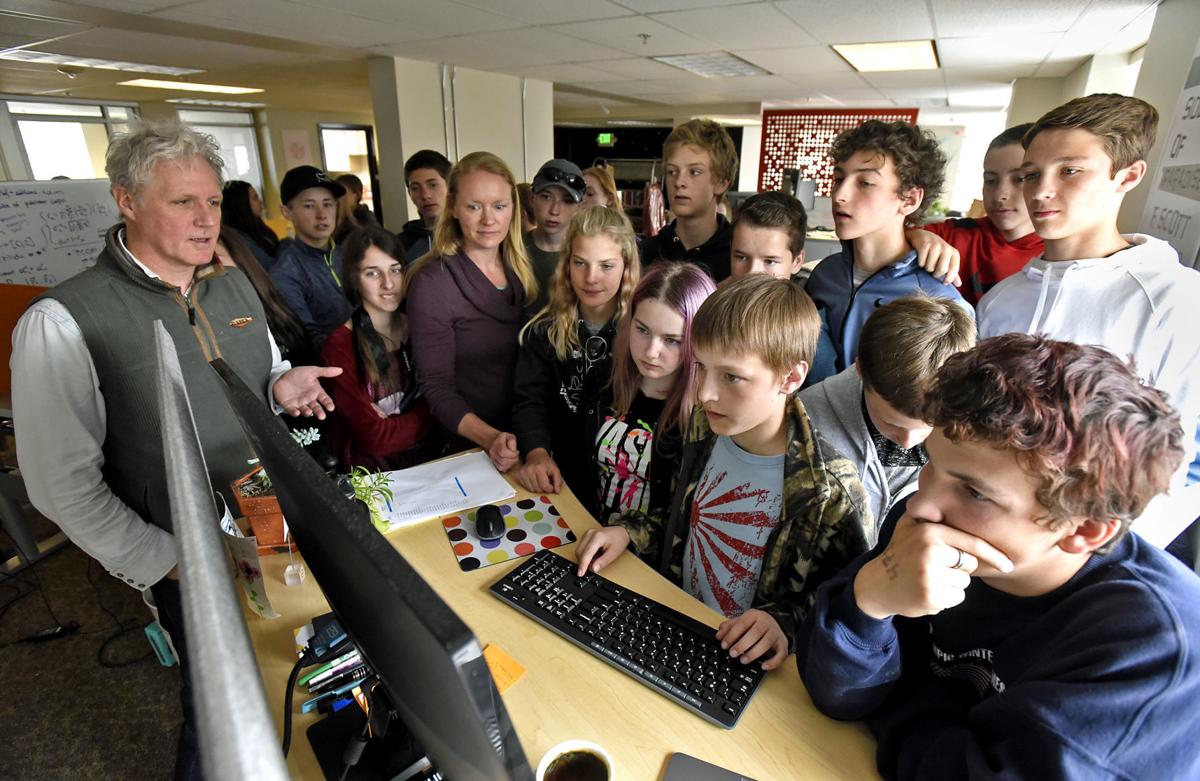 A local tech company has landed $10 million in venture capital investment and plans to add 150 high-paying jobs in Missoula by the end of 2020.
Submittable, a company that created a submission review and opportunity marketplace platform, announced this week that it had raised the money through one of the largest Series B investment rounds in state history.
"We plan to hire seven people a month for the next 24 months," said CEO Michael Fitzgerald from his office in the historic Florence Building downtown. "We just hit that number this month."
Fitzgerald said the goal is to pay wages at his company that are two-and-a-half times the annual median wage in Missoula of around $51,000 for a single person.
The company has about 90 employees right now, and Fitzgerald said the goal is to get to 240 in Missoula over the next two years. He added that 99% of the company's revenue comes from out of state and that 10% of employees are first-time homebuyers in Missoula.
Fitzgerald noted he and the company's founders were ambitious when they founded the company in 2010.
"When we started, our stupid goal was to hire 500 people and be a cornerstone employer and keep the smartest kids here," Fitzgerald said. "We obviously haven't done that yet but we kind of demonstrated it was possible."
The company's original goal was to "keep the smartest kids" in Montana by providing them with good-paying, rewarding jobs, he added. The tech sector is becoming increasingly important to Missoula's economy, with companies like ClassPass, OnX and Cognizant ATG going on hiring sprees, bringing revenue from out of state, increasing the tax base and diversifying the financial web.
The process of landing $10 million was "exhaustive," according to Fitzgerald.
"It started around March and we pitched about 30 different investors," he said. "They come in and open the books and go through all the financials."
You have free articles remaining.
Eventually, the Series B round was led by Next Coast Ventures, a venture capital firm based in Austin, Texas. Fitzgerald said they focus on non-Silicon Valley startups.
"Places like Missoula, and Madison, Wisconsin; and Austin, Texas; and Boulder, Colorado, are the future way more than (Silicon Valley) because nobody can afford to live in (Silicon Valley)," he said.
He acknowledged that by paying his employees good wages that allow them to buy houses here, Submittable is contributing to the severe shortage of affordable housing in Missoula.
"As you know, we're culpable," he said. "But at the end of the day I don't think there's anything wrong with paying people well. We want to create career-type jobs."
About 90% of the new hires will be technical developers, he said, while they'll also hire marketing, data analysis, sales and entry-level jobs. The company is in the process of opening up an in-house day care in the Florence Building for employees, and they'll hire two day care positions soon. He hinted that the company will eventually outgrow its current office space but no firm plans are in place for that.
Also, 90% of the company's current hires have come from Missoula. The company's aim is to hire based on Montana's demographics overall, which include veterans, Native Americans and a diverse array of cultural and socioeconomic backgrounds. Women already comprise over 50% of the company's staff.
Fitzgerald said Submittable has found a niche in the market that presents a lot of opportunity.
"To date there's been no meaningful platform that helps organizations create opportunities and review submissions to them," he said. "Most companies, like ZipRecruiter and Indeed, have focused on job applications and hiring, but there are millions of submission processes that have nothing to do with jobs such as manuscripts, peer-review, contests, films, auditions, grant or academic applications."
Submittable's goal is to continue to improve on what it's already doing.
"We haven't just built one of the cleanest and easy-to-use (user interfaces) out there, we've perfected the customizable review processes for hundreds of use-cases and are now building out a suite of AI-matching technologies that will help any organization find the right opportunity for them," he said.
Jolene Brink, the marketplace development manager for Submittable, said it's one of the 10 largest Series B rounds in Montana history.
"With this Series B funding, we join other Montana-based companies like SiteOne (Bozeman), Onxmaps (Missoula), Blackmore (Bozeman), RightNow (Bozeman), and MeatEater (Bozeman) who are proving the massive growth potential that exists for startups in our home state," she said.
Get local news delivered to your inbox!
Subscribe to our Daily Headlines newsletter.