Sudden Wisdom: Vodka-fueled motorcycle heads from Missoula to Bonneville Speed Trials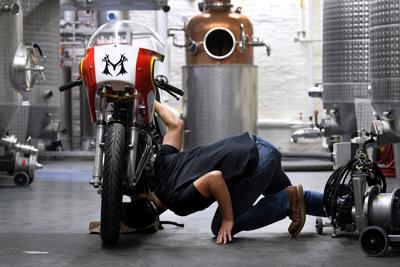 Today, maybe as you're reading this, Ryan Montgomery, who along with his wife Jenny owns and operates Montgomery Distillery, will be racing across the Bonneville Salt Flats in a red leather racing suit, boots up on pegs, knees squeezed along the hot engine, head down behind the streamlined windshield with his mustache grazing the handlebars as he pins his modified 1980 Yamaha XS650 to try and get to 98 miles per hour.
That's if all goes well. There's a lot that could go wrong.
Montgomery's never raced a motorcycle before. He's never built a racing bike before. He's also running the motorcycle on housemade ethanol — his own fuel saved up from the "heads" of distilling Quicksilver Vodka—leftovers with too many impurities (methanol, acetate) to be drinkable.
In his words: "What could go wrong?"
There's a lanyard that goes around his wrist. It will turn off the engine if pulled, as in, "if I fall of, the bike will quit."
The fuel line, which feeds the vodka ethanol from the tank to the carburetor, is wrapped in fireproof material, as an extra safety measure in case the clear ethanol starts leaking and isn't noticed before it starts burning.
Bolts on the front fork, along with drain plugs on the bottom of the engine, are wired so they don't rattle loose on the third, fourth or tenth time the motorcycle gets up near 100 mph.
There's no front brake either, to save weight. But, as Montgomery pointed out, you don't really need to stop all that fast on the salt flats.
"It's a little scary," he said while eyeing the motorcycle in the basement of his distillery last week. "And it's a little scary doing it on a bike you built yourself."
But the thing Montgomery's most nervous about, without hesitation, is something every vintage motorcycle owner is familiar with — "getting there and not being able to start the bike."
It's a bit of a crazy story, how this motorcycle enthusiast and distillery owner decided to combine the two into a vodka-fueled racing bike, but Montgomery delivers the history pretty matter-of-fact, just shrugs and "we wanted to try …"
It started with the heads, the leftovers from the vodka distilling process that are captured and separated out from the pure liquor.
"We normally discard that," Montgomery said. "Over the winter, we got the idea to try and power a bike with it."
He had the Yamaha around; it wasn't running then, but Montgomery was reasonably sure he could rebuild it.
"There's a whole litany of things, safety rules, that Mort helped with," Montgomery said. "And general encouragement."
He sent a sample of the heads off to a lab for testing, to make sure it could work as ethanol. It would, but due to the chemical difference, it takes twice as much vodka ethanol to run the bike as it would gas.
That required only a carburetor re-jetting, which allows more fuel through to combine with air to run the engine.
"It seems to work," Montgomery said. "We got a bike running and riding."
The fuel burns crystal-clear and smells like the heads themselves, faintly fruity. It's also, as Montgomery notes, all local Montana product. His father, Chris Montgomery, grows the grain on his Lewistown farm—"from ground to gas tank."
Montgomery's distillers saved up about 10 gallons of heads for him over the winter. There's now around 7 gallons left to take to Bonneville.
There are other ethanol-fueled bikes at Bonneville, but Montgomery thought they would be the only racing team bringing homemade fuel (according to the Bonneville Motorcycle Speed Trials website, as of Thursday there was only one other bike entered in Montgomery's class).
After the bike ran, it needed a paint job, courtesy of Blue Ribbon Auto Body, which decked the Yamaha out in cherry-red, yellow, black and white paint.
It also needed sponsorship, which includes Big Sky Brewing (a "Hold My Beer and Watch This" sticker is affixed to the tail), along with a couple of friends' motorcycle shops in Brooklyn and Portland. Colin Cornberg, who runs the No. 8 Wire motorcycle shop in Philipsburg (and who helped Montgomery tune the carbs and test the bike) is represented as well with a logo sticker. Montgomery Distllery's "M" made of antlers adorns the front of the fairing.
Lastly, the bike and the team needed a name. Montgomery pulled from his own bottles: "Sudden Wisdom Amateur Racing" is lettered across the gas tank.
He realizes naming the bike after their vodka (Quicksilver) makes more sense, but decided on the rye whiskey's moniker, to reflect their stumbled-upon, experimental fuel source.
"We're the amateurs, so we decided to go with something a little more cheeky."
Now all that's left to do is race. The Bonneville Motorcycle Speed Trials measure average speed over one mile. Racers have a mile to get up to speed and the same distance to slow down.
Montgomery plans to race Sudden Wisdom as many times as he can over four competition days, and is praying for everything to run smoothly — he's bringing spare parts and multiple carburetors jetted to different specifications depending on the air and how the bike runs in trials.
The record for his class — 750cc partially-modified bikes 1980 or older with alternate fuel — is just under 98 mph.
The Yamaha, in its factory form, had a top speed rating of 105 mph, and the ethanol fuel can add anywhere from a 5 percent to 10 percent horsepower boost. However, Montgomery learned the salt flats are slower than asphalt, by about 10 percent. All that is to say, he's not really positive how fast the bike's going to go.
 "I purposefully didn't put a speedometer on there," he said. "I kind of just wanted to pin it and not have the psychology of looking at a number."
But there's no expectation of vying for a track record, Montgomery said. Just having fun, and cracking open a few bottles of Montgomery Distillery products around the pit after a full day of racing.
 "For me, most of the accomplishment's already done. I built the bike and got it to run on our stuff," he said. "This is just the icing on the cake, going down and racing it."