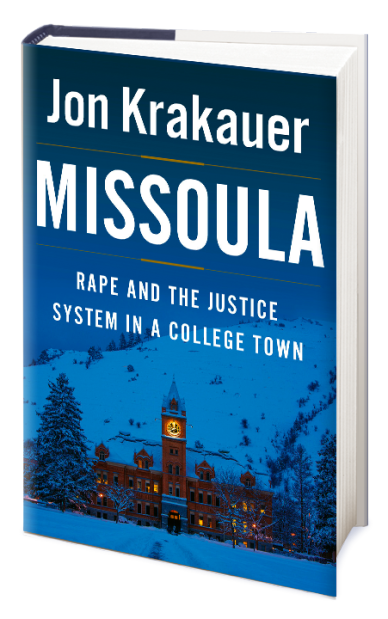 Lin Bateman and her husband had received death threats, and the victim of stalking and other crimes said she has Kirsten Pabst to thank for keeping her family safe and delivering justice.
"She saved my sanity and probably my life because this is a crime of stalking, and it was a very serious thing," said Bateman, who had a child in her home at the time of the threats.
One day after Jon Krakauer's book about rape in Missoula came out, professional colleagues of Missoula County Attorney Pabst and victims whom she's aided spoke to her integrity, compassion and commitment to truth. In "Missoula: Rape and the Justice System in a College Town," the best-selling author points at Pabst as the major problem for rape victims here.
Bateman, who read the portions of the book about Pabst on Tuesday night at Hastings, said she didn't recognize the person presented in the book as the friend she's come to know. The Missoula woman didn't buy the book, and she had a strong reaction to its "biased opinions."
"My reaction was anger and disgust," Bateman said.
Bateman, who met Pabst more than a decade ago, said the county attorney is "humble, professional, respectful." As a mother and grandmother, Bateman did not want her opinions to be misconstrued as lacking compassion for rape victims, but she did want to speak out in favor of Pabst, who was sworn into office in December 2014.
"I think she was totally mischaracterized and vilified," Bateman said.
Tanya Campbell has been a senior crime victim advocate for 12 years, and she has stayed on the job longer than many because her sister was raped and strangled to death in 1985. Campbell wants to take the tragedy for her family and turn it into something positive, and she views Pabst and her demeanor as a positive force for victims.
"When she's working a case, she's very sympathetic and empathetic and really listens, and then, I think she tries to do what she believes is best for them," Campbell said.
She's about halfway through her read of "Missoula," and she is pleased the book is on the stands, despite the shortcomings she sees.
"I would say that I'm sorry that he vilified one person (Pabst), but I do have a pretty positive reaction to it because I think he identifies what we're talking about with real rape," Campbell said.
In court, lawyers present the "rape myth" to juries, she said, when it fact, 85 percent of victims know their perpetrators. In other words, the rapists aren't the strangers chasing women down alleys.
"Acquaintance rape is much more prominent," Campbell said. "I like that he (Krakauer) brings the expert witness testimony that was brought to Jordan Johnson."
At the rape trial against former University of Montana Grizzlies quarterback Johnson, the prosecution called David Lisak as an educational witness. Lisak, a nationally recognized forensic consultant on acquaintance rape, discusses date rape and serial rape in the book.
At the time, Pabst helped successfully defend Johnson of the charge. Campbell said she considered Pabst's involvement in defending a man accused of a date rape, and she believes the lawyer's involvement is fair as part of the justice system.
"The conclusion I came to is she was not part of the prosecutor's office. She had gone into business for herself as a defense attorney," Campbell said. "And you know our Constitution guarantees us all a right to a fair trial, and everyone has a right to an attorney.
"... And she is an exceptionally great trial attorney."
Campbell has worked with Pabst for some 12 years, and she disagrees with Krakauer's conclusion that rape victims will be poorly served with the current county attorney at the helm.
"I think that she really does try to put her best foot forward," Campbell said. "I think she's done some incredible things with the County Attorney's Office. I think that they all have. They're diligent. And they all want to do a good job, just like the rest of us."
One victim, who requested the Missoulian not use her name, said Pabst was her "Joan of Arc" in battle, her strong and fearless saint in the 18 or so months it took to bring her assaulter to justice.
The woman, a survivor of domestic and sexual assault, said she spent all those months walking around "in the dark," feeling like she couldn't get on medication or seek therapy without compromising her case. She couldn't confide in family, and her meetings with Pabst were a bright point in the most painful period of her life.
You have free articles remaining.
"To have Kirsten's blue eyes tell you, and look you straight in the face and tell you, you need to leave (your abuser), and be fearful of your life?" the woman said. "... I actually looked forward to meeting with Kirsten because she made me feel like I was sane. I wasn't going totally nuts."
She took strength from the time she spent with Pabst, and she appreciates the painstaking process the prosecutor went through to comb through reams of reports and eventually bring justice to bear on her case.
The woman has followed criticisms of the County Attorney's Office, and she said the shortfalls took place when Pabst was not in the lead role. In the book, Krakauer said the County Attorney's Office takes the "lion's share" of the blame for the rape crisis in Missoula in cases from 2010 to 2012, and he points the finger at both then-County Attorney Fred Van Valkenburg and Pabst, in a second-in-command role.
"People forget that she wasn't in a position where she could change a whole lot of stuff. And now she can," the woman said.
Pabst has remained in contact with the woman as the perpetrator filed appeals. A few years ago, the woman left Missoula, but she's convinced victims and perpetrators here both will be treated with fairness under Pabst.
"She really embodies in my mind what justice actually is," the woman said.
District Judge Ed McLean also didn't recognize Pabst from comments Krakauer made to the Missoulian. Among other criticisms, Krakauer described as "egregious" Pabst's testifying at a UM disciplinary hearing on behalf of a man accused of rape; Pabst argued she was educating UM on the criminal justice system.
The author points at Pabst as a problem for victims of acquaintance rape, and McLean said he was "shocked," "dumbfounded" and "baffled" by the remarks. 
"My response to that was, Krakauer never met this girl, never met this prosecutor," he said.
Pabst is a strong advocate for victims of any bodily crime, any crime against the person, McLean said. He said she's also a compassionate one, and she should be commended for her efforts, not criticized.
"As far as the victims of crime, I don't think they could have a better advocate," he said.
Under Pabst, the Missoula County Attorney's Office is building upon the changes brought about by the U.S. Department of Justice investigation, he said. She had worked in the office previously, but McLean said she wasn't in charge when she worked there.
"That was not her office. That was not her administration," McLean said.
Under Pabst, he said, prosecutors are responding right away to rape cases, and she is actively involved in them.
"I just think she's a remarkable young prosecutor, and I have high hopes for her," McLean said.
Rich Ochsner, a retired detective with the Missoula Police Department, worked with Pabst some 10 years, and he said he always found her professional, compassionate and objective.
He recalls Pabst taking at least one particularly difficult rape case he investigated all the way to a conviction. However, he said just because a prosecutor is fair doesn't mean a victim – or a person who claims to be one – is going to be pleased in every instance.
"If you can't corroborate it, you may not have a real rape. And you may have to step away," said Ochsner, who was on the force 20 years.
The best way to go to trial is with a confession, but a prosecutor doesn't always have one in hand, he said. So an investigation has to yield probable cause, he said, and a prosecutor needs to consider proving a charge beyond a reasonable doubt.
"If you're going to put somebody's life, reputation, freedom ... on the line, you're certainly better not just going to trial because somebody wants you to. You've got to be able to prove a case," Ochsner said.
Retired Undersheriff Jerry Crego said he worked with both Pabst and Josh Van de Wetering, her opponent in last year's election for county attorney, in a murder case, and both "know what they're doing." However, he supported Pabst in the election. He said Pabst is on the defense because she's under attack from a "worldwide publication."
Were Pabst to ask him for advice, Crego said he believes she should not answer questions raised in the book, but rather should simply go about her business.
"Her heart is in the right place. I'm telling you that right now," Crego said.