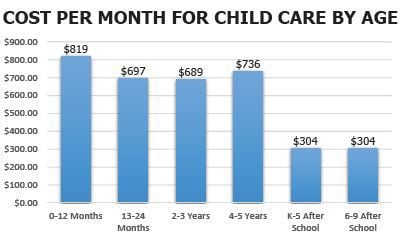 The cost of child care is a burden for many workers in Missoula and is causing them to scale back or abandon their careers, according to a new survey.
The Missoula Area Chamber of Commerce sent questionnaires to people all over the city, and 550 respondents reported paying $637 per month for child care on average. Infant care was the most expensive at $819 per month.
According to Clint Burson, the Chamber's director of government affairs, that means child care is the fourth highest expense for a family behind housing, transportation and food, and the second highest expense during the infant years between 0-2.
"Costs are pretty much astronomical," he said.
In fact, child care costs are so high and wages are so relatively low in Missoula that it often doesn't make financial sense to place a child in daycare in order to go to work.
"Once you get past one child, it doesn't make sense to continue working unless you're making a really high income," Burson said.
The pre-tax median household income for two adults in Missoula is $41,968, he said, while the income needed to afford basic expenses is $57,661. That includes $7,650 per year in child care expenses, on average.
According to the Missoula Organization of Realtors, the average cost to rent a three-bedroom home in Missoula in 2017 was $1,130. Combined with the average child care costs, that equals over 50 percent of pre-tax income for a family making a median income.
"Cost and availability are the top reasons why respondents are currently utilizing alternatives to child care centers, such as grandparents or in-home facilities," the Chamber's report states. "Notably, over 47 percent of respondents indicated that they have scaled back or abandoned their career (or expect to) due to child care issues."
Burson noted that the 550 returned surveys is the highest response rate the Chamber's ever gotten, indicating a high level of interest, and the responses came from all income levels and a wide range of workplaces.
"The survey covered the entire area of Missoula," he said. "It wasn't all in high income areas. It was spread across the entire city."
Although most child care workers are paid very little, often well below $15 an hour, those facilities have costs that they have to pass on to customers.
"What we've heard from a lot of providers is it's not a money-making enterprise," Burson said. "We've heard it's not a profit center."
People often work in child care due to a personal passion.
"It's really something people get into because they want to take care of kids at an early age," Burson said. "Lots of studies show that the more you invest in kids early on in life, the less problems they have later in life. They do better academically and become productive citizens and avoid becoming involved in crime."
Mark Roberts, co-owner of the Missoula Early Learning Center, said state regulations mean child care facilities need to have 35 square feet of indoor space and 75 square feet of exterior play space per child. In Missoula, where land costs are high, that poses a barrier to people wanting to use commercial real estate for a child care business with slim profit margins.
"The cost of labor is huge," he said. "We pay our workers pretty well, but it's definitely not 15 bucks an hour. It's still a lower paying position. But affordability in child care is difficult to wrap your head around. Providing meals for kiddos and getting insurance, it all adds up. And then you factor in the cost of property. Rent is expensive."
Burson said there are things city policy makers and private business owners can do to alleviate the problem.
"It could come down to a subsidy of sorts, whether helping employees pay for child care or providing a child care facility or providing land for child care, all those kinds of things can help bring down the cost," he said.
There are tax incentives available to businesses who provide on-site child care, and Burson said companies like Submittable in Missoula are looking at that option.
Roberts said a company called MyVillage, which launched in Bozeman and Missoula last year, takes care of the business side of running a child care facility in exchange for a fee. That's one option for people, but he said the state needs to look at creative solutions. Right now, many workers are just breaking even with their work income until they can get their kids into public schools.
"It's one of those things where you're really just working to keep your spot in place in the workforce," he said. "It impedes on the finances of a family."
The Chamber survey found that there is a significant demand for child care options that cover non-traditional hours and days when schools aren't in session. Finding care for a sick child ranked high as a concern as well.
A total of 47 percent of respondents said scheduling care to match a work schedule was difficult and 43 percent said the quality of child care is a problem.
The Chamber's next step will be advancing several different models, including those Burson mentioned, for increasing access to quality, affordable child care. For more information or to be a part of the ongoing initiative call 406-543-6623.
Get local news delivered to your inbox!
Subscribe to our Daily Headlines newsletter.