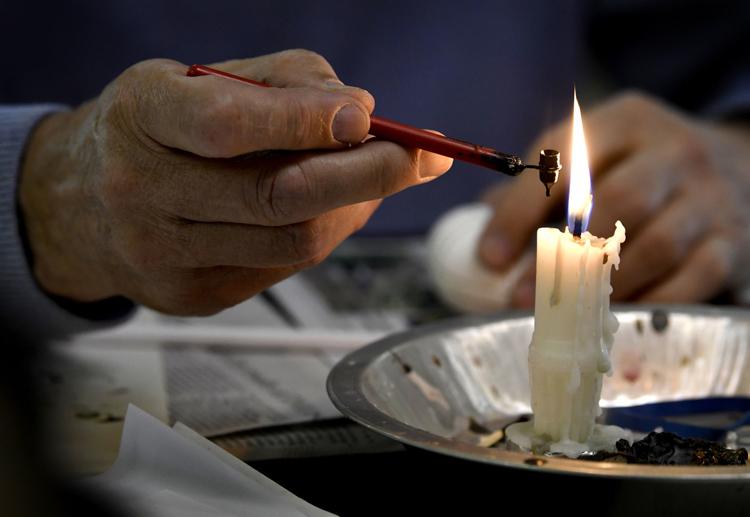 On a recent afternoon at Missoula's Holy Spirit Episcopal Church, a small group of Missoulians tried their hand at an ancient Eastern European artistic tradition.
A class in pysanky — the Ukrainian word for Easter eggs that have been elaborately decorated with hand-drawn beeswax designs and layered coats of dye — was being taught for Missoulians looking to take their Easter eggs to the next level.
The group sat around tables covered with newspaper, and wore aprons to protect their clothes against the dye. Each table had several bowls with lit candles burning before them. Using a special tool, called a kistka, they scooped small chunks of beeswax into a tiny receptacle on the tip of the tool, which they then held beside the flame, melting the beeswax.
Using the kistka like a fountain pen, they drew designs on their eggshells with the melted beeswax. The wax hardened immediately, creating a protective barrier for when the eggs were later dipped in colored dye.
The technique took some getting used to.
"These were supposed to look like sunflowers, but they look more like squashed spiders," said David Tyrell, who decided to try pysanky at his wife Nancy's suggestion. 
Pysanky requires a steady hand, attention to detail, and the understanding that whatever design is drawn with wax will remain the color that's beneath it after the next dye-dunking. With the potential for four or five dunks, beginning with the lightest color, keeping track of the colors and designs can get confusing.
One pupil, Charlotte Orr, put it this way: "You start to realize that the color you're covering up is the color you want."
To help with the process and teach some tricks of the trade, artist Barbara Morrison led the group through the two-hour class. She handed out several worksheets explaining the history of pysanky, and the meaning of different designs and colors.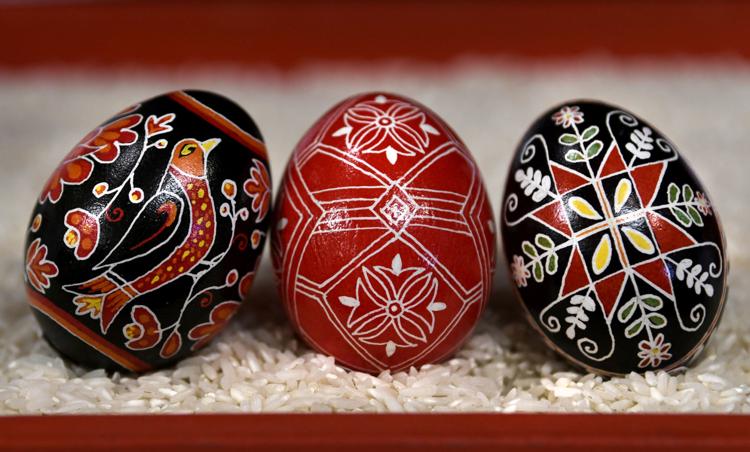 Because pysanky originated in pre-Christian times, many of the traditional symbols are related to the natural world. Flowers, birds, bugs, fish, deer and mountain sheep often appear on the eggs. Colors also hold meaning. Black, a common pysanky color, signifies "the other world" and respect for the dead.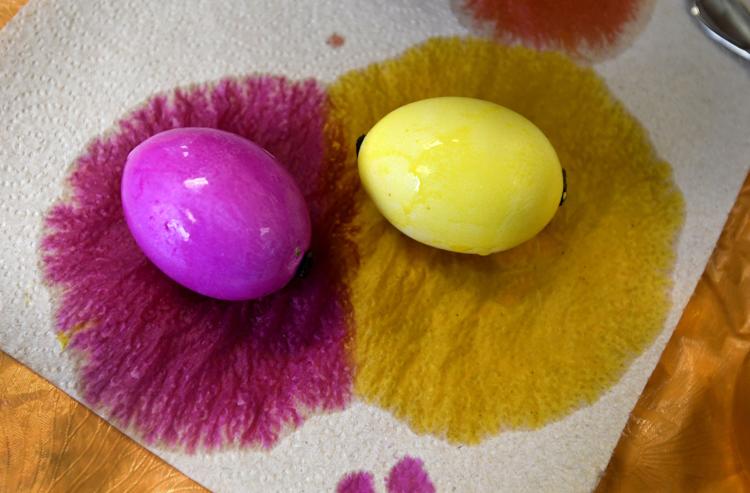 Yellow dye, which used to be made with dry onion skin, apple tree bark, buckwheat husks and lilac flowers, symbolizes the stars and a successful harvest. One student at Morrison's class, Donalee LaBar, made an egg with stars and moons and swirls, inspired by Van Gogh's "Starry Night."
"I've collected eggs for a long time," LaBar said. "Anytime I went anywhere I bought some. Every culture has a tradition with eggs. I have some from Egypt, from all over. Some are covered in cotton, some with cut paper."
Once Christianity was introduced to the region in 988 a.d., Christian symbols began to appear as well. Pysanky were typically made at night by the women in a family. Patterns and special color combinations were passed down a family lineage from mother to daughter.
LaBar became interested in pysanky when she traveled to Poland, where she added to her egg collection.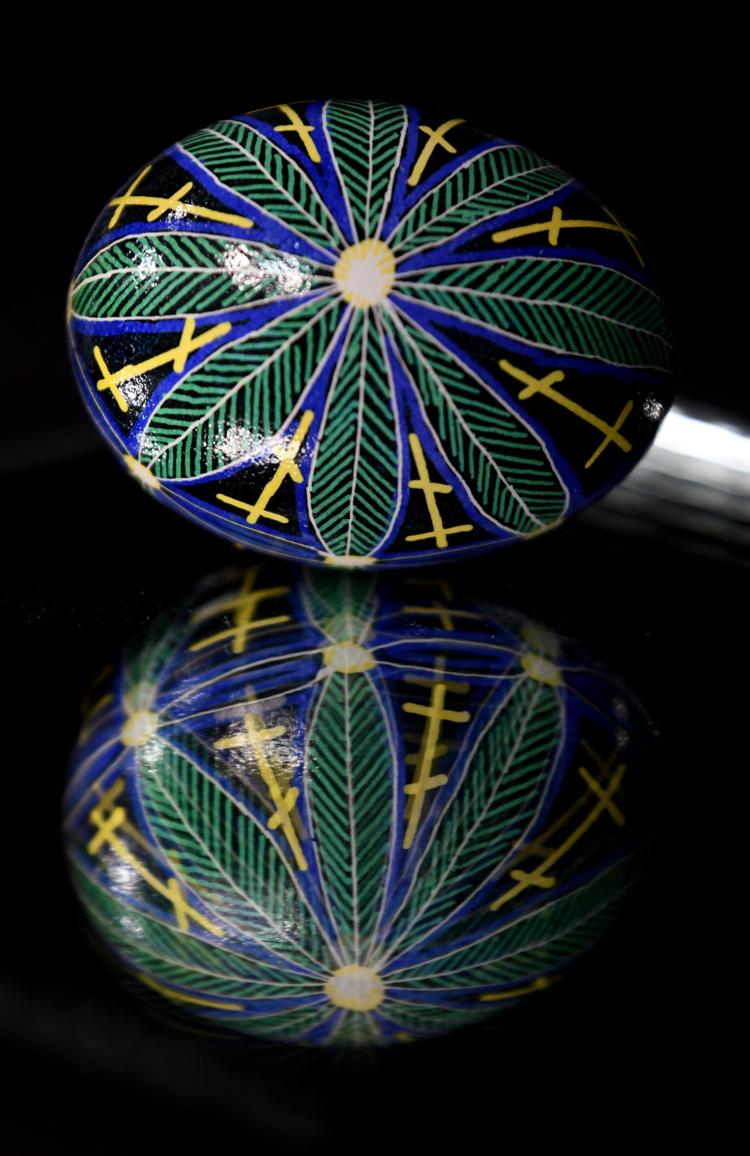 To clear the layers of wax off the egg, revealing the colorful pattern, Morrison put her students' eggs in the oven at 250 degrees for five minutes.
"All the wax will melt and drip into the cardboard to reveal the beautiful colors," she told them.
Once made, pysanky are taken to church on Easter Sunday to be blessed before they're given as gifts to family and friends.
For Morrison, pysanky has become a hobby she shares with friends every week. She discovered pysanky while in college, and the art form intrigued her.
Morrison was already familiar with the similar wax-resist method used on cloth, called batik. Transferring that to eggshells, she taught herself pysanky using glue and food coloring. Since then, her eggs have evolved from the more traditional style to something of her own making. She's been hollowing out large goose eggs and creating tiny scenes inside using polymer clay.
On their exterior, the eggs are dyed in a light color and decorated with lace and bows.
"My style is sort of free form, non-traditional," Morrison said.
She and three other women, Kathy Howlett, Bonnie Kretchman Lee, and Judy Donovan, have been meeting regularly to do pysanky for years. Some of their eggs are on display and for sale in an "Eggstravaganza" show at Gallery 709 on Ronan Street, where they'll remain until April 14.
While Morrison's eggs stray from traditional pysanky methods, many of the eggs in the show are expert representations of the traditional art.
Morrison, who is a painter and makes sculptures, some of which are also on display at Gallery 709, says she enjoys pysanky because, "It's really relaxing, like doodling kind of."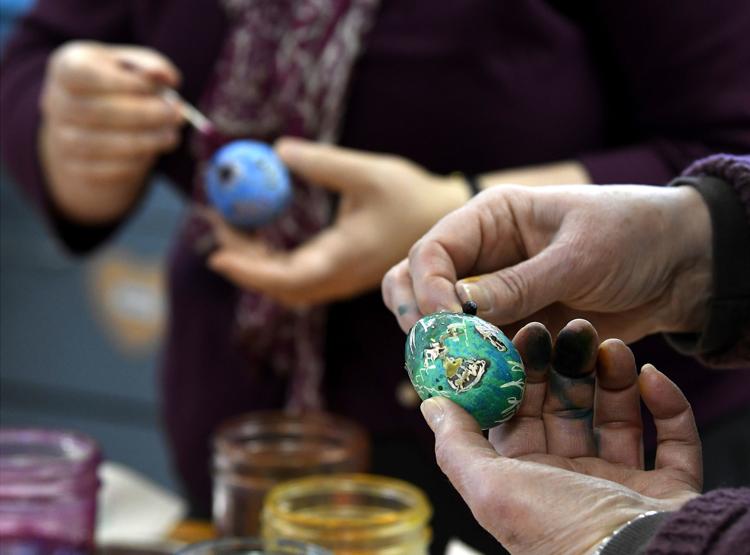 For those new to pysanky, creating such intricate art on delicate egg shells might be more readily described as impossible, which is why they're such strange, impressive and beautiful creations. 
Get local news delivered to your inbox!
Subscribe to our Daily Headlines newsletter.