Everyone knew him as Plato. No last name, no real first name.
Plato was a street person in Missoula in the late 1960s or early '70s and a frequenter of Eddie's Club on North Higgins Avenue.
His face caught the eye of bartender/photographer Lee Nye, and one morning Nye took Plato out to the back alley and shot him with his Rolleiflex camera.
Plato eventually disappeared from Missoula. A university student, as a prank, dropped LSD in his beer. It nearly killed him and, after a couple of weeks in St. Patrick Hospital, Plato split for parts unknown.
A half-century later, and almost 20 years after Nye's death, his larger-than-life portrait hangs handsomely framed in the Missoula Art Museum. The bearded man in a floppy hat looks up, expectant, perhaps suspicious, as the shutter clicks.
"Plato will probably be the hardest one of the group to find information on," Jean Belangie-Nye said last week.
She's on a determined, almost impossible mission to identify and uncover information on all the people her late husband photographed in black and white, with often stunning results, for the walls of what became Charlie B's. There were far more than 100 of them, counting those Nye shot for Charlie Baumgartner after Baumgartner took over the bar in 1980.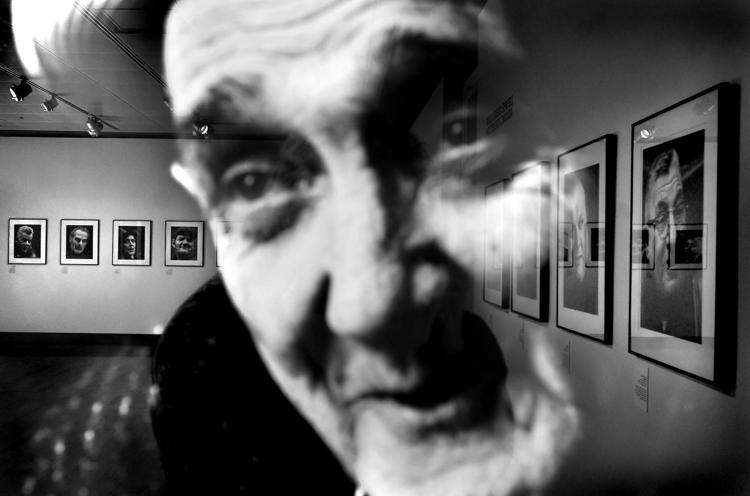 "It's a treasure hunt," Belangie-Nye said.
The end result will be a photography book that's been in the works since before Nye died in November 1999.
Plato's is one of 31 pictures hanging in an upstairs gallery of the downtown art museum. All are of men, each with the distinctive facial features that Nye sought in his decade behind the bar starting in 1965.
Some 65 of their "brothers," and a few sisters, still grace the walls at Charlie B's, 428 N. Higgins Ave. 
The Nye Eddie's Club Adjunct Collection, donated to the art museum in 2017 by Missoula businessman Tracy Blakeslee, consists mostly of photos that never did.
Nye quit his job at Eddie's Club in a huff in 1974, taking the portraits in their cheap $2 frames with him.
After the first of a series of ownership changes, the photos went on display in Luke's Bar on West Front Street through the late 1970s. They were returned to their North Higgins home after Baumgartner reopened and renamed Eddie's Club. 
"This is the adjunct collection because these are the 30 or so that did not hang on the wall at Charlie B's but had already been shot," explained Belangie-Nye, who has her own photography studio, Nye Imagery, in Lolo.
The exhibition, along with a Montana Bars photo exhibit in the adjacent gallery, opened on Feb. 12 and will be in place through May 18. The Missoula Art Museum is open Tuesday through Saturdays and charges no admission.
"People are just loving the show. It's so beautiful," museum executive director Laura Millin told Belangie-Nye last week.
Children in MAM's after-school program and other classes have been coming upstairs to draw the "old guys," Millin said. "It's just awesome, because you know there's a lot of character in the faces, and black and white, I think, is novel for kids to see. And it makes it much easier to draw."
Nye was born in eastern Montana in 1926 and dropped out of high school in Butte to join the Navy during World War II. He spent a tour of duty in the South Pacific, and was severely injured in the Philippines in a crash of a B-17 during a test flight.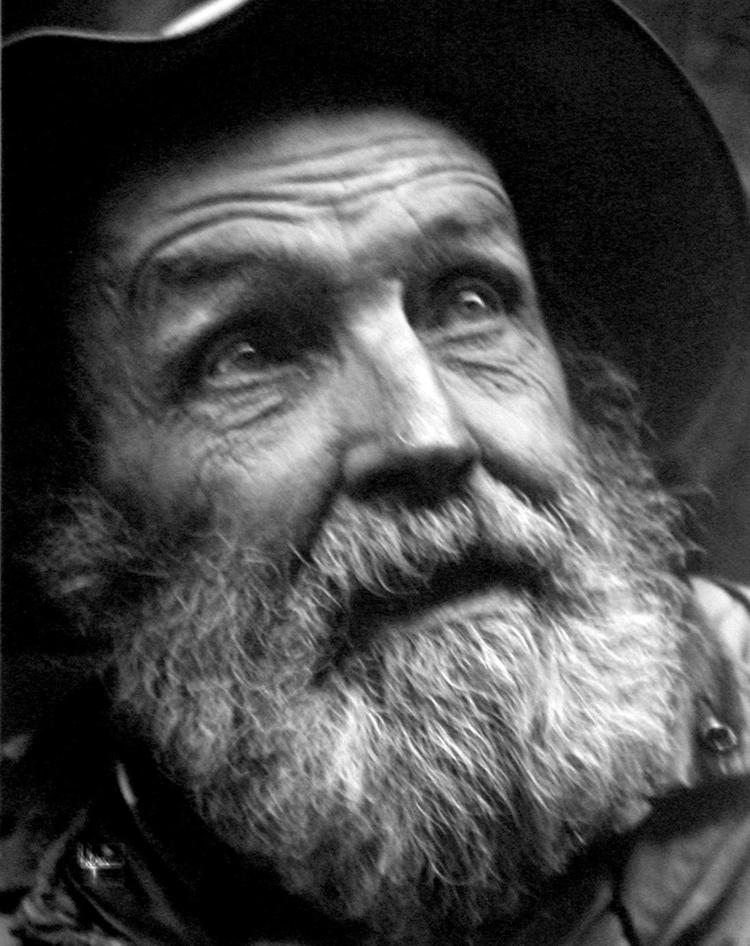 Many of his subjects in the museum exhibition and at Eddie's Club were World War II and Korean veterans. Nye studied photography at the Brooks Institute in California and at age 50 earned a fine arts degree from the University of Montana after his stint at Eddie's Club.
An exhibition card prepared by MAM staff says Nye used black and white photography to "capture the soul, spirt and emotion of man — the ordinary and the extraordinary.
"These men were customers at Eddie's Club, but also Nye's contemporaries and companions, writers, poets, artists, fathers, husband, and sons, each holding their own stories of the past and present."
Belangie-Nye said a book on the photos was on Nye's to-do list before he died.
"Lee agreed a book needed to be done and he kind of started on one," she said. "But then he got pissed and kind of threw up his hands and said, 'This is a waste of time. What's the use? Who's going to read it? Who even cares?'"
Turns out art galleries care, as Belangie-Nye learned several years ago from a big one in Chicago.
"The guy said, 'These are incredible images, absolutely lovely. I would would love to put them in my gallery. Do you have a book?'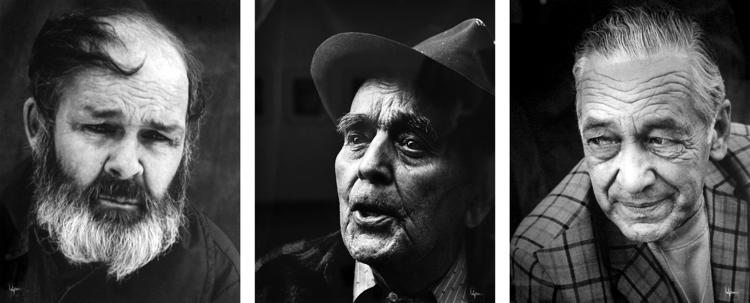 "He said (there's) one problem with photography. You've got to have a book."
By then, Belangie-Nye had already taken up where Nye left off. She taught grade school full-time until her retirement in 2010 but figures she's been seriously working on the book for the last 15 to 18 years.
She teamed with Ben Ferencz, a Missoula designer and marketing specialist, a couple of years ago to make the final push. Still, there've been roadblocks and delays along the way. Belangie-Nye estimates the project is between a third to halfway finished.
You have free articles remaining.
It'll consist of pictures with short bios on each person, with the introduction largely comprising Nye's musings about Eddie's Club. 
In an interview with a Salt Lake City TV station, Nye explained how his project originated. Tony Piccinini, his friend and boss, owned Eddie's Club from 1964 to 1973, when he sold it to Jack Seitz.
"A guy named Johnson, who when he put his hat on his ears were hanging down, you know, halfway …" Nye told the reporter. "(Piccinini) says, 'Why don't we get a picture of that old duck and put him up on the wall?' The next thing I know I had 73 pictures, about six or eight years later."
He was meticulous about lighting, Belangie-Nye recalled.
"They were almost all done in the morning because the light wasn't coming down into that alley between Eddie's and Missoula Textile," she said. "He'd bring his camera bag in and set it down and say, 'We're going to take pictures,' and pull two or three people out. He'd do six shots of each person, so he had two people on a roll."
Nye used a dark charcoal corduroy backdrop, "which worked really well until he decided for some reason to put yellow spray paint," Belangie-Nye said.
There's plenty of material on some subjects of the adjunct collection. Poet Dick Hugo wrote volumes, and his life and works have been much celebrated before and after his death in 1982. Belangie-Nye said Russ Hage, who two years ago closed Tower Pizza after more than four decades, still lives in Missoula. She thinks he's the only man represented in the exhibition who's around to see it.
The photo of Joe Malatare, pictured lighting a cigarette, is perhaps the most striking and surely one of Nye's most recognizable works.
Belangie-Nye said Malatare, who was of Salish and Blackfeet heritage, became noticeably withdrawn after the picture was taken.
"Jim Welch said it was almost like when Lee did his picture it stole his soul. I think he wrote a poem about it," she said.
Malatare left Missoula for Oregon in January 1970. News reports that April said his decomposed body was found 8 miles west of town, near a railroad underpass. Authorities said no foul play was evident.
"Lee insisted he was murdered," Belangie-Nye said.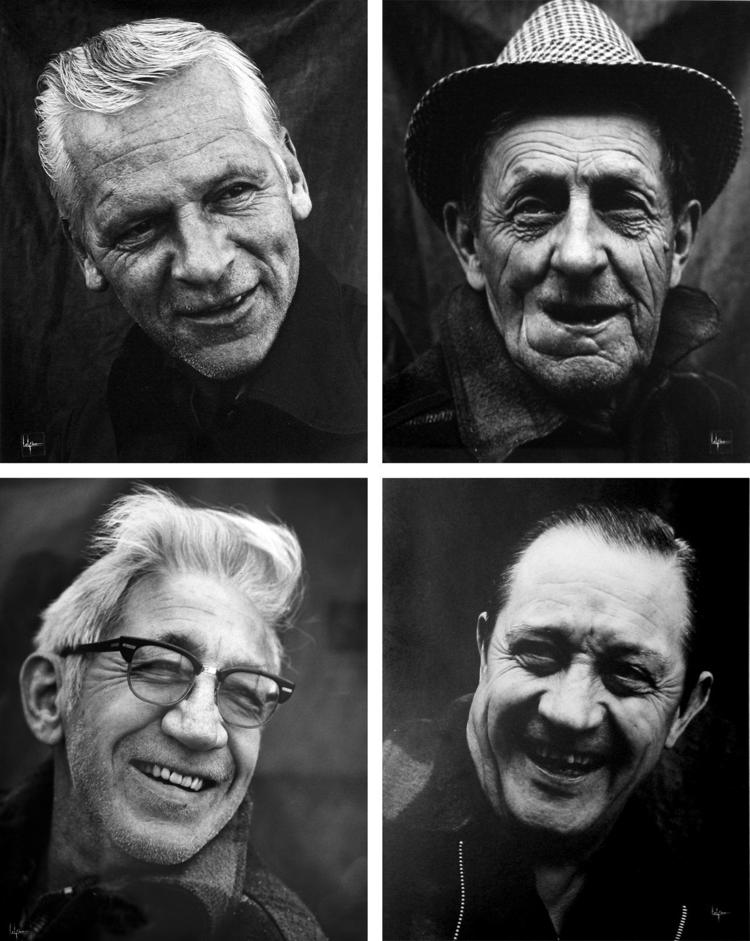 There's scant material on roughly a third of the men in the museum — in some cases no more than single names such as Plato, Murphy, Roscoe and Bob.
Others are identified with first and last names but little or nothing more.
Labels on 11 of the photos urge: "Anyone with information is encouraged to speak with MAM staff or contact MAM's registrar at Jennifer@missoulaartmuseum.
She hopes their images, enlarged and displayed in a professional light for the first time, will strike a chord of recognition for visitors who might know something about their fates.
Murphy smiles a toothy smile, clad in the plaid jacket that Nye often supplied his subjects. (A couple others wear the houndstooth fedora he offered).
As with several others around the room, Murphy is identified as "probably a railroader or a millworker."
"That's because everybody who came to the bar that Lee took pictures of was either a railroader or a millworker, with a few exceptions," Belangie-Nye said.
So you have Pat Austin and Harvey Lord. Emil Hahn may have been the Harry Hahn who ran  Eddy's  Bakery in Missoula from 1922 until 1963. Someone will know.
Joe Goeke and Ozzie VanBerg. Charles Nelson died Oct. 9, 1977, and Belangie-Nye said he may have been a conductor for the Northern Pacific.
Tony D'Orazi is probably the man who grew up in Missoula but lived and raised a family in Los Angeles.
"He came in a time or two with his brother," Belangie-Nye remembered.
D'Orazi was known as "Tony O'Dare, Cartoonist of the Air" on radio and "Uncle Tony" on television, according to his obituary in 1974. His daughter Kathy adopted the O'Dare name and months before her father's death won the part of Mary Lou, Richie Cunningham's girlfriend in the TV series "Happy Days."
Herb Sidler was a local celebrity of sorts, bolstered by frequent appearances at the end of Steve Smith's weekly columns in the Missoulian. Smith dubbed him the mayor of North Higgins Avenue.
"Friend Herb Sidler told me recently that his doctor gave him six months to live," Smith wrote in the the Nov. 30, 1979, paper. "Then the doctor found out that Herb could not pay his bill, so he gave him a year."
Sidler, who died in 1991 at age 77, earned some more ink when he was taken to court in 1972. He was charged with disturbing the peace after allegedly making an obscene gesture to an off-duty police sergeant at the Four B's restaurant on East Broadway. He wouldn't admit to it but finally looked hopefully at Judge Erwin Anzjon and commented, "Well, even at Custer's Last Stand, Custer made a gesture to the Indian chief."
He received a 10-day suspended sentence.