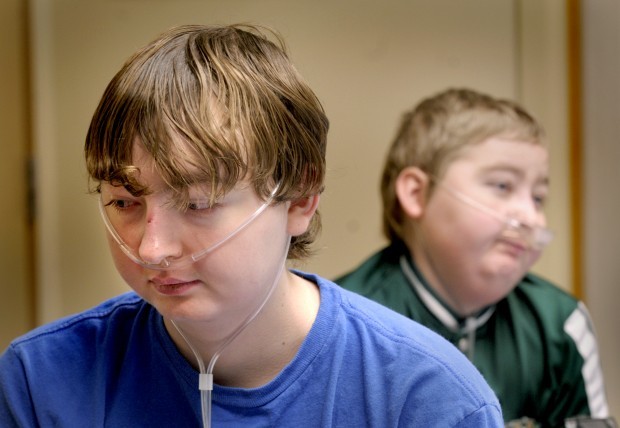 A cruel twist of hereditary fate ties the Cross brothers, James and Wesley, to matching oxygen tanks and an extremely rare form of lung disease.
The Missoula teenagers, 17 and 15, are afflicted with ABCA3 surfactant deficiency, which, in more general terms, is an aggressive and deadly scarring of lung tissue.
Their condition is so rare, James describes it this way: "Last I heard, there are only seven families who are registered with this disease and I'm the oldest living person with it."
Says their physician, Dr. Paul Smith, a pediatric pulmonologist at Community Medical Center: "To have two members of the same family with this disease is really like have lightning strike twice."
Although both brothers have been affected by the disease since birth, rapid progression over the last six months has led to continuous oxygen therapy, nighttime mechanical intervention and the use of scooters to get around, Smith said.
The past year has been particularly difficult with more frequent hospitalizations for pneumonia, which has prompted rapid, progressive scarring.
Smith is so concerned about their deterioration that he has recommended an extreme and expensive remedy: two lung transplants for both boys.
Scary, yes, James said, but it is the one clear and surest way to reclaim a healthy life.
"I just want it to happen and get it over with," he said.
Wesley feels the same, but admits to the uncertainty of it all.
The procedure requires the Cross family to uproot and move to Seattle for an undetermined time so that they can be within two hours of the surgical center when the hoped-for call comes: donor lungs have arrived and they are a good match.
"I want to get it done," Wesley said, "but I don't, if you know what I mean.
"And I hate Seattle. It's rainy, dreary and big."
The boys' mother, Daniele, a home health aide, feels the same way too.
"It's going to be scary and hectic, I don't know anybody over there, I'm going to get lost when I drive, and I'm not going to have a job when I'm there," she said. "I'll be a full-time mom and the boys' full-time aide.
"Besides, I'm a Montanan. I love Montana. This is where we live."
The lung transplants are the only long-term option for James and Wesley, and would cure them because they have no other affected organs, such as heart, liver or brain, Smith said.
In his 30 years as a medical doctor, Smith said he's never encountered a situation like this, nor such a valiant and determined family.
"I can't say enough about how hard-working they are as a family," Smith said. "They have incredible emotional strength and the boys are determined and do everything we ask to improve their own health."
For the past 10 years, the boys have spent three days a month on the third floor of the hospital getting an intravenous infusion of steroids, and since last December, they each have been hospitalized once a month because of infections.
Sometimes both are in the hospital at the same time.
Their many hours there has resulted in a close-knit relationship with the hospital staff, Smith said.
"Everybody knows them and likes them – and fights over who gets to take care of them."
Yet the real battle is against the pulmonary fibrosis, and it is the Cross family's burden to bear.
The load can be greatly lightened, Smith said, if Missoula residents can help offset the family's medical costs associated with the operation and their move to Seattle.
Without the lung transplants, early death is certain.
Yet with the lung transplants, there is great optimism for long and healthy lives.
"While Medicaid will pay for many of the costs of the transplantation, housing, living and transportation costs will not be covered," said Mary Windecker, director of strategic planning for Community Medical Center. "Efforts are under way by a number of friends of the family to help raise funds to defray the costs surrounding the transplantation.
"We are seeking to give information to the Missoula community in hopes that resources and support for the family might be offered by interested individuals and organizations."
Any size donation is appreciated, Daniele said, who is feeling overwhelmed by the enormity of her family's situation.
"I'm trying to get the funds to make this all happen," she said. "It has to happen."
When the whole journey is over – after he's been poked and prodded by countless doctors and nurses, and when he has two new lungs – James knows the first thing he'll do when he gets the OK to move around.
"I'm going to walk into the woods on my own two legs and not see anybody," he said. "Then I want to go to college, maybe go into forensic science or chemical engineering."
Said Wesley: "I'm going to ride my dirt bike – up in the mountains."
Get local news delivered to your inbox!
Subscribe to our Daily Headlines newsletter.