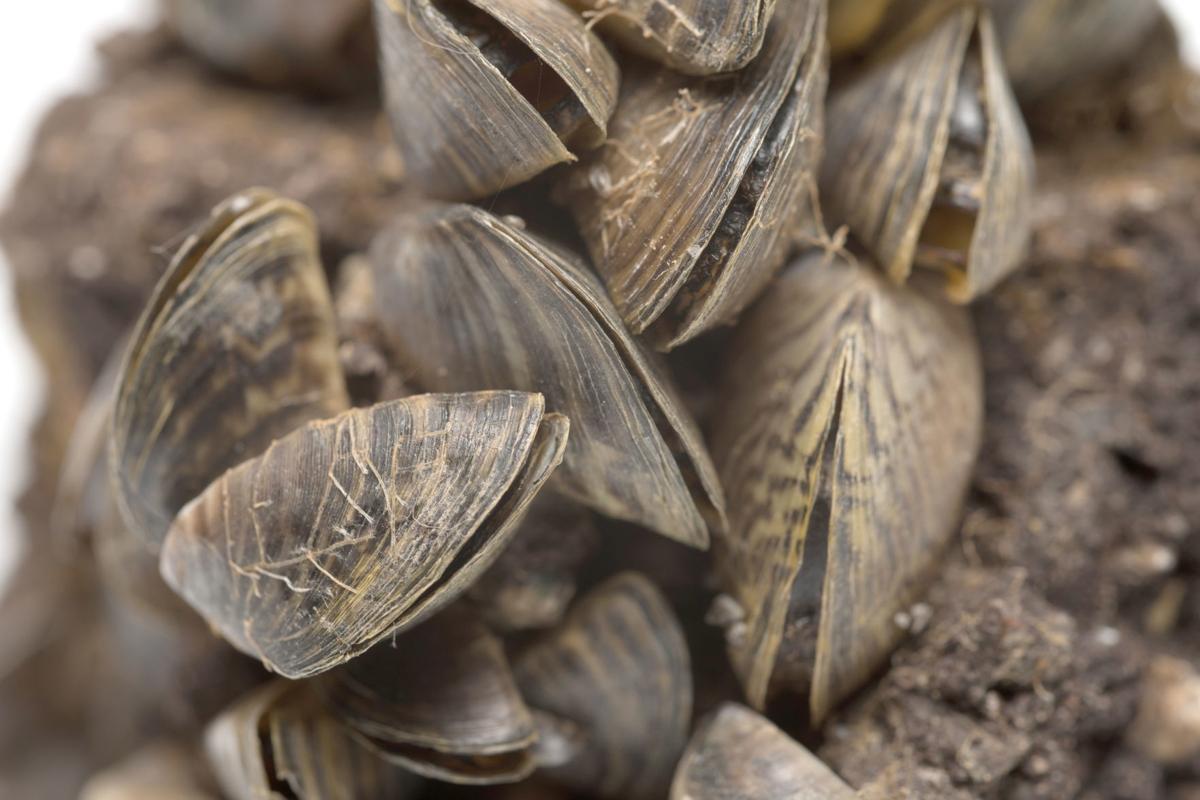 They don't look like much, but it's hard to overstate the threat posed by aquatic invasive species like zebra and quagga mussels to Montana's public waterways - and all the waterways downstream in other states.
"It's terrifying," explained Heidi Sedivy, the program manager for the Flathead Basin Protection Fund. 
During an informational talk at the nonprofit Clark Fork Coalition Wednesday, Sedivy said the Columbia River watershed is the last watershed in the lower 48 states that is currently free from nonnative zebra and quagga mussels, which originated in Eastern Europe.
Western Montana represents the headwaters of the Columbia watershed, and alarm bells all over the state were raised when mussels were detected in the Tiber Reservoir in north-central Montana late last year – meaning the entire Missouri River watershed is essentially doomed.
The incident led Montana Gov. Steve Bullock to declare an environmental disaster emergency and form a special advisory council. Almost overnight, Glacier National Park and the Blackfeet Reservation closed lakes off to boaters. But experts say there is still time to protect the western half of the state, where water flows to the Pacific.
Once Eastern European mussels invade a large waterway in North America, they are impossible to eradicate completely with current technology. In the absence of natural predators, a female zebra or quagga mussel can lay up to a million eggs per year. The mussels are filter feeders and quickly reproduce to occupy every substrate under the water, then strip the entire water body of the microorganisms that form the building blocks of the entire food chain.
When invasive mussels take over, they kill off native mussels, native crayfish, frogs and fish and therefore the birds that feed in the lakes. It's devastation that leads to a loss of property values and kills off the outdoor recreation industry, as seen in lakes in the Midwest where invasive mussels have established themselves for a long time.
Sedivy showed a picture of an unfortunate lake in the Midwest where managers had drawn down the water level expecting to find a small population of mussels, but were shocked to see the entire bed of the lake – every rock, log and patch of mud – covered. The mussels will clog irrigation pipes and intakes. It's estimated that billions of dollars of damage would be done if they were to establish in the Columbia River Basin, of which the Clark Fork River is a major contributor.
"They create a huge problem for the whole ecosystem," Sedivy said. "Fish cannot spawn and they drastically alter the food chain. They are knocking on the door. They're right around the corner."
Just last week, game wardens in Idaho intercepted two people hauling boats towards Montana that were infected with mussels. Because places like Lake Havasu in Arizona and the Great Lakes are filthy with mussels, out-of-state boaters present a considerable risk. But Sedivy is just as concerned with people jumping from one waterbody to another waterbody just within Montana. Mussels attach to almost any surface – including fishing waders – and can survive without water for up to a month.
Sedivy's organization, along with Montana Fish, Wildlife and Parks and numerous other nonprofits and government agencies, are planning on attacking the problem head-on this summer.
There will be 34 inspection stations, and boaters can view a map to see the nearest one. Dogs are adept at detecting the presence of mussels, so they'll be deployed at checkpoints.
There will be inspection officials at many lakes in Montana, and boaters will need to have an inspection permit or face a fine. Sedivy said people who think they may have been on mussel-infected waters can call her office or FWP and get a free inspection or decontamination.
Essentially, mussels are killed by being submerged in 140-degree water for at least 10 seconds, so even a hot car wash may not do the trick. People should make sure their boating and fishing gear is always cleaned and "bone dry" between moving from waterways, and boats that are moored overnight in mussel waters pose the greatest risk. Montana lawmakers are evaluating a series of recommendations for preventing, detecting and containing mussels and other invasive species.
"As we've seen in other states, mussels and other invasive aquatic species have the potential to wreak havoc once they're established — both ecologically and economically," said Karen Knudsen, executive director of the Clark Fork Coalition.