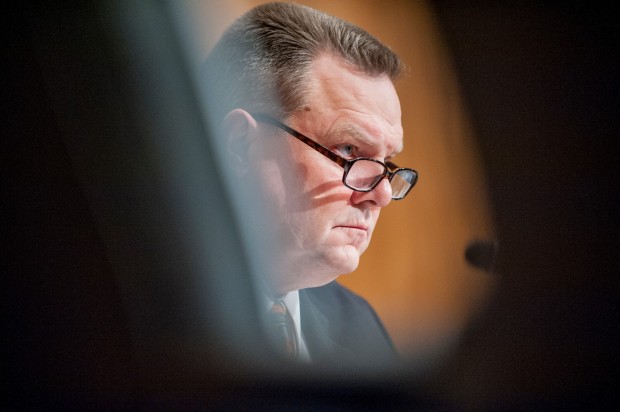 Background checks should be standard practice for people wanting to buy guns, but 40 percent of firearms are sold without them, U.S. Sen. Jon Tester said Tuesday.
Tester, a Democrat re-elected in November to represent Montana in the Senate for a second term, also said mental health records are not available with background checks, and it's "common sense" to include them. In a meeting with the Missoulian's editorial board, he said the solutions to end gun violence are complex and the events around them are emotional.
"It's more than guns. It's more than mental health services. It's more than violence on video games and potentially on TV," Tester said.
Of the December massacre of 26 schoolchildren and adults in Newtown, Conn., the Big Sandy farmer said this: "What went on in Connecticut, if it didn't impact you as a human being, you've got no feelings in your body."
Tester is on a Montana tour this week before returning to Washington, D.C., and at the Missoulian he discussed the budget deficit, his Forest Jobs and Recreation Act, and gun control. He doesn't believe a ban on assault weapons would have stopped the Newtown slayings, and he doesn't believe teachers should be armed.
Tester made a good portion of his living with a gun as the owner of a butcher shop, he said, and firing a gun isn't as easy as pulling one up. He doesn't want to impose that responsibility on teachers.
"I'm not for it. I'm just not for it," Tester said.
He isn't for solutions via executive order, either. Tester wants decisions for the country to go through the legislative process, and he's looking forward to reintroducing his Forest Jobs and Recreation Act.
Every mill that closes reduces the shelf life of the bill because the timber management jobs in it need infrastructure, he said. Former U.S. Rep. Denny Rehberg, a Republican who made an unsuccessful bid for Tester's Senate seat, opposed the bill, but Tester said newly elected Congressman Steve Daines, a Republican from Bozeman, is taking a close look at it.
At the meeting, Tester also said Congress must "put citizenship ahead of partisanship" to tackle the budget deficit. He didn't name programs he himself would cut, but he suggested assessing ones already put in place, such as tax credit programs: "Are they still necessary? Are they still creating jobs?"
Montanans and Americans are ready for deficit reduction, he said. The pain will be uncomfortable, but the bigger challenge is getting the job done in Washington, D.C.
"The people are ahead of us, and gosh, the longer we keep putting it off and putting it off and putting it off, the longer it's going to be," Tester said.