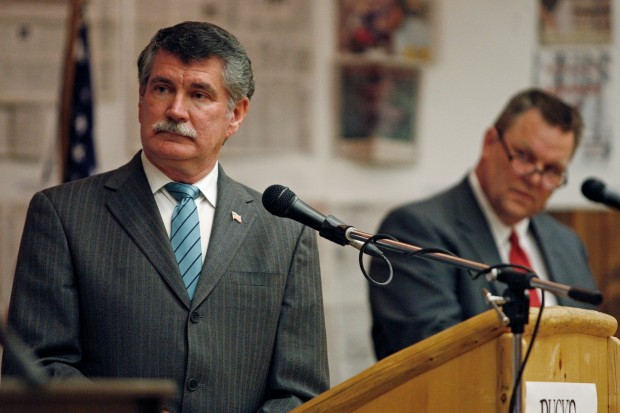 HELENA – Sen. Jon Tester and Rep. Denny Rehberg continued this week to trade bitter charges over their records on federal cancer-prevention funding, as Rehberg's office released documents showing he voted last week to increase money for a federal cancer-screening program.
Rehberg's campaign said the documents – a few pages from an internal House Appropriations Committee summary of a spending bill endorsed by a panel chaired by Rehberg – show that Tester is making false suggestions that Rehberg voted to cut money for cancer screening by the federal Centers for Disease Control and Prevention.
"Denny wrote and voted for legislation just last week that increases funding for this life-saving cancer detection program by over $13 million," said Chris Bond, spokesman for the campaign. "Senator Tester, on the other hand, wasted an opportunity to increase funding for that program when it came before his Senate committee.
"Montanans are going to remember this fact every time they hear Tester falsely claim Denny wants to 'eliminate' or 'cut' those funds."
The documents showed that the spending bill from a House panel chaired by Rehberg funded the CDC cancer program at $218 million for fiscal year 2013, a $13 million increase over this year. The Senate Appropriations Committee – on which Tester sits – funded the same program at $205 million, or no increase from the current year.
Tester's campaign, however, said Rehberg is trying to obscure his overall record of voting to cut or eliminate other pots of federal money used for cancer research, screening and prevention.
"It is important for all Montanans to know that Congressman Rehberg has an irresponsible record when it comes to funding cancer research and early detection," said Dayna Swanson, deputy campaign manager for Tester.
The Tester campaign pointed to Rehberg's votes this year and last to eliminate federal family planning funds, which sometimes help women detect breast or cervical cancer, and to defund the federal Prevention and Public Health Fund, which has some cancer prevention programs.
Tester, a Democrat running for re-election to a second term, is being challenged by Rehberg, a Republican, and Libertarian Dan Cox. The Tester-Rehberg tilt is one of the most closely watched U.S. Senate races in the country, because it could determine party control of the Senate.
The cancer kerfuffle began two weeks ago, when the Tester campaign began running a TV ad featuring cancer survivor Lisa Jones of Whitefish, who said Rehberg voted to "eliminate funding for breast-cancer screenings," including money that went to a Kalispell clinic where she had an examination leading to discovery of her cancer.
A Missoulian State Bureau analysis of the ad noted that Rehberg voted to eliminate federal Title X family planning and other funding for the Kalispell clinic, including money used to help women detect cancer.
But the analysis also noted that Rehberg had supported the CDC funding, which is dedicated to paying directly for breast and cervical cancer screenings.
Rehberg's campaign said the Tester ad was false, because Rehberg had supported the CDC funds, and therefore hadn't voted to "eliminate funding for breast-cancer screenings."
Late last week, the American Cancer Society Cancer Action Network stepped into the fray, asking each candidate to state whether they will support funding for the CDC program.
Rehberg pointed to his vote last week to increase the funding; Tester said he would support increased funding.
Tester also told the cancer group that Rehberg's spending bill from last week reduced the "account" that funds the CDC program and other disease prevention efforts by $389 million.
Aaron Murphy, a Tester campaign spokesman, said Rehberg should release the entire internal summary of the spending bill, so the public can see where all of this money is allocated by Rehberg's panel. He also suggested that Rehberg supported the CDC breast and cervical cancer screening increase for political cover, in the wake of the Tester attack ad.
Bond dismissed this last charge as "just as dishonest as Senator Tester's false attack ad."
Missoulian State Bureau reporter Mike Dennison can be reached at 1-800-525-4920 or at mike.dennison@lee.net.