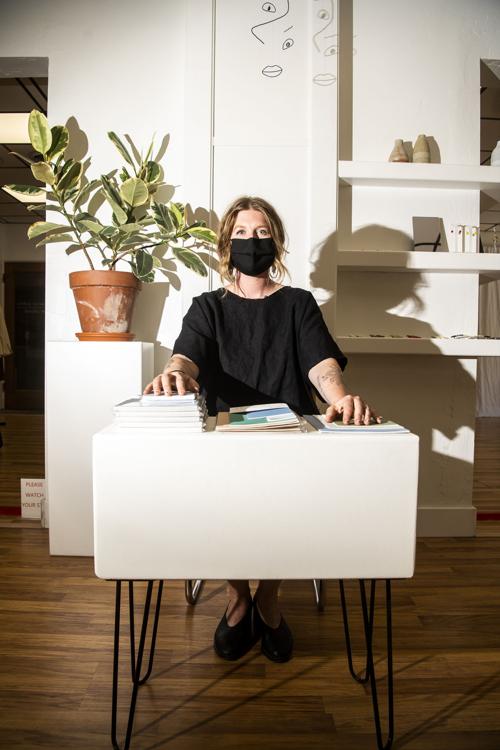 Tucked into the Front Street side of the Florence Building is the thoughtfully curated and newly expanded shop, The General Public.
The General Public, 112 W. Front Street, was one of a small number of retail stores to expand since the pandemic began, according to the 2020 Downtown Missoula Business Activity report, which was compiled by the Missoula Downtown Business Association. Linda McCarthy, executive director of the association, said many businesses are building up their digital presence, more so than their physical locations.
Allison Reaves, owner of The General Public, said she almost decided against an expansion given the how the pandemic reduced foot traffic downtown.
She ended building out the store, as she'd rather expand then have to relocate. Reaves isn't planning short term.
"Someday, we'll be past 2020," Reaves said.
Window shopping
The General Public opened in April 2019. The store carries Reaves' own designs as well as clothes by other small, sustainability-focused designers. This August, the shop doubled its square footage and gained a large window to display Reaves' creations.
Sitting in her closed shop on Sept. 2, the business owner watched multiple groups stop to peer through the new window. It was something she was happy to see.
"It felt like I was getting passed by a lot before," Reaves said.
Grateful for her already strong digital presence, Reaves said she hoped the larger space would bring more traffic to the store.
Since Reaves reopened, she estimated about 60% of her customers were from out of the state, which speaks to how many tourists are coming to the area, she said. She is still getting an incredible amount of support from the local community.
Downtown businesses
Anecdotally, some downtown retailers say that COVID-19 lost them as much as 50% of their business, McCarthy said. However, summer tourism provided a good boost. Similar to Reaves, many have relied on digital platforms to both sell products and engage customers, McCarthy said.
"Every year you have openings and closings, and yes there will be more closings before the end of the year," McCarthy said. "What sets Missoula apart from other places is supporting locally owned businesses, supporting our neighbors."
Missoulians support Missoulians, McCarthy said. The "Shop Local" economy is real here.
'Feels like a real store'
Reaves' new space is bright, with a minimalist style mimicking an interactive art gallery. A bottle of hand sanitizer sat on a cylindrical display platform near one entrance. Cheerful plants poked out of corners throughout the store. Reaves wanted it to be welcoming. She loves when people take time to look at everything in the store, she said.
The expansion was done by Jack Metcalf, owner of Real Odd Good Job, who helped bring Reaves' ideas for the store to life. He even built her an undersized red shopping basket, which marks the shop's entrance.
"I keep saying, it feels like a real store now," Reaves said.
Her Mission
Everything Reaves stocks is sourced from ethical and sustainable designers. She doesn't want to sound preachy, but she does want to give people an option for high-quality clothing that doesn't follow the same practices of the fast-fashion industry.
The global fashion industry produced about 2.1 billion tonnes of greenhouse gas emissions in 2018, which was equal to 4% of the global total, according to a 2020 report by McKinsey and Company, a fashion consultancy. About 70% of those emissions come from energy-intensive raw material production, preparation and processing. The remaining 30% are generated by downstream activities such as transport, packaging, retail operations, usage and end-of-use.
By staying small and being careful about who and where she buys from, Reaves does her best to avoid being part of the fashion industry's negative effect on the environment. The best choice people can make is to buy vintage, which she also stocks in the store. And she just brought on a men's wear line.
Grateful and uplifted
Reaves is thankful to be in Missoula where people uplift small businesses. While the pandemic is an intimidating challenge, she could say that about most things involving her fledgling business.
"I'm still so new that everything feels like a roller coaster right now," Reaves said.
Small businesses are more malleable, more creative and able to pivot faster than larger companies, McCarthy said. She's seen Missoula's businesses innovate as a result of the pandemic. Oftentimes entrepreneurial activities increase when there is an economic downturn, she said.
For anyone ready to take the leap and open their own store, Reaves' best advice was to remember it doesn't happen all at once.
"It is just so many baby steps that create one big thing," Reaves said.
With fall coming up, Reaves was working on the new seasonal inventory, she said. Her next baby step was to get sewing.
This story appears in this quarter's issue of Missoula Business. Find the publication inserted in the Sunday, Oct. 4, Missoulian and the stories online. 
Please sign up on Missoulian.com to subscribe to Under the M, the weekly email about the University of Montana and higher education news in Montana.
Get local news delivered to your inbox!
Subscribe to our Daily Headlines newsletter.