Look at statewide numbers and Montana's economy seems to be doing well. Between 2000 and 2015, the number of jobs in the state of Montana grew 20 percent, according to a report released last year by Headwaters Economics. Personal income grew, as did statewide employment.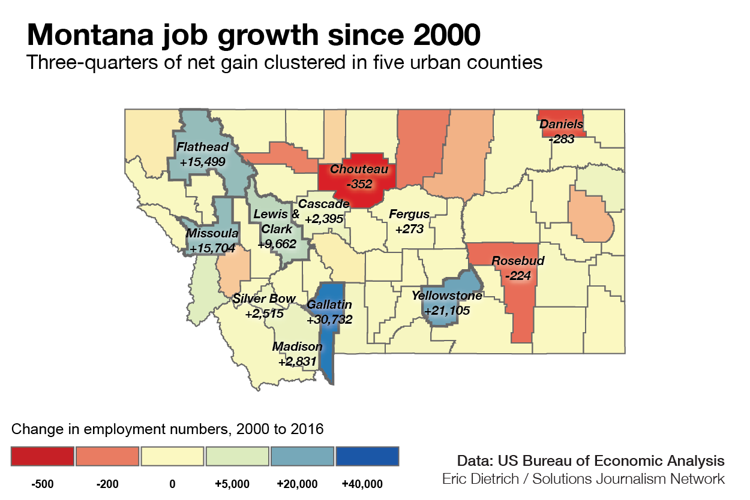 If you live outside a city, though, there's a good chance you won't see much evidence of that growth. Just five counties — Missoula, Gallatin, Lewis and Clark, Flathead and Yellowstone — account for three-quarters of it. In much of rural Montana, residents are slipping away — especially the children and families towns need to keep their schools open. Traditional economies — logging, agriculture, mining — are in decline or require fewer and fewer people to get the work done.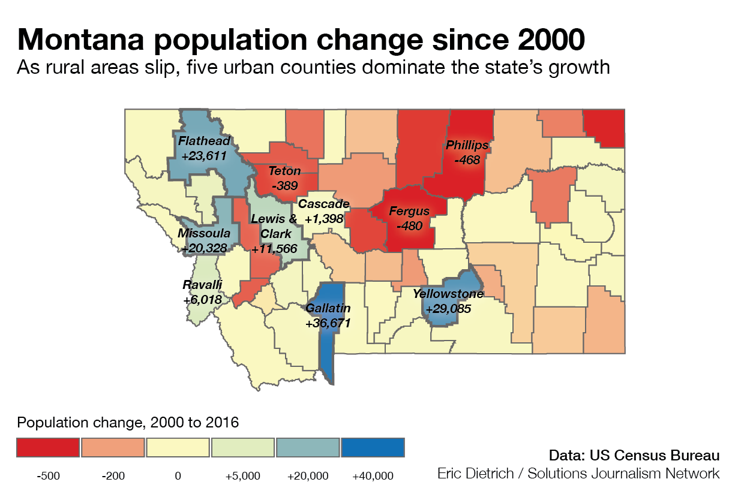 For much of Montana, as for much of the rural West, the boom going on in cities like Missoula and Bozeman feels more like a bust. For small towns on their outskirts, that boom next door has brought real problems, from infrastructure, zoning and taxes to the struggle to retain an identity.
So, last year, journalists from the Missoulian and newsrooms throughout western Montana, as well as High Country News and the Solutions Journalism Network, got together to ask the question: What are Montana communities, especially rural ones, doing to respond to this trend, to help their residents weather the economic winter? And what could they learn from the experiences of others?
You have free articles remaining.
The result is a series of stories called The Montana Gap, publishing over the next month, that examines how places like Choteau, Seeley Lake and Ronan, as well as Frenchtown outside Missoula and Manhattan outside Bozeman, are grappling with their uncertain future.
The answers they're finding are not perfect solutions. But some common threads emerge: Recreation, beer and a focus on community can make a difference.
Towns like Seeley Lake and Columbia Falls are finding ways to capitalize on people's interests in walking, biking and four-wheeling on the public lands they once logged and mined. In Ronan, a community-owned and -operated brewery may help fortify Main Street. And Cut Bank is finding ways to build on a strong sense of community to bring in workers from as far away as the Philippines.
In the wake of profound economic change, rural communities have to figure out a new logic for survival: What assets do they have that other places don't? (Mountains are good — but, surprisingly, slag might work, too.) What are their people especially good at? What's important to preserve, and what can be compromised? Understanding and agreeing on the answers is the first step toward building for an uncertain future.
I hope you'll read along as we explore these responses and more.