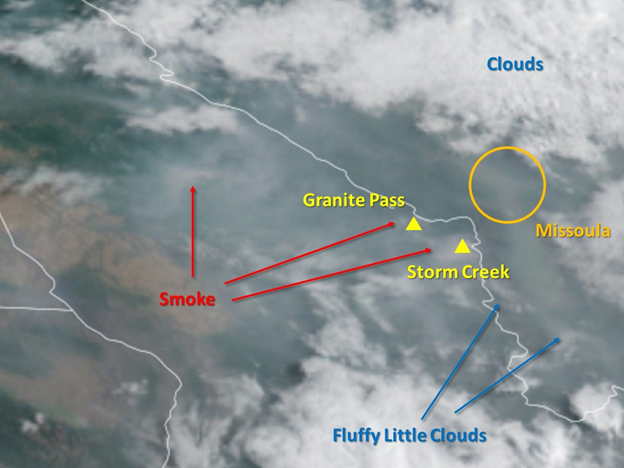 With the Thorne Creek fire topping 10,000 acres burned and the South Yaak blaze growing by 1,397 acres, wildfires in western Montana continue to rip through extremely dry vegetation and deliver smoke to the Missoula area.
Fire activity in the area was expected to pick up late Wednesday as inversions break and dry, hot weather persists, according to an update from the Lolo National Forest. There is minimal chance of moisture.
The Thorne Creek fire, active about six miles northeast of Thompson Falls, has consumed 10,357 acres and remains at 0% containment. Four injuries have been reported, and a Type 3 Incident Command Team is managing the blaze.
A new evacuation order was issued Wednesday by the Sanders County Sheriff's Office. The northeast side of the power lines in Ashley have shifted from evacuation warning to order, with 206 residences total now under the order.
Homes from Cougar Creek south to the intersection of Blue Slide Road and River View Lane are under the order, as well as residences on the east side of Blue Slide Road in Graves North and South and on the east side of the power lines in Harlow.
Hay Creek
The Hay Creek fire, burning four miles west of Polebridge, has amassed 1,867 acres burned and is still standing at 0% containment. The blaze resulted from a lighting strike on July 21.
Tuesday afternoon cloud cover moderated some fire activity. Downslope winds pushed the fire toward Hay Creek Road on the southwest flank, according to a Wednesday update from the Flathead National Forest.
Crews were successful in laying about 7,000 feet of hose along Hay Creek Road on Tuesday. Holding this line remains the priority objective, the update said. Even with some monsoonal moisture coming from the southeast increasing humidity levels, hot, dry weather persists in the area.
Ten engines and 135 personnel are responding on scene, along with two Type 1 helicopters, dozers, a Skidgine, excavators and water tenders.
The Flathead County Sheriff has expanded the evacuation warning to include all residences east and west of the North Fork Road from Home Ranch Bottoms north to Moose Creek Road and the community of Polebridge.
South Yaak, Burnt Peak
The South Yaak fire spread rapidly Tuesday, spreading downhill and across slopes. It is 20% contained.
The fire has spread to both sides of Kilbrennan Lake, crossed the road and is now moving toward Gunsight Mountain.
Firefighters are focusing their efforts on mitigating private property damage by turning on pumps and hoses, digging fireline by hand and with equipment, and conducting burnouts adjacent to roadways and firelines to lower fire intensity as it approaches.
Extremely dry vegetation in the area poses a threat to containment efforts.
The Lincoln County Sheriff has issued mandatory evacuations for all residents on the East Side Road and Kilbrennan Lake Road. So far, no structure damage has been reported.
Nine engines are on scene along with 166 personnel and two dozers.
The Burnt Peak fire climbed from 2,880 acres on Tuesday to 3,002 on Wednesday and hovers at 31% containment.
Flames picked up Tuesday afternoon in the northern direction, and the fire continues to edge down the north side of Burnt Peak where vegetation is heavy and terrain is difficult to navigate, posing a threat to firefighter safety if they work directly against the edge of the fire perimeter.
Smoke update
Missoula's air quality once again crept into "Unhealthy for Sensitive Groups" on Wednesday, said Sarah Coefield, Missoula's air quality specialist.
Blue skies were somewhat visible earlier in the day. Smoke from nearby fires continues to be trapped in valleys across western Montana and Idaho. Once the inversion breaks, some smoke may clear out, but immediate relief is unlikely.
Seeley Lake and Frenchtown are hanging in "Moderate," while Hamilton's air quality edged into "Unhealthy" late Wednesday morning.
Smoke from the Thorne Creek fire is expected to head toward the north pockets of Missoula County, and smoke from fires in the Idaho panhandle will be making its way into the rest of the county.
Looking to the future, smoke from Oregon and California fires look to be petering out, and there are no large plumes indicating they're directly headed for western Montana, Coefield said.
The National Weather Service is predicting some thunderstorms with precipitation next week, possibly bringing moisture to the Missoula area and tampering existing blazes.