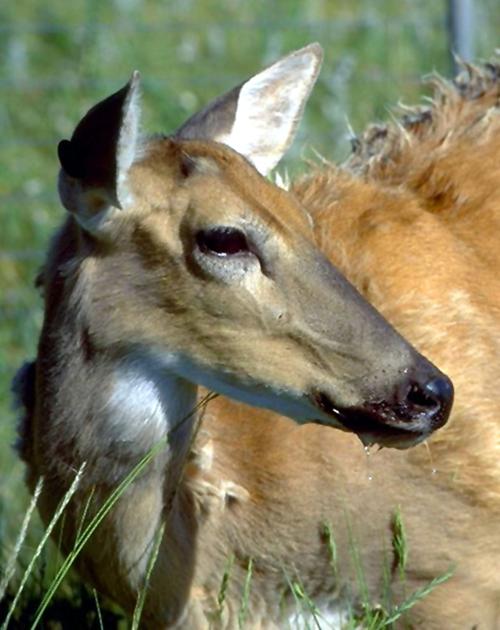 Another three deer from the Libby area have tested positive for chronic wasting disease.
The veterinary lab at Colorado State University confirmed the suspect tissue samples on Wednesday, according to Montana Fish, Wildlife and Parks spokesman Dillon Tabish. Two additional deer captured in Libby showed evidence of CWD in late May and June.
Of the three latest samples, one was a white-tailed buck that was road-killed and collected inside city limits; another was a symptomatic white-tailed doe collected inside city limits; and the third was a symptomatic white-tailed doe collected on Kootenai River Road near mile marker 1.
Chronic wasting disease is spread by virus-like particles called prions. The infectious material spreads easily between deer and elk, and can also lie dormant in soils where an animal carcass has decomposed. It is related to the same brain-damaging diseases that cause scrapie in sheep and mad cow disease in cattle.
So far, the wildlife version has not shown the ability to spread to humans, although other variants of the disease have done so. The Centers for Disease Control and Prevention recommends that hunters harvesting a deer, elk, or moose from an area where CWD is known to be present have their animal tested for CWD prior to consuming the meat, and to not consume the meat if the animal tests positive.
There are no good tests for live animals. Officials from FWP along with the city of Libby and Lincoln County have formed an incident command team to respond to the situation. The committee will sample more deer to learn the extent of the infection and its geographic distribution. Investigators are concentrating in 10-mile radius circles around each detection site. They will be testing elk and moose as well as deer, including at least 200 deer taken within the Libby urban center and another 200 taken randomly within the Initial Response Area.
For people in the Libby area who see a deer that appears to be sick, please call 406-291-6539 or Lincoln County Dispatch and leave a message with the observer's name, number, the location of the animal and the time the animal was seen.
The tests may lead to changes in the 2019 hunting season regulations and inspection routines, Tabish said. Inspection stations, carcass-disposal protocols and testing plans are already in place in other parts of Montana where CWD has shown up, including the north-central counties along the Canadian border and the region south of Billings. The Canadian provinces of Alberta and Saskatchewan already have extensive CWD testing requirements.
Get local news delivered to your inbox!
Subscribe to our Daily Headlines newsletter.