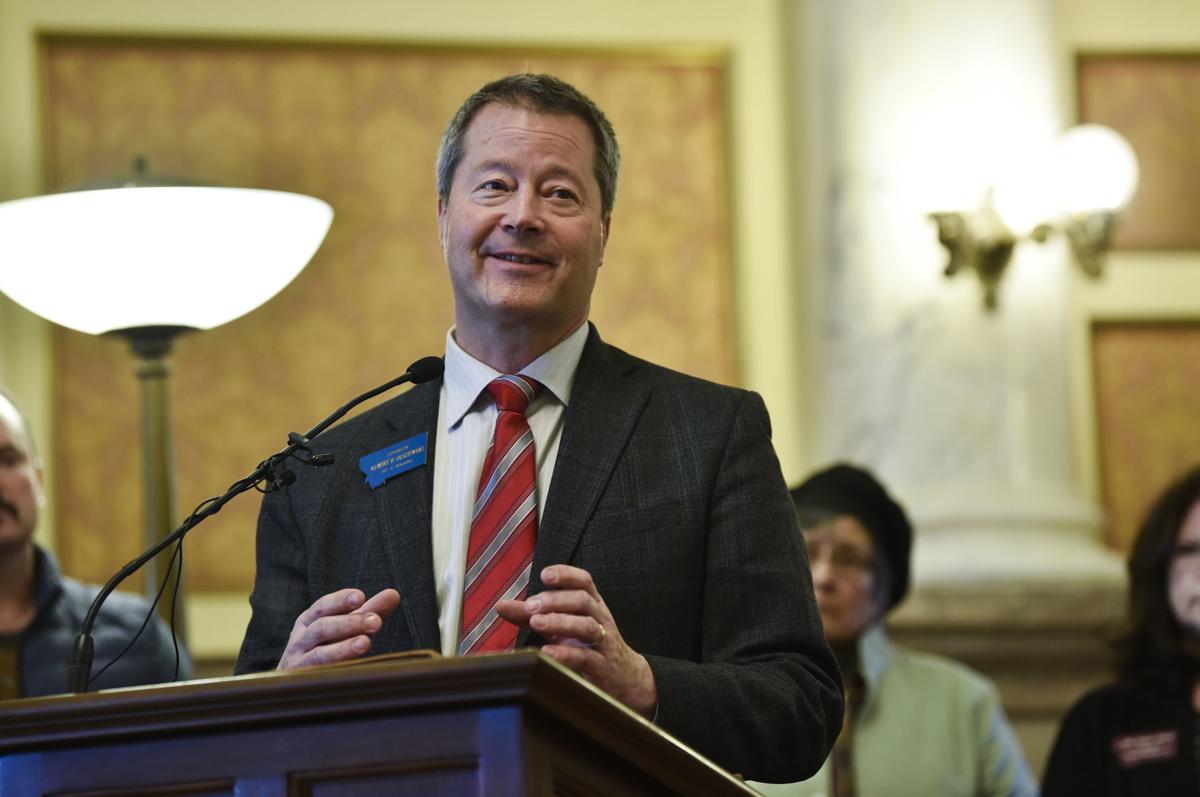 HELENA — State Sen. Al Olszewski pitched the possibility Wednesday of Montana's withdrawing from the Confederated Salish and Kootenai Tribes' water compact.
Olszewski, a Kalispell Republican and gubernatorial hopeful, was joined by Rep. Joe Read, R-Ronan; Sen. Dee Brown, R-Hungry Horse; Lake County Commissioner Gale Decker and Montana Public Service Commissioner Randy Pinocci in a press conference at the Capitol to voice opposition towards the compact and a bill that would ratify it at the federal level.
The compact, which quantifies the tribes' water rights on and off the Flathead Indian Reservation, was negotiated over several years and ratified by the Montana Legislature in 2015. It's since awaited federal and tribal ratification. A clause in the ratification law allows Montana to withdraw from the legislation if all parties haven't ratified it within four years of state passage.
Now that that deadline has passed, Olszewski told reporters at the State Capitol Wednesday that he sees the prospect of Montana pulling out.
"There has been an open and active dialogue that had occurred even before, because we knew what the deadline was," said Olszewski, of Kalispell. "The only thing that we can do as a state is to change the law that enables the compact, we can disable the law, we can fully repeal the law or a portion of it. As far as the details to that, I think that that's still a work in progress."
However, in addition to the Legislature's approval in 2015, momentum for federal ratification has been building recently. Late last year, it received supportive words from both Secretary of the Interior David Bernhardt and U.S. Attorney General Bill Barr, and U.S. Sen. Steve Daines, R-Mont., introduced a bill, co-sponsored by Montana Democratic Sen. Jon Tester, that would ratify it at the federal level.
Called the Montana Water Rights Protection Act, the bill would also require the tribes to give up 29 claims in the Flathead watershed that they previously would have co-owned. It would provide the tribes with $1.9 billion to settle damages and rehabilitate the Flathead Indian Irrigation Project; and place the National Bison Range in trust for them, with provisions requiring continued public access and bison conservation.
The bill has the support of the tribal leadership and non-tribal irrigators. One of the main hopes for the compact is that it will keep the Montana Water Court from having to adjudicate roughly 10,000 claims, filed by the tribes and the U.S. Justice Department, across the state — a task that could take decades, at great expense to water users.
Olszewski isn't fazed by that prospect. "Our constitutional water rights are worth fighting for, even if it means going to court," he said. "When we have to fight for the state's constitutional water right then the state, the people of Montana, will pay for this."
The water compact has long drawn opposition from some factions in northwest Montana. Decker, the Lake County commissioner who joined Olszewki at Wednesday's press conference, said afterwards that "we can't assume this settlement act is better than litigation." The commissioners had backed the compact when it came before the Legislature. Asked whether the commissioners continue to back it, Decker said, "that is still up for discussion."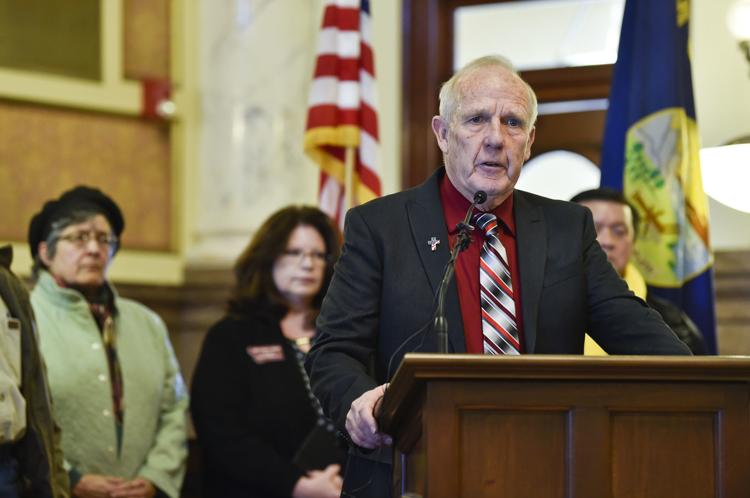 They do, however, oppose the settlement legislation. Recently they called on Daines to withdraw the bill, taking issue its possible implications for county rights-of-way and other aspects of the bill. The senator's office had responded to some of their concerns, but they remain skeptical. At the press conference, Decker said that "we also are worried and concerned about the influx of folks that are going to be coming in to Lake County."
Citing an estimate that the compact would create 6,000 jobs, mainly through modernizing the irrigation project, he predicted that "there is going to be a significant influx into our county of folks from out of the area, and we're worried about our law enforcement, our drug trafficking, our human trafficking, so we have a lot of concerns about how the county is going to be able to handle the additional strains on our resources."
Rep. Shane Morigeau, D-Missoula, a member of the Confederated Salish and Kootenai Tribes who stressed he was speaking as a legislator, said Decker's remark was "the most troubling comment that actually stood out to me, as just a person from an Indian community. … You'd think somebody would be happy with 6,000 jobs."
"When I saw who it was doing the press conference, the first thing that came to my mind was, 'This must be some sort of antic to try and boost poll numbers'" for Olszewski as he challenges U.S. Rep. Greg Gianforte and Montana Attorney General Tim Fox for the Republican gubernatorial nomination.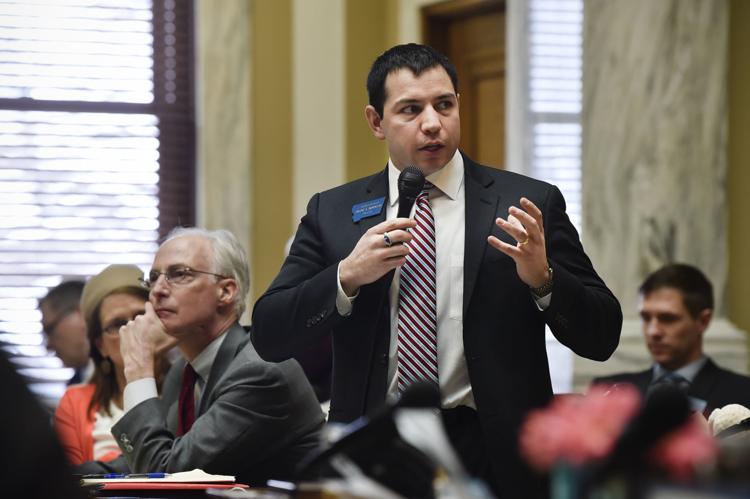 "I think there's a point where people have to start recognizing that a lot of this is just rhetoric of the same thing" that compact opponents have repeatedly raised Morigeau said. "Look at, historically, the people who have been in adamant opposition and have started supporting it once they've done their homework."
In an email, tribal spokesperson Rob McDonald wrote that "Senator Dr. Al Olszewski wants an issue for his campaign, not a solution for our state."
Rep. Kerry White, R-Bozeman, had previously opposed the compact but now supports this ratification bill. He's satisfied that it "puts the jurisdiction of the water back to the water court and state court. … In my mind that is probably the biggest, No. 1 issue." He said he wasn't sure where other Republicans stand on the issue, but in his view, "it settles a decades-long battle."
Morigeau, for his part, is encouraged that other GOP lawmakers, both state and federal — including Daines and state Sen. Chas Vincent of Libby — had also come to support the measure.
"All of these people do their homework and have very, very smart people around them and are doing their homework, and are making sure they're making the right decision," he said.
Get local news delivered to your inbox!
Subscribe to our Daily Headlines newsletter.