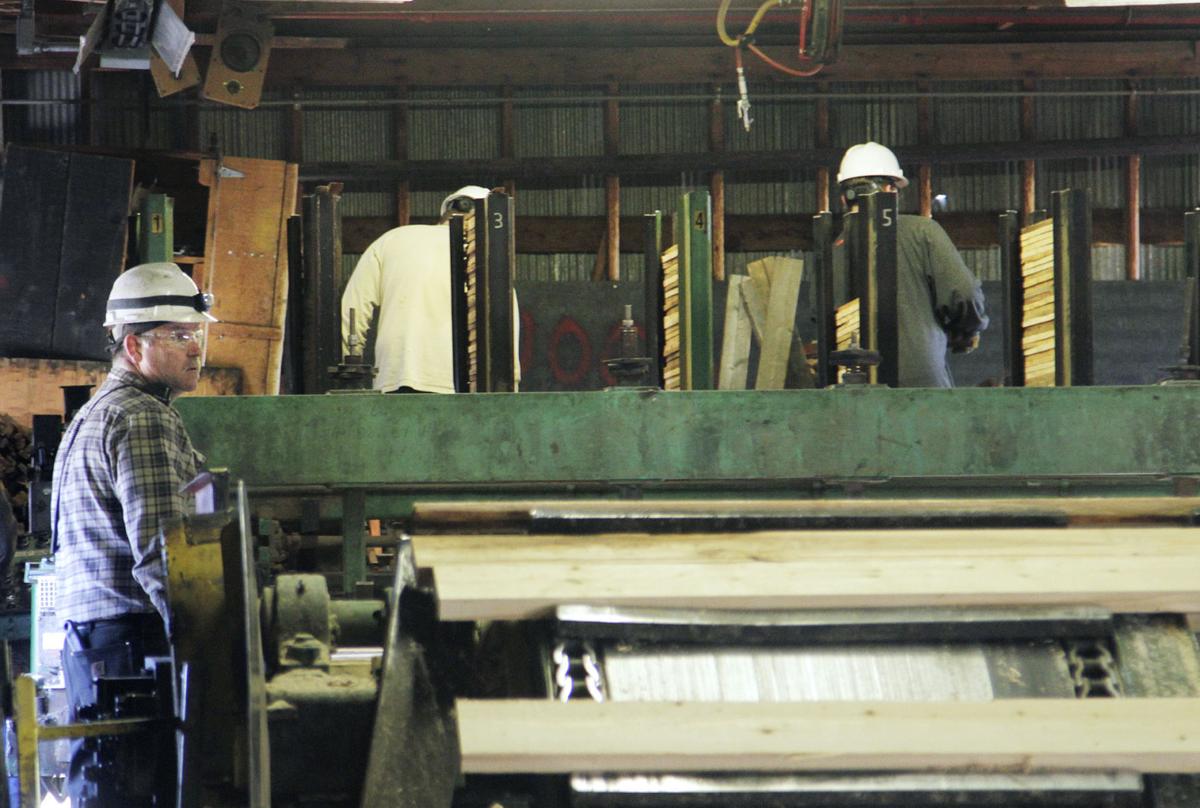 Big things have fallen in the Canadian timber world recently, and we're not talking about trees.
In British Columbia, at least 22 sawmills have closed either permanently or indefinitely in 2019. And on July 1, British Columbia tripled the rate it charges lumber companies for stumpage, or access to public timber. That's likely to result in further declines in exports to the United States, which have already fallen by 1.4 billion board-feet in the past year.
But how that might affect wood producers in Montana and elsewhere in the Pacific Northwest remains murky. The region suffers from its own over-supply of lumber, as well as a sluggish construction market.
The source of turmoil in British Columbia's forest products industry is a hot debate, even among Canadians. Environmentalists there claim the B.C. provincial government gave the industry too much free rein for too long, and it has cut itself out of business while leaving extensive ecological damage. Wood products analysts point to pressures from a trade war with the United States, the collapse of Asian export markets and the commercial decay of trees killed by wildfire and mountain pine beetle infestation.
Mayor Bob Simpson of the British Columbia mill town of Quesnel wrote in a public letter that the provincial government's policy of letting the lumber companies essentially manage the forests unsupervised resulted in "large tracts of MPB-killed forest and years of accumulated slash piles (that) are now feeding the unprecedented wildfires we've experienced over the last two years….
"Mill closures on the scale we are now experiencing were predicted as early as 2010, but no plans were put in place to deal with this scenario. Instead the political leadership of the day chose to pretend we would simply find the timber to keep feeding these mills."
More than 300 workers at two mills will lose their jobs in July and August alone when the Tolko Industries mill in Quesnel and the Canfor mill in Vavanby shut down this summer, according to the Canadian Broadcasting Corp. Canadian forestry analysts predict another dozen B.C. mills will close in the next decade, cutting 2,000 to 2,500 more jobs. As of mid-July, about 3,700 British Columbian forest industry employees were unemployed.
British Columbia's size makes it hard to see the scale of its situation. At 364,764 square miles, it's bigger than California and Nevada combined. Its longest border-to-border distance of 1,100 miles is the same as from Seattle to Sidney, Montana.
The 2018 fire season in British Columbia burned about 1.4 million hectares (3.4 million acres; bigger than Glacier and Yellowstone national parks together); 2017 burned nearly the same amount. British Columbia's previous 10-year average fire loss was 151,000 hectares (373,000 acres) annually.
One in every four manufacturing jobs in British Columbia comes from the forest industry, and about 140 towns and cities in the province depend on timber for their economic base. The provincial industry was harvesting about 94 million cubic meters of lumber during its peak years in the past decade. That figure is likely to drop by 40% in the next few years as most of the commercially viable beetle-killed timber has been cut.
"They had plenty of logs that needed to be taken care of, and two strong markets — the U.S. and China," said lumber market analyst Hakan Ekstrom of Seattle-based Wood Resources International "That pushed parts of the British Columbia industry to invest and stay competitive. Now the sawmills that didn't make those investments at the time, those are the ones that are struggling now."
Ekstrom added many big Canadian timber firms have now invested heavily in sawmills and timber lands in the U.S. Southeast. That part of North America grows softwood trees quickly on relatively flat ground and has rather out-of-date milling infrastructure.
"They bring Canadian knowledge about building modern sawmills that are efficient, take more lumber out of a log, and are very cost-competitive," Ekstrom said. "Plus they're selling into the local market without tariffs and trade wars. That's a very smart move when they had a lot of profit to invest."
But they leave behind serious ecological damage, according to Canadian watchdog groups. The practice of large clear-cuts in sensitive watersheds has produced failures in local drinking water systems, and widespread wildfire.
"Our milling capacity is way over the wood that's available," said John Bergenske of British Columbia-based Wildsight. "They were going beyond a sustainable yield harvest. And now we have these clear-cut tree plantations that will still burn. If there's going to be a fire, the logging doesn't solve the problem."
Bergenske added the B.C. timber practice of aerial herbicide spraying to reduce competition for new softwood saplings has furthered the environmental and fire damage. The herbicides block regrowth of deciduous trees that resist wildfire better than coniferous stands, he said, as well as destroy wildlife habitat that deer, moose, elk and caribou depend on.
The size of that impact is also up for debate. Jens Wieting, Sierra Club's British Columbia director, said the provincial government hasn't produced a comprehensive forest review since 2010.
"In 2001, the B.C. Liberal government decided less government and more trust for industry would be a good approach," Wieting said. "So it outsourced planning and decision-making to logging companies. They combined that with dramatic cuts of people who worked in the B.C. government to monitor and enforce forest management. Now there's a lot of discussion under the new (New Democratic Party) government how far this model must be given up or reformed."
So how might all this play out south of the border? The delicate state of negotiations between the Canadian and United States governments over softwood tariffs and a potential new lumber treaty saw many observers declining to comment on the situation. But the market forces on display don't offer much opportunity for American mill owners to take advantage.
"There's been a lot of overproduction across the board," said Montana Wood Products Director Julia Altemus. "We have too much wood in the system, and people weren't building. That will make it tougher for us. What would help is if we could find new markets."
Todd Morgan at the University of Montana's Bureau of Business and Economic Research said the current price of wood in the U.S. didn't leave mill owners with much room to maneuver. The export markets to China and Japan have slowed greatly. Hotter, drier summers and winters with less snow can also exacerbate insect infestations and wildfires, further changing available wood supplies for lumber.
"The vast majority of Americans aren't that connected with the natural resources we consume every day, or what it means to sustainably source stuff," Morgan said. "Forests are living things. They grow back. Although what they grow back to in the future might not be the same as what they were in the past."