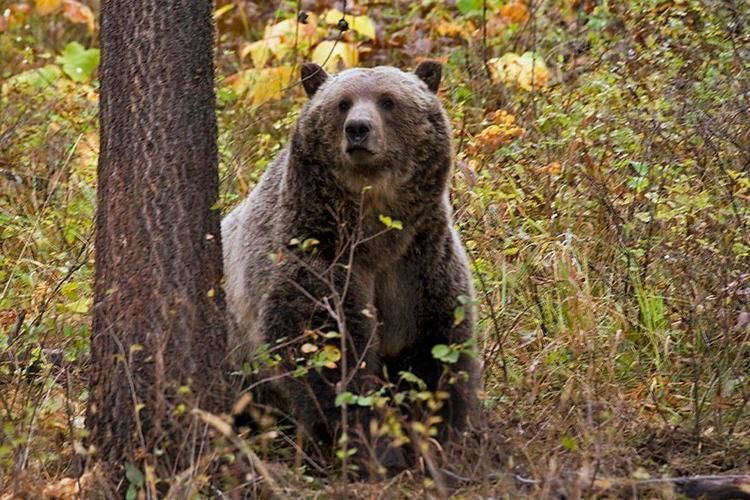 Two grizzly bears were euthanized in Montana this week.
Montana Fish, Wildlife & Parks (FWP) euthanized a young male grizzly bear on Monday, April 13, after it killed three calves over a period of several days on a ranch east of Ovando in the Blackfoot Valley.
The grizzly killed three calves between Friday, April 10, and Sunday, April 12. The bear was also suspected to have been responsible for another livestock injury in the same area the week before.
Because the bear remained in the area, continuing to pursue livestock, wildlife officials set traps for the bear. FWP bear management specialist Jamie Jonkel said that unfortunately once bears repeatedly pursue livestock, this can be a very hard pattern to break.
Officials trapped the bear on Monday, April 13, and FWP made the decision to euthanize the bear in consultation with the U.S. Fish and Wildlife Service and in accordance with Interagency Grizzly Bear Committee guidelines.
The rancher is working with the local Blackfoot Challenge watershed group to set up an electric fence to help prevent future livestock depredations.
For more information, please call Vivaca Crowser at 406-542-5518.
A young, male grizzly bear was euthanized Thursday, April 16, after it was captured by USDA Wildlife Services for calf depredations on the Rocky Mountain Front southwest of Augusta.
"Besides causing calf depredations, it was coming in close to ranch homes," said Mike Madel, Fish, Wildlife & Parks bear management specialist.
Madel said the bear was five-and-a-half years old and weighed 586 pounds.
The bear had not been captured previously, Madel said, but its removal was allowed under Interagency Grizzly Bear Committee Guidelines developed by the U.S. Fish and Wildlife Service, FWP and Wildlife Services.
The hide and skull were taken to a taxidermist and will be used for educational purposes.
As bears emerge from their winter dens and look for food, FWP recommends folks who live and recreate in bear country take precautions and be aware of their surroundings.
Homeowners in bear country should secure garbage inside a closed garage or secure shed, feed pets inside, clean up chicken and livestock feed, and in general remove all odorous substances that can draw bears.
For more information, please call Bruce Auchly at 406-454-5845.
Get local news delivered to your inbox!
Subscribe to our Daily Headlines newsletter.