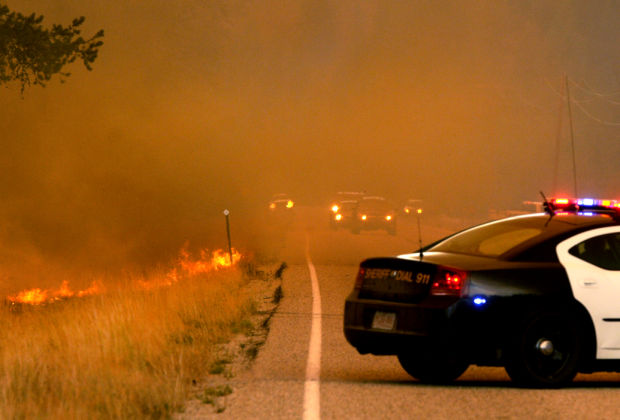 Over the past few days, wildfires have closed two of Montana's most scenic highways, causing inconvenient reroutes for travelers and putting a damper on commerce into and out of the state.
Because of the 8,600-acre Lolo Creek Complex wildfire, U.S. Highway 12 is closed indefinitely from Lolo Hot Springs in Montana to the Idaho border.
U.S. Highway 212 over Beartooth Pass is also closed four miles south of Red Lodge because of a fire, and northbound traffic has been stopped at Wyoming Highway 296, said Brandi Hamilton, a spokesperson for the Montana Department of Transportation.
"Whenever we have road closures, it is a huge impact," Hamilton said. "Our goal is to move goods and services and people as safely as possible, but things change quickly during wildfire season."
Highway 12 is a particularly challenging closure.
Not only is the corridor home to hundreds of residences and ranches, but it is also a vital transportation route for Montana and Idaho commerce and travel, with about 1,000 vehicles traveling over Lolo Pass each day.
"There are some key corridors in Idaho, and when they are blocked, that leaves you with few alternatives," said Mel Coulter, a spokesperson for the Idaho Transportation Department.
"U.S. Highway 12 is one of the key corridors and the only link between Lewiston at the Washington border and the Montana state line.
"With a closure that close to Lolo Pass, it makes an extremely long journey around the closure."
Rerouting takes travelers hundreds of miles out of the way, north to Coeur d'Alene, Idaho, to reach Interstate 90, or south to Stanley and Salmon to reach U.S. Highway 93 at Lost Trail Pass.
As most of the Missoula area waits for the Lolo Creek Complex to be quelled, transportation officials are anxiously awaiting the moment the highway can be reopened.
"We want to do everything we can to not impede with firefighting efforts," Coulter said. "The road closure is prudent to allow those people to do their job and it is prudent to protect the traveling public so they don't get into areas where they might also be in danger."
"Of course we would like the road to reopen, but we encourage drivers to be patient – and to let the firefighting experts do what they do best," he said. "But the highway is a critical commercial route, and that is critical to commerce in Idaho."
On the Montana side, a reroute through a U.S. Forest Service road was temporarily tried, and then MDT planned to do a pilot car through the area Tuesday, Hamilton said.
"That seemed liked a viable option, but the fire blew up again and within 10 minutes we had to completely change the plan," she said. "It's difficult, especially the longer you have a closure in place. It's difficult to manage and to communicate a consistent message to the public."
Transportation officials are on the ground at the fires, meeting with incident commanders and keeping abreast of the changes and the possibilities for roads to reopen, Hamilton said.
"We are in the real heart of wildfire season," she said.