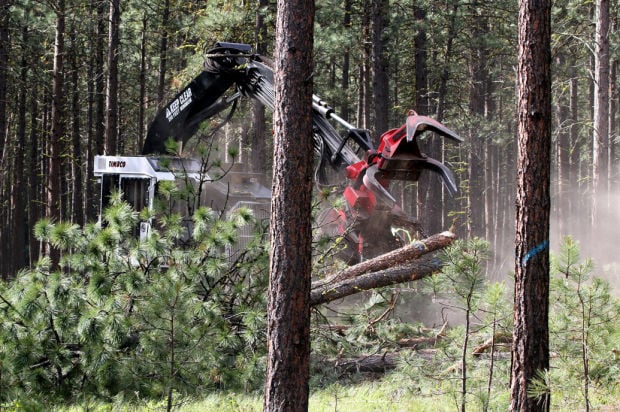 HELENA – Republican U.S. House candidate Matt Rosendale is proposing that the federal government transfer U.S. Forest Service and Bureau of Land Management lands in Montana to the state to manage and control.
Federal lands make up 35 percent of Montana.
"The U.S. Constitution clearly defines the purpose for the federal government to retain land for post offices, batteries and things like that," Rosendale said. "There is no call in the Constitution for the federal government to own national forests or BLM land and just to manage those additional lands."
Both Congress and the Montana Legislature would have to approve his proposal. Rosendale, a Republican state senator from Glendive, said he's been working on the idea with the American Lands Council, a group in South Jordan, Utah.
Rosendale's proposal wouldn't affect Glacier National Park or other National Park Service lands, national monuments or Indian reservations.
The Forest Service now manages 19.1 million acres in Montana, while the BLM manages 8.3 million acres, plus 47.2 million subsurface acres here, according to the agencies.
"If we were able to manage and control those lands, we would be able to generate much more economic development opportunities," Rosendale said. "We would be able to harvest a lot of that timber, we'd be able to acquire the minerals that are located in those areas and once again utilize the economic opportunities that are located in there."
He said the federal government is losing money managing federal lands in states. The federal government is denying access for recreation, compromising air quality by not allowing logging, which leads to forest fires, and hurting fisheries as well.
"It's economically unfriendly, environmentally unfriendly and adverse to the Constitution," he said.
But Nick Gevock, outreach director for the Montana Wildlife Federation, adamantly opposed the idea.
"This isn't personal, but getting to the policy, I think it's a horrible idea," Gevock said. "Montana has a $5.8 billion annual outdoor industry and these federal lands are absolutely essential to that. These are the places where Montanans hunt and fish and hike and ski and go wildlife watching, and that is essential to the quality of life here."
Gevock also predicted that if the state took over the federal lands, Montana would have to sell off large swaths of land to private landowners in order to pay for firefighting costs.
"We couldn't afford to manage these lands," Gevock said. "It would be a budget buster for the state of Montana. Once those lands are in private hands, they are off-limits, or they very well could be."
In response to these concerns, Rosendale said, "I don't believe the lands would need to be sold to the private sector. If the state did believe it, that would be the citizens of Montana doing it, not someone 2,200 miles away."
He said he's confident the transfer would spur economic growth for the state through added revenue that could be realized from development of the lands.
The Forest Service had the equivalent of 1,570 full-time employees in Montana as of 2012, not counting the Missoula Fire Lab and the Missoula Technology and Development Center. The BLM had 571 full-time equivalent employees combined in Montana, North and South Dakota in 2012.
Rosendale said he believes the state would need to hire far fewer employees to manage these lands and is confident that many more private sector jobs would be created.
Gevock said the federal employees whose jobs may be lost if the lands are transferred "are members of their communities and taxpayers themselves."
He said the BLM as a federal agency returns $4 to the U.S. Treasury for every $1 it spends.
The Montana Wildlife Federation official also predicted that ranchers would experience a sharp rate increase in grazing rates if the federal lands are transferred.
"We should be honest with our cattle producers that there will be sharp increases in grazing rates," Gevock said. "Market rates are well over $20 an AUM (animal unit month). They pay $1.35 an AUM to the BLM."
An AUM is the amount of forage required by an animal unit for one month.
Chuck Johnson is chief of the Lee Newspapers State Bureau in Helena. He can be reached by email at chuck.johnson@lee.net or by phone at (406) 447-4066 or (800) 525-4920.