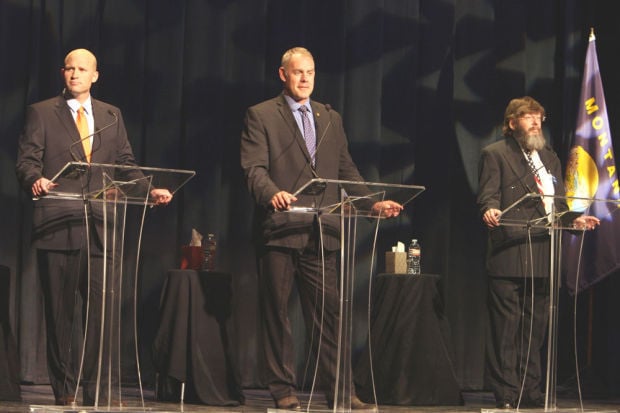 HELENA – U.S. House Republican candidate Ryan Zinke has amassed more in personal wealth than his Democratic opponent, John Lewis, their financial disclosure reports show.
Zinke, 52, a retired Navy SEAL, reported in March he had assets ranging from $1.1 million to $2.5 million. He served in the Navy for 23 years, retiring in 2008 and is now in private business.
His liabilities, which include mortgages on two homes in Whitefish and a loan on a Chevy truck, total from $215,000 to $550,000.
Lewis, 36, a former top aide to U.S. Sen. Max Baucus, listed assets ranging from about $66,000 to $165,000 on his report. He worked for Baucus for a dozen years before resigning last August.
His liabilities totaled between $30,000 and $45,000. Lewis said they included a personal loan and balances on two credit cards.
In May of each year, members of Congress and candidates for federal office are required to file financial disclosure forms listing their assets and a range of value.
For assets, Zinke listed up to $100,000 deposited in the Whitefish Credit Union, a home in Whitefish worth up to $500,000 and two rental homes in Whitefish and one rental in Kalispell. One rental house was valued at up to $500,000, while the other two were valued at up to $250,000. He listed two vacant lots in Whitefish worth up to $50,000, household goods and art valued at up to $500,000 and an interest in the Double Tap property near Whitefish worth up to $250,000.
Lewis reported assets ranging from $66,000 to $165,000. The largest was up to $100,000 invested in the Thrift Savings Plan, the basic retirement savings available to federal employees.
Zinke reported $215,000 in income in 2013. That included a $24,000 salary that his wife, Lola Zinke, for her family's Hand Trust.
Zinke made $85,000 as his fee as a director for STWA, a Santa Barbara, California, company that develops and sells commercial flow assurance solutions designed to help benefit the global energy industry. He was paid $52,000 in salary by On Point Montana, a security consulting firm where he has been CEO, and $40,000 in salary from Continental Divide International, a business development company where he has been CEO.
Lewis, meanwhile reported his wife, Melissa, who has a Helena lobbying firm, earned $20,000 so far in 2014 after making $100,000 the previous year. He did not list a salary for himself, but an earlier report showed he made $58,000 as an aide to Baucus before leaving his staff late last summer, 2013. He also made $5,833 working for Friends of Max Baucus, Baucus' campaign organization, in 2013.
The reports do not require candidates to list the value of their homes. Zinke did and Lewis didn't. Lewis and his wife own a home in Helena valued at $180,600, according to state property tax records.
Libertarian Mike Fellows of Missoula also is in the House race.
Chuck Johnson is chief of the Lee Newspapers State Bureau in Helena. He can be reached by email at chuck.johnson@lee.net or by phone at (406) 447-4066 or (800) 525-4920.