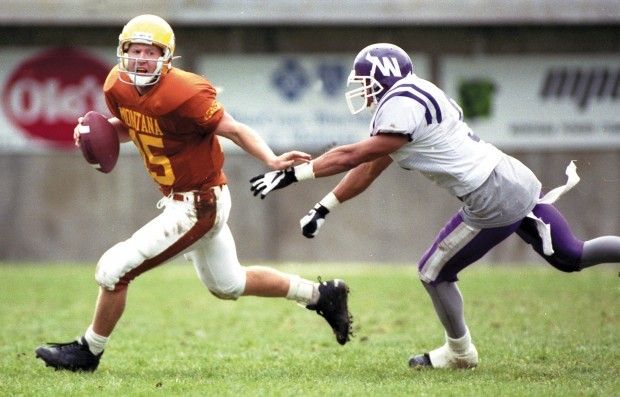 The classic copper, gold and silver colors are making a one-year comeback at the University of Montana.
On Friday, UM released a limited-edition retail line featuring its official school colors of copper, gold and silver. The line, called Montana Tradition, includes clothing and several select non-apparel items.
The fall of 2015 will mark 20 years since the university retired the traditional school colors for its current spirit colors of maroon and silver. The change happened in 1995 after the Grizzlies beat Marshall University to win their first NCAA Division I-AA football championship.
You have free articles remaining.
Team uniforms and school merchandise became maroon and silver in 1996, and the university has continued to use the spirit colors since then.
"When you see maroon and silver, you think UM, and that's not going to change," said UM President Royce Engstrom. "At the same time, we know UM has many die-hard Griz fans who love our traditional colors. We are pleased to be able to celebrate the upcoming 20-year anniversary of the '95 championship with a limited-edition line."
UM will continue to use the maroon and silver spirit colors. It remains unclear if the Griz football team will wear the throwback colors during the Brawl of the Wild game Saturday versus the Montana State University Bobcats. The Griz colors for that game are usually kept secret until just before kickoff.
For more information about UM colors, call UM Alumni Association Director Bill Johnston at 243-4023 or email bill.johnston@umontana.edu. A list of retailers carrying the products is available online at umt.edu/tradition.