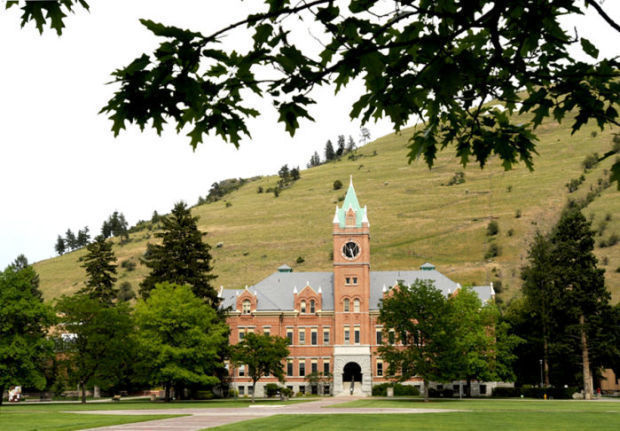 The College of Humanities and Sciences at the University of Montana is facing cuts that will amount to "several million dollars" from its 2017 fiscal year budget, according to Dean Chris Comer.
After making reductions last year, the dean anticipated further requests to trim, but the college received reduction requests earlier this month that "frankly are on the high side, scary high," he said Wednesday.
Although Comer said the final dollar figure isn't clear, the reduction for the college could amount to an estimated 50 percent in a department's operational costs – or a 30 percent decline in its instructional dollars.
"It's several million dollars, and that's not a trivial cut to absorb in one year," he said.
All told, he said, the College of Humanities and Sciences is taking a hit that's "noticeably on the high end" compared to other campus colleges and schools when accounting for both the recent cuts and the ones enacted in December.
"And that's always of concern to us because we do consider ourselves the central and core college of the university, and we provide most of the general education," Comer said.
Faculty in the College of Humanities and Sciences teach 80 percent of the general education courses at UM, and count an estimated 5,000 students; in the fall, the budget plan for 2017 estimated campus enrollment at 10,915.
Comer said the administration of the college is taking a comparable reduction in operations; it will have two fewer positions this coming fall than it did last year.
Vice President for Finance Mike Reid said the cuts are part of the budget plan UM President Royce Engstrom announced last fall. At the time, some departments made permanent reductions of 2.5 percent, but those that found only temporary savings are currently looking to lower their base budgets for 2017, he said.
Last fall in an emergency budget forum, the president announced a plan to cut faculty and staff to save money. In December, Reid estimated the total shortfall for 2017 to be around $12 million.
You have free articles remaining.
This week, he said the personnel cuts made up $8.5 million and UM also found an estimated $1 million in other savings. The most recent cuts represent the remaining $2.5 million of the total discussed in the fall, he said.
Vice President for Integrated Communications Peggy Kuhr said the 2.5 percent reduction amounts to $1.9 million for the academic affairs sector, and the figures do not represent a change in the president's budget plan. She also said the institution remains committed to education.
"UM's goal continues to be that 50 percent of our general fund budget goes to instruction," Kuhr said.
UM is seeing a higher number of applicants and other signs of good news for enrollment in the fall, Reid said. However, he also said the university has witnessed positive signals in the past that didn't translate into higher enrollment.
Comer said he has already had one conversation with Provost Perry Brown about the budget, and Brown listened and added in a little more money.
"I don't think he had much room to add back what I would consider the correct amount," Comer said. "All I can say is I will be talking with other people in Main Hall in the next 48 hours to get things clarified and maybe improved a little."
Provost Brown was out of the office and unavailable for comment Wednesday.
At UM, operational budgets already are stretched thin. Comer said those dollars pay for items like telephones, copy machines, staples, and in some cases, faculty travel.
"(Faculty are) scrambling to figure out how to best make those cuts, and I know it's a very difficult job for them," he said.
He said faculty are weary at being squeezed, but they're mostly rolling up their sleeves and figuring out how to handle less money and increased demands. The only possible bright side to the budget shortfall is it might be a nudge toward innovation, he said.
"Sometimes, people have an impression of college faculty having cushy jobs. Nobody's got a cushy job here. Everybody is working very hard. Every year, they're learning to do more with less," Comer said.